Overview
Upwork is one of the largest freelancing workplaces. It works as an online marketplace that connects freelancers and clients. Clients can hire freelancers in several categories, most of these works can be performed and submitted online.
Upwork offers the common marketplace to both parties in a hiring contract. It also charges commission from both sides. Thus, its business model is based on a percentage commission.
It charges a different commission to freelancers and hiring clients. However, the main revenue streams come from hiring clients as they pay for freelancers and run the financial system.
Upwork is a listed company on the NASDAQ exchange with a trading symbol of UPWK. Its current share price is trading around $ 47.03. Its current revenue is $ 373,628 million for the year 2020.
Company Profile
Let us briefly overview the company profile of Upwork.
Company Name
Upwork Inc.
Website
Upwork.com
Founded
1999
  Rebranded as Upwork in 2015
Founders
Beerud Sheth, Srini Anumolu, Sanjay Noronha,
Key People
Hyden Brown– President and CEO
Jeff McCombs – CFO
Zoë Harte – Chief People Officer
Headquarter
Santa Clara, California, US.
Company Revenue
$ 373.628 million, FY 2020.
Key Competitors
Fiverr, Freelancer, Guru, Toptal.
What is Upwork? A Brief History
Upwork is a merger of two freelancing networks; Elance and ODesk. The merger happened in 2013. Elance was founded in 1999 and ODesk was founded in 2003. The merger was renamed Upwork in 2015.
Upwork is one of the pioneering networks in the freelancing world. It started the trend of hiring freelancers. It aimed to provide a common marketplace for talent and hiring businesses.
It created job opportunities as well as eased the hiring process for businesses looking for talent hiring for specific projects.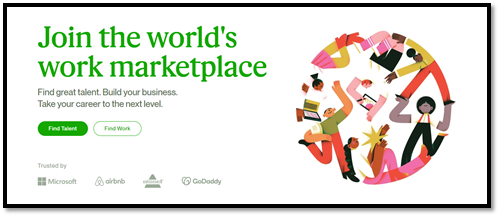 Source: upwork.com
Upwork charges service fees to freelancers that can be 5%, 10%, or 20%. The service fee initially is higher for new freelancers to protect businesses and it gets lower as freelancers work and earn more. Upwork also charges its clients a 3% transaction fee.
Businesses can hire talent from around the world using the online marketplace. They can search for different categories and hiring rates. Upwork offers hourly rates, project rates, and fixed rates as different options for freelancers.
Hiring clients and freelancers can also agree on customized rates depending on the requirements and complexities of the project.
How Does Upwork Work?
Upwork is one of the leading freelancing platforms in the world. It works as an online marketplace for skilled professionals working as freelancers and hiring professionals and businesses. Thus, it offers services for freelancers as well as businesses.
Upwork for Freelancers
Upwork is one of the biggest marketplaces for freelancers. Skilled professionals from around the world can create an account with Upwork for free. Once they complete their profile and pass the prerequisites, their account will go live.
Freelancers can offer services in almost every category through Upwork. The most commonly used categories by freelancers on Upwork include:
Web Development and IT
Accounting and Finance
Content Writing and Translation Services
Design and Creativity
Sales and Marketing
Admin and customer support services
Freelancers can set hourly or fixed work rates. They can decide customized work rates with the clients depending on the project requirements as well. For all completed projects, freelancers need to pay a commission to Upwork.
For freelancers with career earnings of less than $500, the commission rate is 20%. For lifetime earners with $ 10,000, the commission rate is 10$, and with earrings above $10,000, the commission rate is 5%.
Upwork for Clients
Professional clients and businesses can hire freelancers for different projects. They can explore the freelancing marketplace by searching them through several filters. They can rank the available freelancers with respect to career ratings and reviews.
Clients can create a project description and budget to hire freelancers. As soon as the project details go live, clients receive proposals from different freelancers. Clients can also choose the freelancers directly with the matching project or skills availability.
Hiring clients can choose between a free or premium plan. The premium plan comes with a dedicated account manager and additional features, it comes at $49.99 per month. Both plans are charged a transaction fee of 3% as well.
Enterprise Solutions
Businesses with long-term projects and talent requirements on recurring basis can opt for enterprise solutions. The contract can also include people from outside Upwork.
The cost of enterprise solutions is customized as different freelancers come with different hiring charges.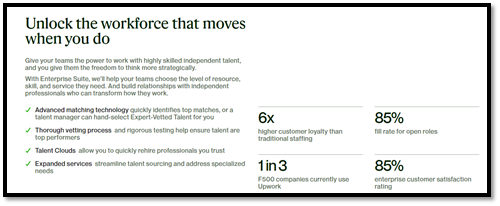 Source: upwork.com
Direct Contract
It is a unique service offered by Upwork for clients and freelancers. Direct contracts happen when a client does not have an account with Upwork. Freelancers can work with clients outside of Upwork space and get paid through the platform for extra security.
Upwork Business Model
Upwork follows a commission-based business model. It charges a percentage of commission on every completed transaction through its platform. It can leverage the benefits of charging commissions to freelancers and clients hiring the talent through its platform.
Upwork is one of the largest online marketplaces for freelancers. It earns revenue through commission charged to freelancers and clients. Its total revenue from freelancers amounted to $ 226 million and from clients $ 147 million with a total of $ 373 million.
Upwork allows both parties to enter work contracts independently as well. If the client does not operate through Upwork, freelancers can still receive payments through the platform. Similarly, clients can also hire skilled professionals for long-term needs.
These enterprise solutions also can be contracted with customized rates. Upwork charges a transaction fee of 3% and commission to freelancers if the project gets through its platform.
Upwork – Unique Selling Proposition
Upwork was rebranded through a merger of two giants in the freelancing world. Yet, it enjoys the brand recognition of the world's largest freelancing platform. Thus, its worldwide reputation and presence in over 180 countries are some of its unique selling propositions.
Freelancers can quote prices with fixed or hourly rates. They can also work through direct contracts with clients and receive payments through Upwork. These customized services are unique to Upwork as most of its competitors lack such customization.
Clients can also enter into customized contracts with freelancers. They can also hire freelancers for ongoing projects with enterprise solutions.
Clients for hiring and freelancers can work as agency solution providers. In short, customized offerings for freelancers and clients are uniquely offered services by Upwork.
Clients hiring talent through Upwork on a long-term basis can use the payroll services offered by Upwork. These payroll services are managed by Upwork for its business clients.
Upwork is also a registered online escrow agent. It means, all the payments proceed through dedicated escrow accounts.
How Does Upwork Make Money?
Upwork charges commission to freelancers and clients on every completed transaction through its platform. It also charges a flat 3% transaction fee to both sides on every transaction.
Upwork Fee for Freelancers are:
20% of the transaction if freelancers' earnings are less than $500
10% of the transaction if freelancers' earnings are above $500 and less than $10,000
5% of the transaction if freelancers' earnings are above $10,000
Upwork Fee for Clients are:
$ 49.99 for a premium plan with dedicated support.
3% on all transactions.
Upwork's main revenue source comes through commission charged to freelancers and clients. However, as a listed company it also seeks capital gains through investments and share price appreciation. It earns a fraction of income as interest earned on its investments as well.
Upwork – Revenue and Financials
Upwork is a listed company on the NASDAQ stock exchange since 2018. It is a renowned brand in the freelancing world with an established history.
Its revenue for the financial year 2020 remained at $373 million. Its total assets for the FY 2020 were $529.227 million. However, the company incurred a net loss of $22.867 million.
SWOT Analysis of Upwork
Upwork is a global leader in the freelancing marketplace. Though it is a merger of two freelancing platforms, its working history is longer than two decades. It also offers unique services for freelancers and clients.
Let us briefly overview the SWOT analysis of Upwork.
Strengths
Here are key strength features of Upwork.
It enjoys the brand recognition of a market leader in the freelancing world.
It offers scalable and customized services to freelancers and clients.
It allows clients to hire freelancers through its platform without an account.
It offers unique and customized services such as enterprise solutions, agency accounts for freelancers, and direct contracts.
Its pricing structure for freelancers is fairly lower than most of its competitors.
Its premium account services for clients are cheaper.
Weaknesses
Here are a few key weaknesses in the Upwork business model.
Despite large revenue streams, the company still incurs net losses.
Its share price has shown volatile results in the short history after going public.
Its hiring process for clients can get lengthy sometimes.
The platform does not effectively strain the suspicious freelancers that can affect the quality of the platform in the long run.
Opportunities
Here are a few key opportunities for Upwork as a growing business.
It needs to invest continuously in its growth plans to sustain the pace.
The company can improve its pricing structure for freelancers with standardized pricing plans.
Like other freelancing platforms, it forecasts healthy growth in the remote working and freelancing trends after the current Pandemic restrictions in the long run as well.
The company can diversify its revenue streams geographically.
It can improve its payment and fake profile fraud detection system.
A major proportion of Upwork revenues comes through freelancers attached to the IT sector, it can diversify the revenue streams by offering lucrative packages to freelancers and clients in other categories.
Threats
Here are a few key business threats faced by Upwork.
Freelancing and online marketplace business model is replicable with newer technology and availability of resources.
The company faces stern competition from its rivals with similar services and pricing strategies.
The company has consistently reported operating losses for several years that can prove a substantial financial risk.
Macroeconomic factors such as the current Pandemic restrictions can adversely affect the revenues of freelancing platforms like Upwork.