Overview
Coinbase is a fintech that operates in the Crypto world. It offers to buy, sell, invest, and store cryptocurrencies. Customers can use this platform to transfer cryptocurrencies from one account to another. It is also used to convert cryptocurrencies to and from US dollars.
Coinbase offers its products to retail and business clients worldwide. It has a global presence in over 100 countries. The company offers its products through its online platform as well as mobile apps. The company has a large customer base of around 56 million verified users worldwide.
Coinbase was launched in 2012 as a privately held company. It has recently been listed on the NASDAQ stock exchange with the trading symbol of COIN. It operates worldwide through 1700+ employees and offers services in around 100 countries.
Company Profile
Let us briefly discuss the company profile of Coinbase.
| | |
| --- | --- |
| Company Name | Coinbase Global Inc. |
| Website | coinbase.com |
| Founded | 2012 |
| Founders | Brian Armstrong and Fred Ehrsam |
| Key People | Brian Armstrong – CEO, Emilie Choi – President and COO, Surojeet Chatterjee – Chief Product Officer |
| Headquarter | Undisclosed |
| Company Revenue | $ 1,801 million, Q1 2021. |
| Key Competitors | Binance, Kraken, Bitfinex, Bitstamp. |
What is Coinbase? A Brief History
Coinbase was founded by Brian Armstrong and Fred Ehrsam in 2012. It was launched with an idea of a single marketplace where customers could trade, invest, and transfer cryptocurrencies.
It is the largest US cryptocurrency exchange today with a quarterly volume of $ 335 billion in transactions as of Q1 2021.
Coinbase offers its products to both retail and corporate clients worldwide. It reaches out to the customers through its online platform and mobile apps.
It serves a large customer base of around 56 million verified customers today. Its global presence is in 100 countries. It serves customers through 1700 employees worldwide.
Coinbase makes money through premium charges on cryptocurrency conversion and trading transactions. Customers can securely store and exchange cryptocurrencies through exchange or wallet services.
The company offers cryptocurrency conversion services. Customers can also buy online products by paying through the digital wallet of Coinbase.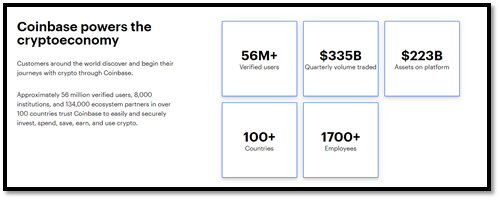 Source: coinbase.com
Coinbase also offers unique payment solutions to business clients. It enables corporate customers to receive payments through popular cryptocurrencies such as Bitcoin, Ethereum, and USDC.
Corporate clients can the plug-ins and API for easy access and integration with popular e-commerce platforms like Shopify and WooCommerce.
What Does Coinbase Offer?
Coinbase offers several products and services to retail and corporate clients. Its appeal to customers is a one-stop solution for customers dealing in cryptocurrencies. It allows customers to buy, sell, convert, or transfer cryptocurrencies.
Coinbase
It is the most widely used service offered by Coinbase. Customers can buy, sell, or store popular cryptocurrencies using this service. Traders can build their own portfolios by selecting different cryptocurrencies, just like traditional trading portfolios.
Popular Cryptocurrencies available are:
Bitcoin
Ethereum
Litecoin
Dogecoin
Bitcoin Cash
Monero
Aave
Commerce
It is a dedicated service for business customers accepting cryptocurrencies as payment. Businesses can integrate the Coinbase platform plug-in quickly to start accepting cryptocurrencies.
Businesses can convert these cryptocurrencies to USD or USD coins through conversion services of Coinbase as well. Shopify and WooCommerce are two popular e-commerce platforms supported so far.
Custody
It is the digital central bank of cryptocurrencies operated by Coinbase. The service is for institutional partners for operating segregated storage of digital funds securely.
Other networks and corporate clients can securely store their cryptocurrencies with Coinbase custody services. The service is regulated under the NY State Banking Law.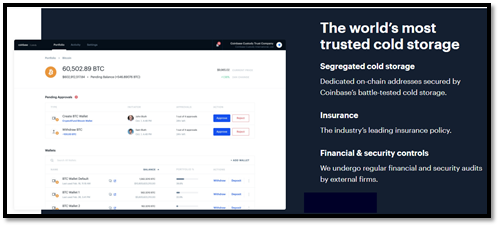 Source: coinbase.com      
Pro
Coinbase Pro is a dedicated premium platform for individuals and corporate clients. Customers can enjoy premium services and access to trading platform tools.
Wallet
Customers can transfer and store cryptocurrencies and other digital collectibles through "wallet". Customers can store and collect around 500 cryptocurrencies. This service is available without a Coinbase account as well.
Ventures
Ventures is a unique and flagship program offered by Coinbase for entrepreneurs and startups in the crypto world. It's a venture capital fund for new entrants into the cryptocurrency world.
Coinbase aims to offer the full ecosystem to new companies developing stablecoins with full technical and financial support.
USD Coin
USD Coin is the digital version of USD developed by Coinbase. It is equal to 1 USD in price hence offering great stability to investors. Customers from around the world can buy, sell, and transfer USD coins through Coinbase exchange and wallet services.
Coinbase – Business Model
Coinbase is a fintech that aims to develop the crypto economy. Its appeal has been to build a transparent and legal business model that can enable the trading of cryptocurrencies worldwide. It makes money similar to conventional financial exchanges and banks.
Coinbase's business model is based on a pay-per-transaction basis. Some of its services are free of cost for all customers. However, it's trading, storage, and cryptocurrency conversion services come with costs.
Coinbase comes with a vision of building an open economy. It has developed the largest and most effective cryptocurrency exchange in the world so far.
Thus, it operates under a value business model as well. It aims to bring discrete value and unique features from developing new cryptocurrencies to accepting digital currencies, and to trading and investing to the conversion of these assets.
Coinbase – Unique Selling Proposition
Coinbase is the largest cryptocurrency exchange in the world. Its brand recognition is the most unique selling proposition from Coinbase. It operates in around 100 countries.
The value proposition of Coinbase is another compelling and unique selling proposition. The company aims to offer an open financial system. Thus, it supports and develops new digital products and enterprises aspiring for an open financial system.
Coinbase customers can buy, sell, store, transfer, and convert cryptocurrencies; all in one place. Offering a comprehensive set of products for retail and corporate clients in a single place is another key feature of the company.
Coinbase is also empowering traditional businesses to accept payments in the form of digital assets. Its platform services can be integrated with traditional e-commerce stores through its plug-ins and API. Currently, it supports Shopify and WooCommerce platforms for integration.
Investing and storing cryptocurrencies are two compelling features offered by Coinbase. Its digital assets storing services are available for financial institutions looking to build digital banking and financial services.
How Does Coinbase Make Money 2022?
Coinbase makes money in a similar way to a traditional exchange. It charges trading and non-trading costs to its individual and corporate clients.
Transaction Fee
Coinbase adds a spread of 0.50% on cryptocurrency transactions. Each buys or sell transaction incurs a 0.50% transaction fee. The spread can also vary by the number of transactions in different currencies and locations.
| | |
| --- | --- |
| Transaction Amount | Fee |
| Less than or Equal to $ 10 | $ 0.99, € 0.99, £ 0.99, C$ 0.99,   CLP $ 0.99, Mex $ 0.99. |
| Above $ 10 and below $ 25 | $ 1.49, € 1.49, £ 1.49, C$ 1.49,   CLP $ 1.49, Mex $ 1.49. |
| Above $ 25 and below $ 50 | $ 1.99, € 1.99, £ 1.99, C$ 1.99,   CLP $ 1.99, Mex $ 1.99. |
| Above $ 50 and below $ 200 | $ 2.99, € 2.99, £ 2.99, C$ 2.99,   CLP $ 2.99, Mex $ 2.99. |
Credit Transactions
If customers obtain the credit facility from Coinbase, it will be charged at a flat fee of 2%. Similarly, the Coinbase card fee is for ATM withdrawals and spending is charged at 2.49%.
Cryptocurrency Conversion Fee
Cryptocurrency conversion to USD coin is treated as a transaction and incurs the same fees as stated above. Cryptocurrency conversion from one currency to another is charged with a spread cost of 2%.
Staking Service Commission
When customers hold cryptocurrencies with Coinbase, they can use third-party network services as well. Customers are charged for these staking services at a 25% commission rate.
Coinbase Revenue and Financials
Coinbase has publicly listed on the NASDAQ stock exchange in 2021. Thus, it has limited public financial data available.
According to its Q1 2021 published financial statements, the company reported a revenue of $ 1,806 million. It has a total assets figure of $ 10,201 million. Its net profit figure is $771,463 million as of Q1 2021.
SWOT Analysis of Coinbase 2022
Let us briefly review the SWOT analysis of Coinbase.
Strengths
Here are some key strengths of the Coinbase business model.
It enjoys brand recognition as the world's largest cryptocurrency exchange.
It operates with a value business model that pioneers the open financial system.
It offers to invest and storing of cryptocurrencies at the same place.
It enables businesses to receive payments through cryptocurrencies.
Its services are offered for retail and business clients through a single platform with premium products.
Weaknesses
Here are some key weaknesses in the Coinbase business model.
It faces macroeconomic challenges and a lack of support from the traditional financial sector.
Its revenue stream is linked directly to cryptocurrency prices as it charges most of its services on a percentage basis. Thus, its revenue stream is highly volatile.
Most of its revenue through commissions comes from only two major cryptocurrencies Bitcoin and Ethereum, thus lacking diversity.
Around 90% of its revenue comes through commission charged on cryptocurrency transactions.
Its pricing structure can be costly for retail customers as the percentage of trading transactions can be higher.
Threats
Let us briefly discuss the key threats faced by Coinbase and cryptocurrency exchanges in general.
It still faces several litigation challenges in different economies around the world.
It is subject to several regulatory and evolving law changes in different parts of the world, in particular, in the US.
The tax treatment of Cryptocurrency trades in the US under current laws can severely affect the profits of traders in the US.
The industry has become competitive with several new entrants in decentralized currencies and exchange services.
It needs to spend heavily on safeguarding the fiat currency of its customers as a breach of security can adversely affect its business model.
Opportunities
Here are a few key areas and opportunities for Coinbase for future growth.
The company can set spreads more competitively.
It can work to get banking licenses in different geographical areas to win customers' trust.
The company should diversify its revenue source from commissions on conversion and trading costs only.
It can work to diversify its revenue stream from two large cryptocurrencies to other cryptos as well.