Square, Inc. is a public online financial service, merchant accounts provider, and mobile payments services provider company. The idea for the company came to Jack Dorsey, the co-founder of Twitter, and Jim McKelvey.
One year later, they launched the first app and service for the platform. Later, in 2015, the company went public on the New York Stock Exchange 2015. Its headquarter is in San Francisco.
The platform offers many products to its users. Its main product is a card reader known as the Square Reader. The company also gets its name from its card reader, which is square.
The company also offered the first product to allow users to accept credit card payments through their phones. Similarly, the company offers other products, such as the Square Stand and Square register, to help users with their Point-Of-Sales (POS) systems.
The company also provides other products and services. They include physical and virtual gift cards, allowing users to issue cards directly. They also consist of online booking tools to help businesses manage their appointments online. The company also offers business financing through its Square Capital services.
Similarly, it provides a payroll system for users to calculate their payroll expenses and taxes automatically. Furthermore, the company also allows users to develop their own custom interfaces for the platform.
The company also has a Cash App app, which allows users to send and receive money through their phones. The app also supports bitcoin receipts and payments. Furthermore, the company also issues debit cards to its users linked to their Cash App accounts.
The company generated a revenue of $4.70 billion and a net income of $375.45 million in 2019. Its total assets were worth $4.55 billion, while it also had total equity amounting to $1.71 billion. At the end of 2019, the company employed over 3,800 employees.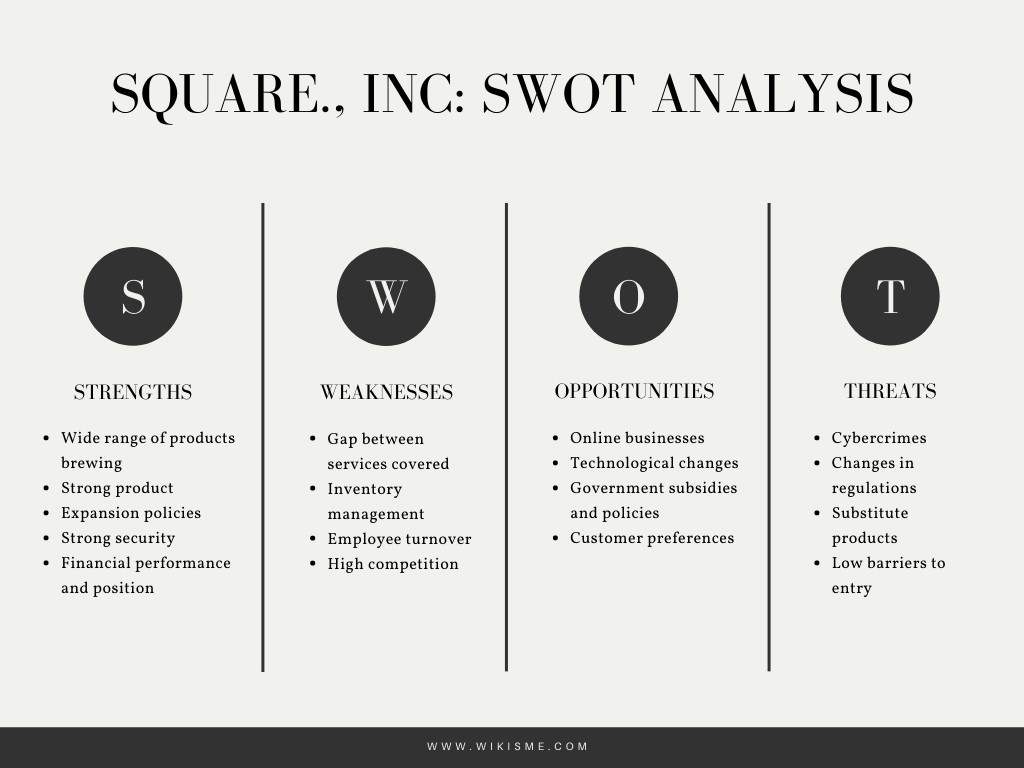 Square, Inc.'s profile is as below.
Company profile
| | |
| --- | --- |
| Name | Square, Inc. |
| Website | squareup.com |
| Founders | Jack Dorsey, Jim McKelvey, Tristan O'Tierney |
| CEO | Jack Dorsey |
| CFO | Amrita Ahuja |
| Location | San Francisco, New York, Atlanta, St. Louis, Kitchener-Waterloo, Dublin, London, Toronto, Melbourne, and Tokyo |
| Headquarters | San Francisco, CA, USA |
| Year founded | 2009 |
| Year of incorporation | 2015 |
| Revenues (2019) | $4.70 billion |
| Key products/ services | Square Reader, Square Stand, Square Register, Square Terminal, Square Capital, Square Payroll, Cash App, gift cards, appointment scheduler. |
| Key competitors | ShopKeep, Lightspeed, Payment Depot, SwipeSimple, Helcim, CDGcommerce, Shopify, SumpUp, PayPal Here, Intuit QuickBooks GoPayment, Clover. |
| Subsidiaries | Weebly, Stich Labs, Square Capital, Eloquent Labs, Dessa, OrderAhead |
Square, Inc.'s SWOT analysis
A SWOT analysis can help users better understand the company. A SWOT analysis examines a company's Strengths, Weaknesses, Opportunities, and Threats. The SWOT analysis of Square, Inc. is as below.
Strengths
The Strengths of a company in SWOT analysis signify the differentiating factors between a company and its competitors. The strengths of Square, Inc. are as below.
1) Wide range of products
As mentioned above, Square, Inc. deals in different markets and offers multiple products. Its main market is the merchant accounts aggregator market, which provides businesses with various sales system solutions.
However, it also has shares in the financial services and mobile payments markets. The company has developed a broad portfolio of investments in different services and products. All of Square, Inc.'s services are also integrated to provide users with maximum flexibility.
2) Strong product
The main product of Square, Inc. is its Square Reader. However, it also has multiple other products mentioned above. All the company's products are unique and have many satisfied users.
The users of these products also recommend Square, Inc.'s products to others, thus, gaining more users. All this is attributable to the company's quality of products and services.
3) Expansion policies
Another of Square, Inc.'s strengths comes from its expansion policies. The company has expanded into different new markets in the past and continues to do so. Its expansion policies have helped the company become an expert in penetrating new markets and achieving success. It has, in turn, allowed the company to significantly increase its revenues and income streams.
4) Strong security
Given the nature of the products and services of Square, Inc., the company has strong security systems that it offers its users. The company has had some controversies in the past related to security issues.
However, it has been quick to learn from these mistakes and fix the errors promptly. The company, along with secure products, also has robust fraud detection systems that help its users immensely.
5) Financial performance and position
One of the company's other strengths is its financial performance and position. Due to its years of quality products and services, the company has demonstrated strong financial performance, which has translated into a better financial position for it. It has enabled the company to expand into new markets without worrying about financial backing.
Weaknesses
Weaknesses represent the characteristics of a business that put it at a disadvantage compared to others. The weaknesses of Square, Inc include the following.
1) Gap between services covered
Despite the wide range of products and services the company offers, there is still a huge gap that their services do not fill. Due to this, several competitors to the platform have come forward that provide services to fill those gaps.
Similarly, the gap is one of the reasons why new users are hesitant to incorporate Square, Inc.'s products into their businesses.
2) Inventory management
Square, Inc. is notorious for having an inept inventory management policy. There are times when the company suffers due to high inventory in hand, which has also negatively impacted the company's working management policies.
Similarly, the inventory management policy of the company has forced the company into taking debt in the past. Despite the constant problems, the company has not learned from its past mistakes and continues to suffer from them.
3) Employee turnover
The company has also had problems due to its employee retention policies. Square, Inc. has suffered from a high employee turnover before compared to its competitors.
It also means that the company has had to spend more on attracting and employing new employees due to these policies. Similarly, the company also has to pay high expenses related to training and development. Some experts suggest the high employee turnover is due to the great workload and low worker morale.
4) High competition
Due to the nature of the company's services, it has attracted a lot of competition. Some of its competition also comes from well-established names in the market, such as PayPal or Intuit. The competition has also been one of the reasons why the turnover at the company is high. It has created a shortage of qualified employees in the industry.
Opportunities
Opportunities are external elements that a company can exploit or use to its advantage in the future. The opportunities of Square, Inc. consist of the following.
1) Online businesses
The increase in online business has given rise to many new potential users for the platform. It also helps that the number of internet and social media users is increasing daily. Therefore, the company can benefit from these users by exploiting the market and attracting these users. It can also increase the company's revenues in the future.
2) Technological changes
Technology has not been the same as when the company first started in 2009. The company has been able to take advantage of changes in technology.
However, there are still changes happening on a day-to-day basis that the company can use to its advantage. Technological changes can help the company increase its revenues, reduce costs, and develop new products for its users.
3) Government subsidies and policies
Some recent government subsidies and policy changes also present an opportunity for the company. These include subsidies related to environmentally friendly products, which Square, Inc. already provides.
Consumers have also become more supportive of products with low environmental impact. Similarly, some changes in the tax policies of the government also provide an opportunity for the company.
4) Customer preferences
Customers are becoming more aware of what they want from their products. It opens up great opportunities for Square, Inc. to study their needs and develop products according to customers' requirements.
Square has already collected enough user data to analyze. Nowadays, customers prefer unique and creative products that can provide them with value for their money. Some of Square, Inc.'s products already have these features.
Threats
Threats are the opposite of opportunities and represent external elements that can impact a company negatively. The threats faced by Square, Inc. are as follows.
1) Cybercrimes
There's no denying that cybercrimes have increased due to the adoption of the internet worldwide. Due to the nature of the products and services that Square, Inc. provides, the threat that the company faces is also significant. Any unauthorized access or security issues can negatively impact the company's reputation.
2) Changes in regulations
While the company has an opportunity when it comes to government policies, some regulatory changes present a threat to the company. New regulations are imposed in the industry regularly, creating a more complex and challenging environment in which companies operate.
In the case of Square, Inc.'s inability to follow these regulations, the company can get exposed to legal implications. The company not only has to face local rules and regulations but international laws as well.
3) Substitute products
Apart from competition rising in the industry, there are also many substitute products available that users can utilize. Substitute products are those that users can use as a substitute for another product. These also threaten Square, Inc. as users' adopting substitute products can decrease revenues and incomes.
4) Low barriers to entry
The industry's increased competition is mainly due to the low barriers to entry for new entrants. New entrants not only capture a portion of the market that Square, Inc. can benefit from but also lower the prices of products in the industry. Both of these can translate to lower revenues and incomes for the company. Overall, it poses a threat to the company.
Conclusion
Square, Inc. is a company established in 2009 that provides users with financial, merchant accounts, and mobile payment services. The company is one of the top names in the industry. Given above is a detailed Strengths, Weaknesses, Opportunities, and Threats (SWOT) analysis for the company.