Overview
Tubi TV is a streaming platform situated in the United States that is operated by the Fox Corporation.  It relies on advertising to fund its platform's extravagant content.
The company made its debut on April 1, 2014, and has been around since. The company's main headquarters are in San Francisco, where it was founded. More than  33 million people were using the company on a monthly basis as of the beginning of 2021.
Until 2022, Tubi was a stand-alone streaming service that launched in 2014. It was Fox Corporation that took over as the business's parent company in 2022. It now has 51 million monthly visitors.
Company Profile
| | |
| --- | --- |
| Company Name | Tubi TV |
| Website | https://tubitv.com/ |
| Founded | 2014 |
| Founders | Farhad Massoudi and Thomas Ahn Hicks |
| Key People | Farhad Massoudi – Founder & CEO, Michael Ahiakpor – Chief Product Officer, Marios Assiotis Chief Technology Officer, Reza Banki – CFO, Sarah Ekstrom – Chief People Officer, Natalie Bastian – SVP of Marketing, Adam Lewinson – Chief Content Officer, Mark Rotblat – Chief Revenue Officer. |
| Headquarter | San Francisco, U.S. |
| Company Revenue | $380 million (2021) |
| Key Competitors | Pluto TV, Hulu, Xumo, Graphic India, Asahi Broadcasting Group Holdings, and MobiTV |
What is Tubi TV? A Brief History
As an OTT streaming network, Tubi TV allows users to view on-demand video content like movies or television shows.
Users are not required to pay a monthly membership fee in order to access the material. The company is financed through the sale of advertisements.
With more than 35,000 films and TV series across 250 content partners, the company claims to have one of the biggest catalogs.
As a free service, it was established by Thomas Ahn Hicks and Farhad Massoudi of AdRise in San Francisco.
To now, Tubi TV has only been available to adRise customers. There were 125 content providers on the network when it was established, and 20,000 licensed TVs were included.
How Does Tubi TV Work and What Does it Offer?
So how exactly does Tubi TV work?
Tubi TV did not produce any of its own original programs until 2021 created the "Original" feature. When it comes to licensed content, this service provider works with companies like MGM, Lionsgate, and Paramount to show their movies and TV shows to users.
No registration is required in order to view Tubi TV content. As a result, the viewing experience is remarkably identical to that of traditional cable tv.
This streaming network may be viewed through the network's website, mobile applications (Both iOS and Android devices), or even other streaming systems such as Google Chromecast,  Amazon FireTV, or Roku.
In order to see the contents, you must reside in one of these countries: the USA, New Zealand,  Australia, Mexico, or Canada.
What does Tubi TV offer to its consumers?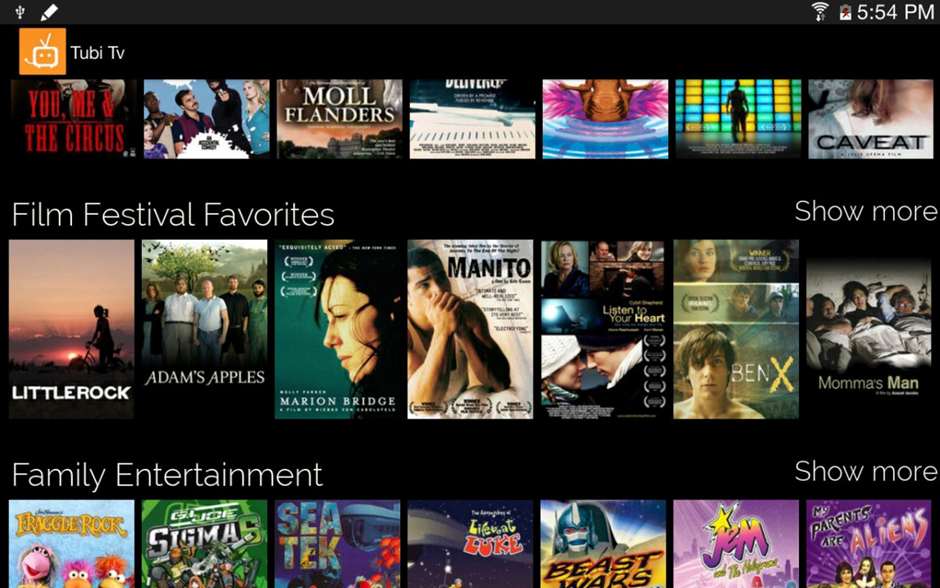 Source: Media Play News
More than 40 different types of entertainment are available to users, covering drama, action,  romance, horror, and more.
In addition to performing several additional functions not available to ordinary Tubi TV accounts, users who sign up for an Activate account in the free Tubi TV may build a queue of movies to watch and suggested material to stream. 
In addition, users may also resume viewing the video at their own pace at the place that they left off.
Tubi TV Business Model
As a Netflix replacement, Tubi TV operates as a free service. Therefore, the company's revenue strategy is based on advertising.
Due to the company's programming being ad-supported, you may expect to see advertisements both before and during the material you choose to view on the service. Despite the fact that some individuals are certain to be offended, others will choose it over a monthly subscription fee.
Tubi TV is ad-free and does not need a subscription. A free trial does not exist prior to the commencement of a paid membership. You will never be prompted to enter your bank account or credit card number when using the streaming website.
It is possible to view a wide variety of television programs and videos on Tubi TV for no charge at all. It features a wide variety of books and genres to choose from. There are no ads on the site, which means it is ad-free.
Tubi TV Unique Selling Propositions
Tubi is a video broadcast provider, similar to Hulu, Netflix, and other well-known options, where you can watch free episodes and films on your  smart TV, phone, or other compatible devices.
Tubi really doesn't need you to sign up for a membership, yet there are several features that its customers can enjoy.
First and foremost, the website does not need a membership to view all of its material. Despite the fact that it is supported by ads, people may still tolerate it since it provides free access to high-quality entertainment material.
Nonetheless, it has material not seen on alternative streaming services or media. It provides all of this for no cost, and the collection is extensive as well.
The "Original" feature was introduced in 2021 by Tubi TV, allowing users to view original content created and supervised by the Tubi crew. These are just a handful of the Tubi Originals that we've put together such as Juliet Killers, Unborn, Romeo.. etc.
How Does Tubi TV Make Money?
Tubi TV generates revenue from advertising. Advertisements appear as the video switches from one part to the next or while the video is playing.
About 4 to 6 minutes of advertisement are included in every hour of video material, as a general guide.
The ad loading is consequently reduced dramatically when compared to conventional (linear) tv. Every 60 minutes of linear television is usually punctuated by at least ten minutes of advertisement.
The company gets income every time a user is exposed to an advertisement.  Thereafter, the material licensing company, like MGM or Lionsgate,  receives a portion of the revenue.
The exact income split is determined by the deal made by Tubi TV and the company from whom the content was licensed. As a point of perspective, YouTube content creators earn 55% of all money, with the leftover 45% going to the YouTube platform.
Marketing on the streaming network (as opposed to conventional linear television) provides advertisers with more trackability than conventional linear television, allowing them to track their financial returns. If you decide to create an account with Tubi, you'll see this in particular.
With the intention of luring in new clients, Fox had previously declared that it would provide its sponsors with very profitable advertisement bundles (by combining them with Fox's TV schedule).
Moreover, the company has made considerable expenditures to strengthen its marketing technology, like the creation of a new sophisticated frequent management solution for sponsors. Advertisers may use the feature to prevent displaying the same advertising many times on their websites.
Tubi TV SWOT Analysis
Tubi TV examines its strengths, weaknesses, opportunities, and threats by doing a SWOT analysis of the present market.
In addition to being a top-tier streaming service, it offers other advantages. This is an opportunity for the corporation to counter market risks and maintain its development.
Strengths
Users granting free access to Tubi TV to watch more than 20,000 movies in their library size rather than paying monthly to Netflix or Hulu.
Users do not need to create an account to watch streaming movies
Tubi adapts to different technology by offering streaming on a wide range of internet-connected devices at free costs such as IOS, Androids, Google Chromecast, Apple TV, PlayStation, and many more. Due to this, their business grew immensely over the years.
The user interface is convenient to use and has a simple design.
The company has active users of 33 million increasing by 65% in 2020.
Weaknesses
Tubi TV is no longer accessible in Europe as a result of new EU regulations.
Users have to watch several ads while watching their favorite movies.
Movie contents in the library are not up-to-date.
No unique material is produced by Tubi's team. As an alternative, the company increases its reliance on Paramount, MGM, and Lionsgate which have contributed hundreds of hours of programming.
Opportunities
The business is going to be the most suitable alternative streaming service to Netflix and Disney Plus.
Users can access streaming services with the following devices such as PlayStation, browsers, smart TVs, etc.
The business may consider decreasing the duration of their ad or generating premium features to allow users to skip ads.
Expanding the number of contracts with different movie distributors will allow it to develop its content licensing business. Additionally, Tubi should refresh its content library to be up-to-date.
Currently, Tubi is only accessible to users in the United States, Mexico,  Canada, Australia, and New Zealand. Tubi can seek more opportunities to expand its market to other potential regions to target more market segmentation.
Threats
Because the ads are always interrupting users from watching smoothly, this can affect the user's experiences.
Streaming quality is still low, and it only features 720p HD, resulting in a not very-clear clean video watching experience like 1080p HD.
Advertising is unskippable and it generally lasts from 15 to 30 seconds, so this makes users feel annoyed.