Key Takeaway
Peloton is a fitness equipment and media company. It was founded in 2012 in New York to provide world-class fitness equipment. It has become a leading brand in fitness equipment since its inception.
Peloton offers exercise equipment in the range of Bikes and Treadmills only. It complements its product range with fitness accessories and apparel.
The compelling feature that sets Peloton apart from its competitors is the streaming services for its members. Thus, it creates an all-in-one user experience for fitness enthusiasts that want to use hardware with instructors.
Peloton is a publicly listed company on the NASDAQ stock exchange. It reported gross revenue of $ 1,825.9 million for the fiscal year 2020. However, it reported a net loss of $ 71.6 million.
The company currently operates in the US, UK, Germany, and selective locations in Canada. It offers direct sales of fitness equipment and memberships for fitness training classes in several categories.
Company Profile 2022
Let us briefly explore the company profile of Peloton.
| | |
| --- | --- |
| Company Name | Peloton Inc. |
| Website | onepeloton.com |
| Founded in | 2012 |
| Founder | John Foley, Graham Stanton, Hisao Kushi, Tom Cortese, and Yong Feng. |
| Key People | John Foley – CEO, William Lynch – President, Jill Woodworth – CFO |
| Headquarters | New York, US. |
| Business Model | Fitness and Training |
| Products / Services | Fitness Equipment, Training Classes, Apparel. |
| Competitive Advantage | Brand Recognition, Unique Business Model, Large Customer Base, Sophisticated technology. |
| Revenue | $ 1,825.9 Million for 2020. |
| Competitors | Precor, SoulCycle, Nordick Track, Bkool. |
Introduction
Peloton was founded in 2012 by young techies. It combined the idea of physical fitness equipment manufacturing with training classes. Today, its bikes and treadmills have a large screen that acts as a streaming device for the user.
Peloton offers bikes and treadmills for fitness enthusiasts. It also offers memberships for training in different fitness categories such as Yoga, indoor training, outdoor training, cycling, running, weight, fitness, and so on.
Thus, it combines hardware experience with its instruction bases classes to offer an all-in-one experience for users.
Peloton currently sells its equipment to the US, UK, and Germany. It also covers selective areas in Canada. Customers can buy equipment without a membership too.
Customers also have the option of signing up for the training classes only. It's a particularly useful feature for users who do not require a treadmill or bike.
Peloton has been listed on the NASDAQ stock exchange. Its share price is currently trading at $ 96.50 with a total market cap of $ 28.83 billion. It recorded $ 1,825.9 million in revenue and a net loss of $ 71.6 million for the fiscal year 2020.
What is Peloton? What Does it Offer in 2022?
Peloton is a fitness and media company. It offers fitness equipment, accessories, training classes, and apparel for fitness and sports users. The company currently operates in the US, UK, Germany, and parts of Canada only.

Source: onepeloton.com
Peloton appeals to fitness and sports enthusiasts with hardware and accessories. However, it has taken the fitness industry to a new level by offering users live streaming and recorded classes.
Users can subscribe for monthly subscriptions that allow them to join the classes from virtually any device. Customers can join in through a web login, smartphone app, smart tv, or other supported devices.
Peloton Bike and Bike +
Peloton bike and bike+ are its flagship products. It starts from a $ 1,895 price with a flexible monthly installment option available. Customers can try a free 30-day home trial before making the full purchase.
Peloton Bike has a 21-inch screen, 2 GB RAM, and 16 GB internal flash memory. It comes with App access for training classes.
The Bike + has a 23-inch screen, 4 GB RAM, and 16 GB internal flash memory. Its price starts at $2,495, with financing options available.
Both bike and bike+ offer financing options, free home trials, and app access features.
Peloton Treadmill and Treadmill +
Peloton's treadmill products are currently available in the US only. Its basic variant comes with a 59-inch running belt. Its price starts from $ 2,495. It comes with a 23-inch touchscreen monitor.
The treadmill + comes with a long 67-inch running belt with shock absorption technology. Its price starts from $ 4,295. It comes with a large 32-inch touchscreen monitor. Both variants come with flexible financing options.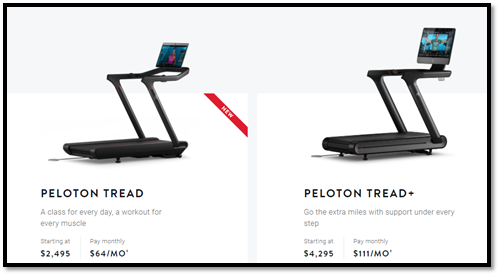 Source: onepeloton.com
Accessories
Peloton offers complementary accessories and equipment with bikes and treads. The range includes dumbbells, shoes, bike accessories, and treadmill accessories.
Apparels
Peloton also offers sports and fitness training apparel. It comes with a wide range of apparel products for sports and fitness enthusiasts.
Training Classes
Training classes are a flagship product that has become a unique selling proposition for Peloton. Customers can subscribe to different classes all in one place. The membership plans can be subscribed for individual or family pass with different pricing.
Some of the available workouts and training classes include:
Meditation
Cardio
Yoga
Stretching
Walking
Running
Strength
The Peloton all-access membership starts at $ 39.0 per month. It comes with access for all family members. Customers can log in with multiple devices simultaneously.
The digital membership starts at $ 12.99 per month. Customers can access it from one device only. Digital memberships cannot be accessed from Bike or Treadmill products.
Peloton Business Model 2022
Peloton didn't introduce fitness equipment or an online training model. But it took the idea of fitness and training to a whole new level by combining the hardware and classes.
Customers can access the training classes from the installed monitors or any other device while purchasing the hardware. Peloton generates major revenue from sales of its bike and treadmills. However, it has a significant proportion through its membership subscriptions.
Peloton has expanded its services to the UK, Germany, and Canada. Its membership services are also increasing with expansion. The company reported subscription revenue of $ 363.7 million for the fiscal year 2020.
Peloton appeals to fitness enthusiasts in a two-dimensional way. For its quality equipment and online or recorded training sessions. Members can subscribe to a single or family plan.
Customers can enjoy access from literally any device, smartphone, smart tv, or other device. You can stream music from a variety of available choices.
How Does Peloton Make Money?
The peloton makes money through its equipment sales mainly. It also makes significant sales through memberships and accessories.
The company reported a sales figure of $ 1,462.2 million from its equipment sales for the fiscal year 2020. It recorded sales of $ 363.7 million from subscriptions. The total revenue figure for the fiscal year stood at $ 1,825.9 million for 2020.
Although the company operates in different countries, its sales mainly come from the US market. It serves selected areas of Canada. The treadmills are sold in the US only.
Peloton Unique Selling Proposition
Peloton's appeal to fitness enthusiasts started with producing quality bikes and treads. It went ahead by offering online training classes with live and recorded sessions. The classes cover a variety of fitness workouts, exercises, training, and indoor/outdoor activities.
Peloton has become one of the leading brands in fitness equipment. Its brand recognition is surely a key selling proposition, despite having a short working history of only nine years.
It offers music and content for fitness followers. It prides itself on offering original content with continuous content development efforts. Thus, Peloton combines world-class fitness equipment, technology, and media features in one place.
A wide range of fitness workout categories and skilled instructors are other key selling points for Peloton. Although its membership sales currently offer a small proportion of its total revenue, the sales have been growing.
SWOT Analysis of Peloton 2022
Peloton is a recognized brand in the fitness equipment industry. It has enjoyed a large market share in the US market. It's also growing in popularity in other countries like the UK, Germany, and Canada.
Let us briefly explore the SWOT analysis for Peloton.
Strengths
Peloton's key features and strengths are:
It has brand recognition with millions of US membership users and equipment sales.
It offers a unique business model that combines technology, fitness equipment, and media in one place.
Its products come with competitive pricing and flexible financing options for US customers.
Customers can enjoy multi-device access for family members by listing different accounts for one package.
Customers can choose to subscribe to the digital membership only for training classes.
It offers quality content for fitness trainees through live and recorded sessions.
The company offers an innovative subscription-based model with easy access.
Weaknesses
Peloton has some weaknesses in its business model, like any other successful company.
It serves mainly the US customer base, with a slow expansion to other countries. For instance, it does not fully cover the Canadian market yet.
The company has mainly two fitness training products, bikes, and treadmills, with two variants each.
Its accessories and apparel range are limited compared to some of its competitors.
Despite being a listed company and a recognized brand, it has incurred losses for several years.
Opportunities
There are obvious growth opportunities for Peloton in several areas.
It can expand its innovative equipment range to other products beyond bikes and treads.
The company can expand globally with an established history and brand recognition.
The company can improve its finances to reduce net losses.
The company needs to invest in research and development for continuous improvement as it operates in a highly competitive market.
It depends on third-party services for its customers with live streaming and some other key features that can pose substantial competitive risks.
Threats
Like any competitive company, Peloton also faces business threats to its survival and growth.
The company relies heavily on the sales of bikes. A decline in sales or a new entrant can threaten its survival.
A new entrant or existing competitor can easily challenge its market position.
It depends on the seasonal sales, which can be a risk factor.
The company relies on many third-party licensing and services, such as music content, suppliers, and logistics.
Consistent net losses can also pose financial risks for the company.