Overview
Indeed is an American Based online recruitment and job finding marketplace. It was launched in 2004 and has grown in popularity since its inception big times. It works for employers, recruiters, companies, and candidates simultaneously.
Indeed offers free job listings and job-finding services. It also offers premium services for candidates as well as employers. Thus, it works as an online job marketplace that brings together employers and candidates.
Indeed is still a privately held company although it has grown in popularity and offers services in different countries. It is owned by its parent company recruit.com, a Japanese employment firm.
It has around 10,000 direct employees worldwide working in different countries. It offers services in different languages as well.
Company Profile
Let us briefly overview the company profile of indeed.
| | |
| --- | --- |
| Company Name | Indeed |
| Website | Indeed.com |
| Founded | 2004 |
| Founders | Paul Forster and Rony Kahan |
| Key People | Rony Kahan – Chairman, Chris Hyams – President, Hisayuki Idekoba – CEO |
| Headquarter | Austin, Texas, US. |
| Company Revenue | Undisclosed |
| Key Competitors | Monster.com, LinkedIn, glassdoor, ziprecruiter. |
What Is Indeed? A Brief History
Indeed was founded by Paul Forster and Rony Kahan in 2004. Its headquarters is in Austin Texas, US. Since its inception, it has expanded the service base globally.
Today, it offers services in 63 countries including the US, UK, Canada, Australia, Japan, India, Germany, France, Italy, UAE, etc.
Initially, indeed was founded as a job listing board that could work online. It has improved online job searching services incredibly.
Its powerful search engine now scrapes job listings from all around the world. Its powerful job search features benefit employers and job seekers alike.

Source: indeed.com
The leading job listing board today provides services in 63 countries and supports around 28 international languages.
It now hosts 250 million unique monthly visitors on its global websites. It offers 17 million CVs monthly with 10 jobs posted every second on its international job listing boards.
Indeed is still a privately held company since it was founded in 2004. It is now owned by the leading Japanese recruitment firm recruit.com.
Its business revenue comes through pay-per-click job postings and affiliate revenue from other services.
Job-seekers also pay for premium job services that are also an important revenue contributor for the company. However, employers and job seekers can use most of the services free of cost.
How Does Indeed Work? What Does It offer 2022?
Indeed offers a wide range of services for recruiters and job-seekers. Its services include both free service and premium service, models.
Thus, similar services can benefit both parties looking for a recruitment match. Job-seekers can post CVs, build a resume, and apply for matching jobs anywhere in the world.
Products for Employers
Employers can utilize different free and paid services to find the matching candidates for their hiring needs.
Free Job Postings
Employers can start their hiring process through a simple free job posting account. It allows employers to post different jobs and let job seekers apply without any charges.
Sponsored Listings
Sponsored listings stay at the top of the search page in the relevant search categories. When recruiters or candidates search for their desired jobs, they see the sponsored listings at the top.
Indeed charges on pay-per-click rates to employers can range from $5 to $499. Employers can set their monthly budgets and control the cost of listings.
Featured Employers
The featured employer is an ad-based service that helps recruiters stand out from the crowd. Employers can build their company profile and pay for the premium feature.
Indeed Resume – Paid Services
Like premium services for employers, Indeed also offers premium services to job-seekers. It provides additional benefits of greater visibility and access to candidates that can help them stand out from the crowd.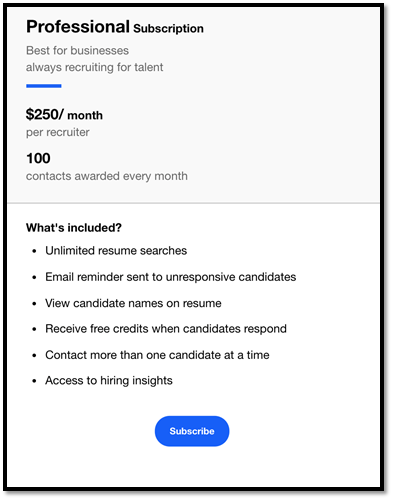 Source: indeed.com
Job-seekers can choose between two paid memberships. The standard subscription comes at $100/month or $960/year. The professional subscription comes with $250/month or $2,400/year.
Mobile Listings
Employers can also use the mobile app for easy access to all features provided by Indeed. It can help employers find the right candidates quickly.
Company Pages
Employers can create company pages to showcase their services and portfolio to potential candidates.
It boosts the stature of the company and fulfills an important requirement for job candidates.
Products for Job Seekers
As employers post jobs worldwide in different categories, potential candidates can search for matching jobs. The same job data provides opportunities to job-seekers worldwide.
Indeed Resume Services for Candidates
Job seekers can sign-up for a free account easily. They can build a free resume or upload a CV. They can search for available jobs in different locations and apply for matching jobs for free.
Candidates can use free resume templates to build their resumes or can upload their own. Most of the services for candidates are free.
Indeed- Business Model
Indeed follows a pay-per-click business model for its main services. However, its subscription-based business model is also a relevant part of it. It also generates revenue from sponsored ads and affiliate programs.
The business model of Indeed is based on an online marketplace idea. It helps connect the employers and the employees at a single platform. Employers and recruiters can post job listings on the platform.
Candidates also build CVs and post resumes on the platform. A power search engine aggregator builds the database. It then works as a powerful search engine for employers and employees.
Indeed also scrapes millions of jobs posted globally. Thus, it primarily works as an online job marketplace.
Indeed – Unique Selling Propositions
Indeed is an established brand name in the online job searching the market. It was founded in 2004 and has since then established a global brand name.
One of the key distinguishing features of Indeed is its free services for job-seekers. It earns profits through charges collected from affiliate partners and recruiters. However, there are free services available for employers and employees alike.
Since its inception in 2004, Indeed has expanded its global network to 63 countries. It supports 28 international languages.
Its global presence is a key advantage with millions of unique visitors on its monthly. It hosts 10 global job openings every second.
Indeed's success is built on its powerful search engine aggregator. It makes life easier for recruiters and job-seekers to find an ideal match for their respective needs. The platform comes with a clean user interface with easy-to-use search features.
It possesses a massive database of employers and employees from around the world. According to the company stats, it hosts 17 million monthly CVs from around the world.
How Does Indeed Make Money?
The main revenue streams of Indeed come from its affiliate partners and employers who use paid services for recruitment services. The company also hosts recruitment events and sponsored events that generate revenue for it.
Pay-Per-Click Revenue
The biggest revenue source for Indeed comes through its sponsored recruitment listings from employers. Recruiters and employers can post these sponsored job listings that appear on top of the search page in the relevant categories.
The costs are calculated on a pay-per-click basis and can range from a daily cost of $5 to $499. Employers can control the monthly budget and can opt-out of the paid promotion anytime.
Indeed Resume Services
Recruiters can use two types of hiring services. Small companies, can use a standard resume account with up to 30 contacts.
It costs $100/month or $960/year. The Professional resume account comes with 100 contacts per month and costs $250/month or $2,400/year.
Sponsored Ads
Additionally, companies can create targeted job hiring ads. These ads appear on Indeed pages.
These ads work like Google or Facebook Ads that help recruiters stand out of the crowd. Employers can control the costs of each sponsored ad as well.
SWOT Analysis of Indeed
Indeed is a leading brand in the job search marketplace. It has grown its popularity since its inception in 2004. It offers several features that come as its strengths.
Let us briefly review the SWOT analysis for Indeed.
Strengths
Here are some key strengths of Indeed.
It's a global brand with a recognized history as a job listing platform since 2004.
It offers services in 63 countries and 28 international languages.
It offers free services to job seekers with different free tools such as a CV builder and templates.
It offers free services to employers and competitive pricing on paid services.
Companies can use the platform to set up their company pages that indirectly promote their business as well.
Employers can search for candidates quickly and with customized search options.
It offers online and mobile versions so that employees and job-seekers can use its services on the go.
Weaknesses
Like any other business, Indeed also comes with some weaknesses in its business model.
It is still a privately held company despite an established working history of 17 years.
It offers free services to job-seekers with limited functions such as limited formatting and ATS optimization services.
Some recruiters and employees have complained against scams and fraudulent hiring activities on the platform.
Its pricing strategy is fairly competitive as compared to its competitors which can be improved for a strategic advantage.
Opportunities
Like other growing businesses, Indeed has also immense potential and opportunities for growth in the future.
It can expand the global presence as its competitors have a wider global reach, for instance, LinkedIn now is present in more than 200 countries.
It can introduce premium services and features for job-seekers as well such as premium candidate profiles.
It can improve the platform's security to eliminate spam or fraudulent hiring activities on the platform.
It can become a listed company that provides strong brand recognition and global expansion opportunities for the company.
As complained by several employees, it can introduce better ATS services for job-seekers to improve their experience on the platform.
Threats
There are evolving threats for every business in today's dynamic economic world.
The business model of Indeed is replicable with more competitors joining since its inception in 2004.
It lacks global access to a scale of the market leaders such as LinkedIn.
It faces growing competition in the online job marketplace industry.
Its free services lack quality and can become a competitive risk in the long-term with new entrants in the market.