Overview
Zillow is of the biggest American-based online real estate marketplace that offers listing services for sellers and shopping options to buyers or renters.
It is an American-based company founded in 2006. It was initially founded as a news company that aimed to help the real estate sector to make informed decisions.
Zillow is owned by Zillow Group Inc. that has several other subsidiaries including Zillow, Trulia, StreetEasy, Hotpad, and Zillow Offers.
Zillow is listed on the NASDAQ stock exchange with Class A (ZG) and Class C (ZG) symbols.
It offers free services to retail customers looking for real estate transactions through the online platform.
However, it charges the corporate customers for sponsored advertisements, listings, and other real estate services.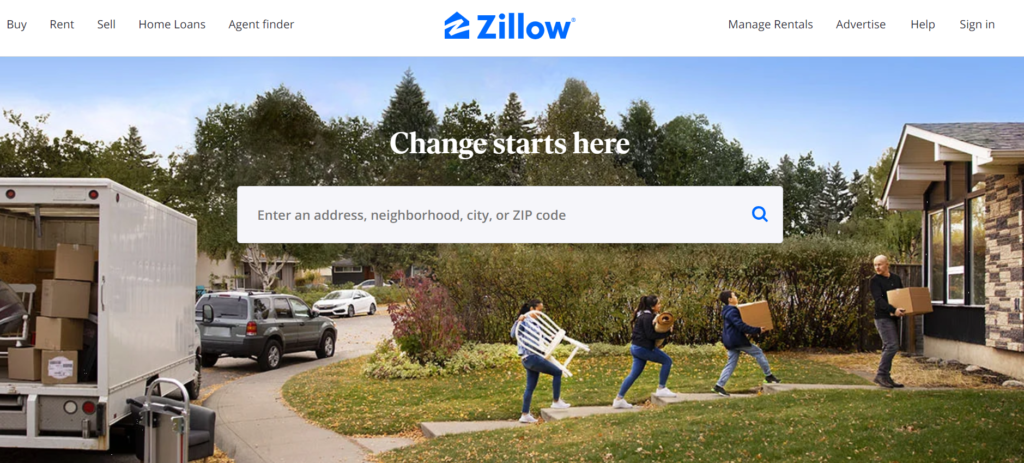 Company Profile
Let us briefly overview the company profile of Zillow.
| | |
| --- | --- |
| Company Name | Zillow Group Inc. |
| Website | zillow.com |
| Founded | 2006 |
| Founders | Rich Barton, Lloyd Frink, Kristin Acker, and David Beitel. |
| Key People | Rich Barton– CEO, Lloyd Frink – Chairman, Kristina Acker, Eric Baily – VPs, Kristina Adamski – Corporate Relations |
| Headquarter | Russel Investment Center, Seattle, Washington, US. |
| Business Model | Online Real Estate Marketplace |
| Company Revenue | $ 1,715 million for FY 2020 |
| Key Competitors | Realtor.com, opendoor.com, Redfin, Auction.com. BoldLeads CRM  |
What is Zillow? A Brief History
Zillow is an online real estate marketplace based in America. It was founded in 2006 as a real estate news firm that could help investors make informed decisions.
Since its inception, the company manage to grown in popularity and has become a go-to option for buyers and sellers in US  for real estate properties space.
Zillow is part of the Zillow Group Inc. That owns other subsidiaries like Trulia, Hotpads, and StreetEasy as well.
The company manage to list its shares to get addition fund on the NASDAQ stock exchange and its current share price is around $ 115.37 (Class C).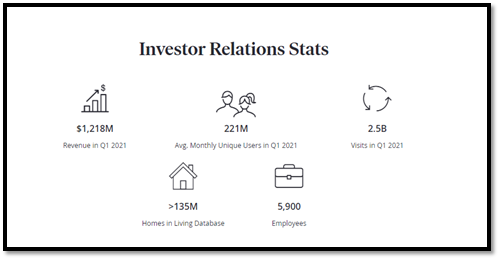 Source: zillowgroup.com
Zillow is one of the leading online real estate brands in the US today. The company has reported 2.1 billion visitors including 221 million unique visitors to its site in Q1 of 2021 alone.
It has a huge database of 135 million housing units that has helped it to generate revenues of $ 1,218 million in the first quarter of 2021 alone.
Zillow helps its users find several real estate services in one place. Its key service is providing an online marketplace for home buyers and sellers.
However, it offers some other valuable services including rental listings, loan offers, premium real estate agents, and advertisement.
What Does Zillow Offer?
Zillow offers an online real estate marketplace for buyers, sellers, and renters. It attracts retail customers as well as real estate agents and companies.
As it is one of the leader in real estate markets in the US, it attracts all types of real estate entities.
In the beginning, Zillow offered its services as a third-party marketplace only. However, recently it has started buying homes from customers directly as well.
It buys homes from retail sellers, makes improvements, and sells these houses again.
Zestimate
It is the flagship service offered by Zillow. The service helps buyers and sellers alike. The company collects several data points including on-market and off-market features to estimate the fair market value of the house.
Currently, the company has about 97.8 million houses database.
Zillow Offers
"Offers" is the service that brings buyers and sellers together. Under this service, sellers can put their houses for sale and can seek help from the Zestimate service to put on an accurate market value.
Buyers can use the same service to buy a house in their preferred location and budget.
Rentals
An estimate suggests there are 60% more rental listings in the US than buying/selling. Rentals are the service where house owners and renters can come together to exchange their services.
Premium Agents
This one is for real estate brokers, agents, and other real estate firms constantly look for business expansion.
Premium Agents is a paid service for all of them. They all get exposure to one of the largest real estate marketplaces in the US with premium services.
Home Loans
House buyers can find several types of house loans under this section. Customers can find home loans for mortgages, HELOCs, Refinancing, etc.
Customers can use online tools such as refinancing or mortgage calculators for estimations as well.
Closing Services
Zillow offers closing services that can provide benefits to several parties in a real estate transaction.
These services can help customers in handling escrow transactions with easy and reliable closing services. The service can be availed by buyers, sellers, agents, brokers, etc.
Zillow – Business Model
Zillow follows a business model that reflects more of an online marketplace. It aims to facilitate all types of parties involved in a real estate transaction.
Thus, there is something for every party from buyers, sellers, agents, brokers, and finance lenders.
From a business perspective, it follows a freemium model. It does not charge any commission or listing fees to its retail customers.
However, it charges corporate clients for premium services such as advertisement and promoted content.
Zillow is part of the Zillow Group inc. that offers several real estate services through its dedicated brand names.
It means the group combines several services in one place to make it an attractive marketplace for all types of real estate services.
The company visioned a strong marketplace for retail customers when it was launched. Today, it has a collection of around 97 million houses across the US.
It collects the data points through powerful tools such as AI and ML databases. Recently, the company has introduced a new service named "Zillow Homes" that enables the company for direct buying and selling of houses across the US.
Zillow – Unique Selling Proposition
Zillow enjoys the reputation of the biggest online real estate marketplace in the US. Thus, a strong brand name is its core USP. It has an established history in the real estate market since its inception in 2006.
"Zestimate" the flagship program of the company is another key competitive advantage. The company possesses huge market data of around 97 million houses across the US.
The company provides several services at the same place. It is possible through strong partnerships with leading brands and companies in the real estate offering different services such as brokerage, escrow, closing, and marketing, etc.
Zillow is a listed entity on the NASDAQ exchange. Its financial statements depict a strong financial position with huge current tangible assets including cash and cash equivalents.
Due to its AI and ML-empowered market database, the company has significant intangible assets and Goodwill as well.
How Does Zillow Make Money?
Zillow does not charge fees for listing to its retail customers. However, it makes money through premium services offered to corporate customers.
Advertisement Revenue
Real estate agents, brokers, lenders, and mortgage companies can all use an online marketplace to promote their businesses.
And one way of promoting a business in this completitive world now is through sponsored advertisements. It is a key source of revenue for Zillow.
Premium Agent Services
Agents, brokers, and other real estate companies pay for premium listings on Zillow Platform. It remains one of the biggest revenue sources for the company.
Direct Buying/Selling
Zillow has recently launched the service of directly buying houses from retail customers. It invests money in home improvements and sells them for profit to retail clients on its network. It has also become an Zilow's important revenue stream.
Zillow Revenue and Financials
Zillow has total assets of $ 7,486 million including $ 1,703 million in cash and cash equivalents.
It has short-term investments of $ 2,203 million. The company has significant goodwill of $ 1,985 million.
The annual revenue for Zillow was $ 3,339 million and a net loss of $ 169 million for FY 2020.
 The company sold a total of 5,337 with an increase of 24% from the previous year. Its current share price is $ 116.60 that translates to a market cap of $ 28.894 billion.
SWOT Analysis of Zillow
Let us briefly analyze the SWOT analysis for Zillow.
Strengths
Let us first look at some key strengths of Zillow.
Zillow considers as one of the largest real estate brands in the US with the most visited real estate website. Thus, brand recognition is its biggest strength.
The company has a large database of around 135 million houses out of which it publishes for around 97 million houses on its platform.
It has several products and services related to the real estate sector at the same place.
It offers free listings to its retail customers.
Its database is driven by artificial intelligence and machine learning tools, thus harnessing a culture of innovation and IT dominance.
It has a strong balance sheet with valuable portions of tangible and intangible assets.
Weaknesses
Here are some weaknesses of Zillow.
Despite a successful history, the company hasn't expanded globally.
It depends on third-party partnerships for many of its services.
Despite having a strong balance sheet, it still incurs net losses for the last few years.
It doesn't have a diversified revenue stream as it largely comes through premium listings from its partners.
Its Zestimate service is sometimes criticized for inaccurate financial data and valuation estimates.
Opportunities
Here are some growth opportunities for Zillow.
The company can utilize its brand recognition to expand globally.
It can focus more on offering in-house real estate services thus reducing reliance on third-party platforms.
It can improve on the "offerings" service to buy and sell homes directly from retail clients.
The company can improve its house valuation services.
It can diversify the revenue streams such as by charging a nominal fee to its large retail client base.
Threats
As with any established business, Zillow isn't immune to business threats and risks.
It relies heavily on data valuation services and third-party partnerships that can prove significant business risks.
The company faces stern challenges in preventing fraud and spam activities in its marketplace.
Its business model is replicable with ease of access to modern technology; thus, it always faces competitive risk.
Macroeconomic conditions such as the current downturn due to Covid-19 can slow down the sales in the real estate sector.
The company is prone to litigation and legal challenges.
The company can face severe write-down effects due to devaluations of its properties and intangible assets.