Overview
Slack is a communication app developed mainly for corporate clients. It's a utility software developed to facilitate businesses with their team collaboration needs. It provides a sophisticated alternative to traditional communication tools such as email.
Slack was developed in 2013 and it offers compatible versions with Windows, Mac, Linux, IOS, and Android platforms. It is used by millions of users globally. It offers internal communication tools for businesses.
Clients can use key features such as messaging, integration, voice and video calls, file sharing, and dedicated communication channels.
Slack offers free plans to its users with limited features. It has three paid plans starting at $ 6.67 per month per user. Larger companies can join Pro or Business + plans or can get customized solutions with the enterprise plan. So, these are the main income of Slack.
Key competitors of Slack are Microsoft Teams, Google Hangouts, Yammer, Zoho, Zoom Etc.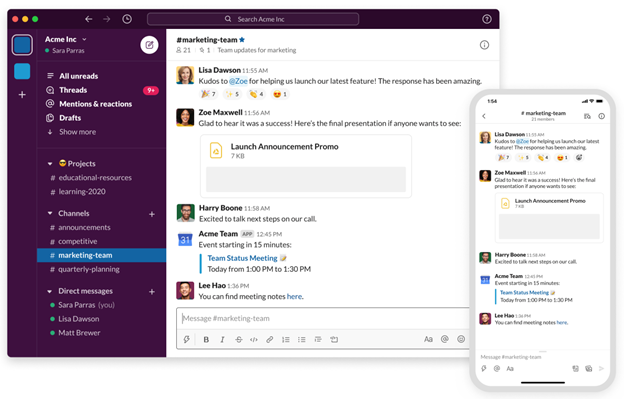 Company Profile
Let us briefly see the company profile of Slack.
| | |
| --- | --- |
| Company Name | Slack Technologies Inc. |
| Website | slack.com |
| Founded | 2013 |
| Founders | Stewart Butterfield, Carl Handerson, and Serguio Mourachov. |
| Key People | Stewart Butterfield– CEO, Carl Handerson – Chief Technology Officer, Tamar Yehoshua – Chief Product Officer |
| Headquarter | San Fransisco, California, US. |
| Company Revenue | $ 902.610 million for FY 2021 |
| Key Competitors | Microsoft Teams, Google Hangouts, Yammer, Zoho, Etc. |
What is Slack? A Brief History
Slack was developed by Stewart Butterfield, Carl Handerson, and Sergio Mourachov in 2013. It is aimed to solve the internal business communication and collaboration problems of businesses.
The idea behind developing a dedicated software platform was to develop a medium that is faster than email and comes with more tools than chat messengers.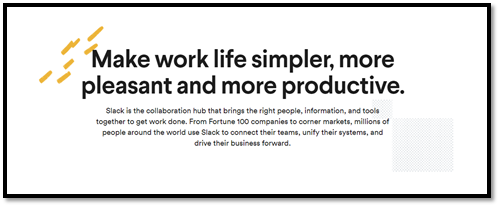 Source: slack.com
Slack offers collaboration and communication tools for businesses. It also offers customized solutions for larger enterprises. It can develop cloud-based communication and integration tools for its clients.
One of the key advantages of using Slack is its compatibility with other applications and software. Its users can use other utility and social tools with it to enhance communication performance.
Slack has expanded its global operations since its inception in 2013. It now offers services in more than 150 countries.
It is now a publicly listed company on the New York Stock Exchange. It was listed on NYSE in 2019 with an issue price of $26 and it had received a private equity funding of $ 1.4 billion in 10 funding rounds before that as well.
How Does Slack Work?
Slack offers business communication services to corporate clients worldwide. It has 156,000+ paid customers with more than 12 million+ daily active users.
It offers several communication products and solutions to its clients. It can also develop customized communication tools for larger enterprises.
Here are key solutions offered by Slack at a glance.
Slack Connect
Connect is the flagship business communication tool offered by slack. It lets businesses fulfill their business collaboration needs.
Users can create message strings, share files, create customized topics, audio/video calls, and perform other communication tasks easily with connect.
Slack Channels
Slack "channels" is a customization tool within the communication app. It lets businesses create and follow specific topics, projects, and teams. Users can search and follow "channels" with ease by searching through hashtags.
Integrations
Perhaps the biggest advantage for businesses while using Slack is its ability to integrate third-party applications. Slack can be integrated with popular productivity and communication apps and software easily.
Some top third-party integration options with Slack include; Drive, Office 365, Zendesk, Zoom, Zappier, and Adobe creative cloud.
Enterprise Solutions
Slack's enterprise grid is a customized solution for larger companies. Enterprises with a large employee base can obtain customized communication and collaboration tools from Slack.
These communication tools can be used for internal business collaboration as well as communication with external partner companies.
Slack's enterprise customer base includes some of the world's leading companies like IBM, Oracle, Uber, TIME, and Intuit. It prides itself on offering secured communication tools that come with flexibility and scalability features.
Slack – Business Model
Slack offers free and paid services to its clients. It offers a freemium version of most of its tools to the clients. Once clients familiarize themselves with its basic services, they can subscribe for paid versions with enhanced features and customized tools.
Slack follows the tried and tested business model of conversion from freemium to premium plans. Business clients often require collaboration tools that come with hefty prices.
Slack offers intuitive communication solutions to its business clients. Moreover, its pricing plans are scalable, meaning there are pricing plans for smaller businesses as well as larger enterprises.
Slack has more than 756,000 free business users worldwide. However, it also has more than 156,000 paid business customers.
These customers range from small businesses to the world's leading enterprises such as IBM, Oracle, Zoom, etc. Their premium plans run the Slack company. Most of its clients have good retention rates as well.
Slack – Unique Selling Proposition
Slack offers collaboration and business communication tools. The services are not unique to Slack; however, it offers quality and control features that make its services stand out.
Slack has become a recognized global brand with a global presence in more than 150 countries. It has 156,000 paid business customers globally with around 12 million active daily users. Thus, its global presence is a key advantage.
Slack comes with sophisticated technology and API tools. It prides itself in offering a secured communication platform for its users. Its scalability and customized solution are key features as well.
Third-party app integration feature also provides further flexibility for its customers. It offers hundreds of third-party applications compatible with its user interface.
One of the unique selling propositions for Slack is its ability with continuous research and development.
It comes with a solid reason though as Slack has heavily invested in its R&D in the last few years. It has spent a staggering portion of revenues on its Research and Development program totaling $ 382.1 million.
How Does Slack Make Money?
Slack was founded in 2013 as a private company. It secured several private funding rounds before it went public two years ago. According to Crunchbase.com, it received a total of $ 1.4 billion in private equity over 12 funding rounds since its inception.
Slack is now a listed company on the New York Stock Exchange. Its share price is currently trading around the $ 43.05 mark. Its public listing has certainly given a boost to its revenue sources with greater market capitalization.
The biggest revenue source for Slack remains its paid membership customer base. It has a total of 756,000+ customers that include around 600,000 free customers and 156,000 paid customers.

Source: slack.com
Paid customers can choose between three different plans. The first paid plan starts at $ 6.67 per month per user.
However, it offers limited storage and communication tools. Other premium tools offer larger storage, unlimited app integration, and other features. Thus, the paid customer base remains the biggest revenue stream for Slack.
An advantage for Slack is its large enterprise partnerships. Slack has partnered with the world's leading brands such as IBM, Oracle, TIME, Airbnb, Zoom, etc.
These large enterprises obtain customized solutions from Slack. Slack has a total paid customer base of 156,000 customers globally.
Slack – Revenue and Financials
Slack has a limited working history and a successful one so far. Its global customer has been increasing continuously. Thus, its revenues are also increasing year on year basis.
Slack's revenue for the FY 2021 is $ 902.610 million up from $ 630.422 million from FY 2020.
However, due to its heavy spending in research and development and share-based compensation program, it has incurred net losses of $ 292.488 million. The company has total assets of $ 1,884 million including cash and cash equivalents of $ 1,081 million.
SWOT Analysis of Slack
Slack has a limited working history of around eight years. Since its inception, it has expanded globally to over 150 countries.
Its customer base is also increasing steadily and its revenues are also growing. Like any other tech business, it also has some strong and weak points.
Let us briefly discuss the SWOT analysis of Slack.
Strengths
Here are some key strength points of Slack.
It has sophisticated technology and a platform that offers unique services to businesses around the world.
It has a global presence in 150+ countries with a large customer base.
Its customer retention ratio is favorable as it consistently grows its paid customer base.
It allows secured communication tools, customized enterprise solutions, and third-party developed apps integration for its customers.
Businesses can enjoy unlimited storage and data archives of communication that boost their productivity.
It invests heavily in research and development despite incurring net losses.
Weaknesses
Here are some key weaknesses of Slack.
Despite a successful start, it lacks certain communication features such as automated messaging.
Slack had complaints of security breaches that compromised its customers' valuable data.
It offers limited features in a free version with limited storage per user for small businesses.
It strings messages into a single conversation that comes as its advantage, but some customers refer to it as its weak link.
Opportunities
Like other growing companies, Slack has immense growth opportunities.
It can offer a more competitive pricing model to beat the competition.
It can expand further globally, which it has announced already.
It can adjust its cost of sales, operating expenses, and share-based compensation programs to reduce net losses.
A large portion of its revenue comes from the US, it can focus to diversify its global revenue streams.
It can work for further global recognition in other parts of the world outside of the US customer base.
It enjoys consistent revenue streams from its paid customers; however, it can work to convert a large free customer base into paid customers.
Threats
Growing businesses and tech firms face stern competition for survival. Slack also faces some business threats.
Despite large revenue streams, it still incurs net losses for consecutive years.
Despite a global presence of over 150 countries, its global revenue is limited as compared to revenue streams from the US.
It faces stern competition from communication platforms like Microsoft Teams, Google Hangouts, Facebook, Zoom, etc.
It may not sustain revenue streams in the coming years, as it has seen a spike due to current remote working trends because of Covid-19 restrictions.