In the world of online receipts and payments, PayPal doesn't need an introduction. The company is the largest online financial services provider, with more than 346 million active users in 2020.
These users consist of both individuals and businesses that use the platform for their online transactions. It is available worldwide and on all operating systems, further adding to its popularity.
Despite PayPal's popularity, many users don't understand how the platform works. PayPal is easy to use and doesn't require any technical knowledge.
However, it is still good to know how it works and what goes into it. The first thing that users need on the platform is an account. Once they log into their accounts, they can access the features, such as receipts, payments, and withdrawals, through the platform.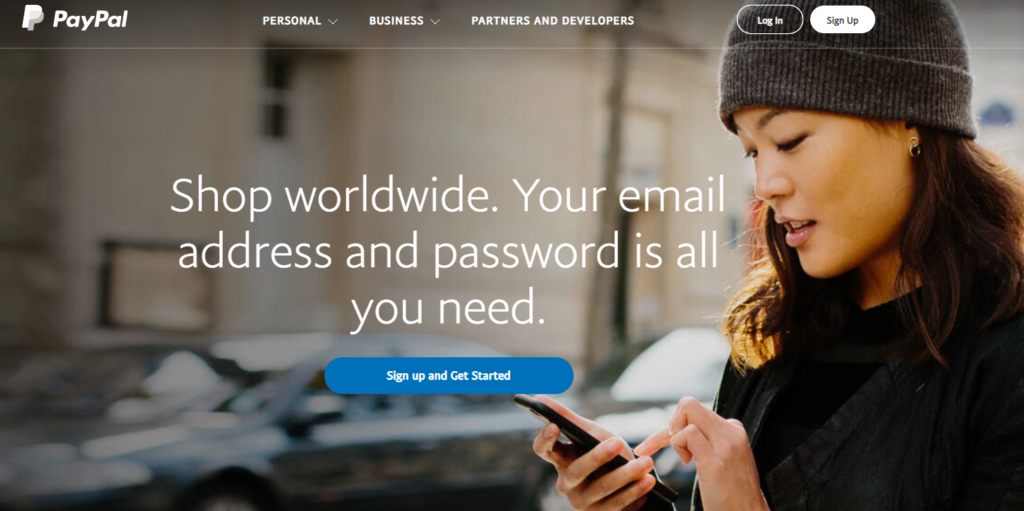 Registering on the platform
The signup process on the platform is quick and easy. Initially, it doesn't even require users to provide their bank information, unlike some other platforms. However, for extended usage of its services, users may need to provide the information, at some point.
To get started, users need to go to the platform's website and click on the 'Sign Up' button at the top of the website, which will take them towards the registration process.
From there, users must select which type of PayPal account they want to create. They can decide between either personal or business. The differences between personal and business accounts are self-explanatory as one is for individuals and the other for online businesses.
Users can also switch between these accounts later if they want. Based on which account the user selects, they get access to different features. PayPal may ask users to provide their phone numbers for confirmation as well.
Users get redirected to an application form, which they have to fill in with personal details. The type of account selected may require information regarding the individual or business to which the account relates.
Users also need to agree to their terms and policies before continuing. Once the process is complete, PayPal will send them an email with further instructions on verifying and activating the account.
Verifying a PayPal account is different from confirming it. Verification only allows PayPal to establish whether the user uses the email address provided in the account details. Furthermore, verification also refers to associating a bank account or credit card with the account.
Confirmation is different as it allows PayPal to ensure the account is valid. Through confirmation, PayPal verifies the location or address of the user.
Receiving funds
PayPal gives its users various options when it comes to receiving funds. First of all, users within the platform can send each other funds using email addresses. For example, the sender can obtain the receiver's email address and send them funds through it.
Similarly, users can also receive funds from outside sources, such as online marketplaces or platforms. Most of these platforms already have an option for users to withdraw their balances.
For businesses, however, PayPal has different options. These options may also cost extra as compared to the options available to personal accounts. The two options available to businesses include the standard and pro versions.
The standard type is for businesses with a small volume of transactions. On the other hand, for a moderate or high volume of transactions, PayPal recommends the 'pro' type.
The 'pro' type comes with a $30 monthly subscription fee.  However, the 'pro' type does come with some benefits and can save more than $30.
Users can also use the PayPal API to integrate PayPal solutions into their websites. It allows users to use many different features, such as a shopping card, etc. However, it does require some technical knowledge for users to integrate it into their websites.
PayPal also allows users to receive funds offline. Users can enter credit card information using PayPal's virtual terminal service.
Using offline services also comes at a $30 subscription fee each month. Users still have to pay other charges associated with processing transactions, as with online payments.
Sending funds
PayPal became famous for granting users the ability to send funds and make online transactions. Users can use the platform to send money to others, including other users, businesses, charities, marketplaces, etc.
To start sending funds, users need to have a balance in their accounts. From there, users need to decide to whom they want to send funds.
For other PayPal users, as mentioned above, senders need to obtain their email addresses. For businesses, users can use their websites to make transactions.
Users can also send funds through PayPal's debit card, which it provides in association with MasterCard. It may come with some limits, though, exposed by MasterCard.
Withdrawing funds
PayPal users can also withdraw funds from their accounts. These include different options that they can use. For example, users can either withdraw funds directly to their linked bank accounts, receive a paper check from PayPal, or use PayPal's debit card at an ATM.
How soon users receive these funds depends on the type of option they choose. For instance, debit card withdrawals are instantaneous, while paper check withdrawals depend on mailing latency.
Conclusion
PayPal is the world's largest online provider of financial services, including receipts and payments. The platform is easy to use and straightforward to understand.
Users need to make an account first, using which they can perform several actions. These include receiving, sending, and withdrawing funds.