Key Takeaways
DoorDash is one of the leading food delivery companies in the US. It operates in the US, Canada, and Australia. It delivers food to consumers through its drivers, commonly referred to as Dashers. These employees are hired on contracts and paid on a commission basis.
DoorDash's business model works like any other online food ordering platform. It makes money through commission charged to restaurants, order delivery fees to consumers, and marketing revenue through paid promotions on its platforms.
DoorDash was founded in early 2013 in San Fransico. It is now a listed company on the New York Stock Exchange (NYSE). Its last year's revenue stands at $ 2,886 million. Its share price is currently trading at $ 141.03. Its net loss for the year 2020 remained at $ 461 million.
The company proceeds to around 20 million consumers monthly in the US, Canada, and Australia. It employs around 1 million riders that deliver to these consumers. It has a merchant partner network of more than 450,000 merchants.
Company Profile 2022
Let us briefly take a look at the company profile of DoorDash.
| | |
| --- | --- |
| Company Name | DoorDash, Inc. |
| Website | doordash.com |
| Founded in | 2013 |
| Founder | Tony Xu, Stanley Tang, Andy Fang, Even Moore. |
| Key People | Tony Xu- CEO, Prabir Adarkar – CFO, Gordon Lee – Chief Accounting Officer |
| Headquarters | San Fransisco, California, US. |
| Business Model | Online Food Delivery, Logistics. |
| Services | Food Delivery |
| Competitive Advantage | Brand Recognition, Large network, Large Marketshare, Intuitive web and App experience. |
| Revenue | $ 2,886 Million for 2020. |
| Competitors | Grubhub, Uber Eats, Deliveroo, Postmates Inc. |
Introduction – A Brief History of DoorDash
DoorDash was founded by four students in 2013. The idea of online food delivery isn't unique to DoorDash though. The company became an instant success with a local initial launch in Palo Alto, California. Its founders then expanded the network to start the business on a full scale.
DoorDash has now become one of the most successful online food delivery companies. According to its financial statements, the company has delivered over 1.2 billion orders since its inception. It has a growing network of merchant partners of 450,000 restaurants in three countries.
DoorDash comes with an intuitive web and mobile application experience. Its easier to use mob apps and search features to attract food consumers. The company uses a vast network of riders to deliver quality food in good condition to consumers. So far, the company has lived up to the expectations of its customer base.
DoorDash received several private funding since its inception. It received a total of $ 2.5 billion in 5 different private funding rounds. It went public with an IPO in 2020 and raised a total of $ 3.7 billion with its listing on the New York Stock Exchange.
What is DoorDash? What Does it Offer 2022?
DoorDash is an online food delivery service. It describes itself as an aspiring logistics service provider and aims to stretch beyond the food industry. The company was launched in Palo Alto in 2013. Since then, it has expanded operations throughout major cities of the US. It also serves in Australia and Canada.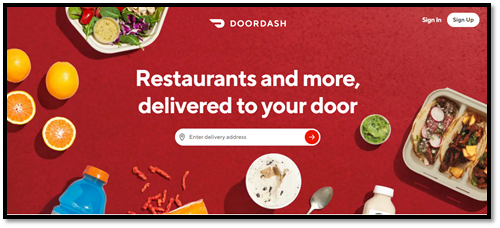 Source: doordash.com
DoorDash primarily appeals to end-users in the food delivery marketplace. Customers can find their favorite cuisine with a simple search through the web page or mobile applications. However, it does more than that. It connects restaurants with its customers through a network of riders. It enables all three sides of the food delivery business to connect through a commonly shared marketplace.
DoorDash for Customers
Currently, DoorDash serves in only three countries of US, Canada, and Australia only. It has a growing network of restaurants in these countries that customers can choose from to order cooked food. Customers can get started with a sign-up on its web or mobile app.
Customers can search for their favorite cuisine, franchise, or restaurant. Customers need to pay for the food delivery that depends on the distance and time of day. On average, customers can expect to from $ 6-8 per order. Customers can preorder food to pick up from a restaurant, grocery, a store, or to be delivered at home.
DoorDash for Restaurants
DoorDash has a growing network of restaurant partners. From its published statements, its restaurant network stands at 450,000 as of December 2020.
Restaurants sign up with DoorDash to take advantage of its large customer base. A large network of riders is also an asset of DoorDash that attracts restaurants. Restaurants sign up with a commission base structure on a per-order basis.
DoorDash for Riders
Riders commonly referred to as Dashers can partner with DoorDash for earnings. They get a commission on every food delivery. Customer Tippings are separated from the order commission. Dashers can take advantage of flexible working hours, place of choice, and a large network to earn handsome money.
DoorDash for Business Clients
Corporate clients can partner with DoorDash to take advantage of its exclusive offers. Business partners can enjoy a 0% commission, budgeted food orders, employee gift cards, and much more.
DoorDash Business Model 2022
Food Delivery marketplaces focus on consumers for expansion and brand recognition. DoorDash has done that well too. However, it has taken a unique approach of offering lucrative partnerships to its restaurant partners.
DoorDash enables three sides of the food delivery platform to take advantage of its technology. Customers can search and find their favorite cuisine from a restaurant. Restaurants can grow their sales with a large customer base. Finally, riders can earn more by joining a growing network that operates around 4,000 cities in three countries.
DoorDash's Business model is based on a commission basis for all three sides. Customers pay a food delivery fee per order that largely depends on the distance and service acquired. Restaurants also pay commission on every food delivery made by Dashers.
However, the fee structure for restaurants can vary as there are different products. Finally, riders earn their money through commission on food deliveries. Customer tipping is separated from commission for dashers.
Like its competitors, DoorDash also offers catering and business services to its corporate clients. It offers a 0% commission offer to its business clients. Corporate clients can choose from different options such as budgeted food, virtual gift cards, and regular food delivery options.
How Does DoorDash Make Money 2022?
DoorDash makes money through commissions earned from restaurants and customers. Its major source of revenue is a commission from restaurants. Restaurants can choose different products and pricing plans.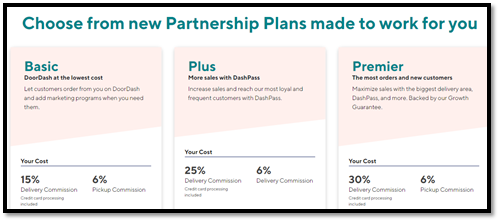 Source: doordash.com
Restaurants pay a 6% pickup commission on every pricing plan. The delivery commission changes with different features for basic, plus, and premier plans. If restaurants want to use their own delivery staff, they can choose a different plan that comes with a 15% commission.
DoorDash also earns money its interest and other investment like any other listed company. However, that proportion of its total revenue is almost negligible.
DoorDash's Unique Selling Propositions 2022
DoorDash offers an intuitive and easy user experience through its well-designed web and mobile apps. Customers can easily order food with different options such as home delivery, pick up, or delivery to a store.
Restaurants can take advantage of DoorDash technology to grow their sales. They can choose between using the full services for food delivery and marketing, or can choose to use only the delivery network. Restaurants can also use only the DoorDash network for marketing purposes.
A large customer base, a growing network of restaurant partners, and a large fleet of logistics are key advantages of DoorDash. Its appalling business model and competitive pricing model are also key selling propositions. However, its restaurant partnership offers and products remain its most compelling features.
DoorDash has a growing network of restaurant partners in three countries. As the company grows, it benefits all three sides of its marketplace. Its competitors lack such depth in growth. It currently serves in more than 4,000 cities across the US, Canada, and Australia.
SWOT Analysis of DoorDash 2022
The business idea of DoorDash isn't unique. The online food delivery business has become a successful model. The industry has grown to a billion-dollar industry. However, it has kept the promise of delivering quality services to its customers so far.
Let us briefly discuss the SWOT analysis of DoorDash.
Strengths
DoorDash has grown as a market leader in the online food delivery business. Its key strengths are features are listed below.
It is one of the leading marketplaces in the online food delivery business.
It has a large network of restaurants, customers, and riders.
It offers several products to restaurant partners such as food delivery, pick up, marketing, storefront, and Drive.
Customers can order easily with an intuitive mob app or web page with an option for group orders.
Corporate clients enjoy a 0% commission structure.
It offers comprehensive solutions to its restaurant partners from food delivery to marketing, payment processing, and outsourcing features.
Weaknesses
DoorDash is a leading brand in the food ordering marketplace. Yet it comes with several weaknesses.
Its commission structure is fairly costly for restaurants that start from 15% and increase up to 30%.
Challenges in food delivery such as canceled orders and unresolved customer complaints.
Higher food delivery costs for customers as compared to its competitors.
It comes with a limited operating history of less than a decade only.
It has incurred net losses despite growth and increased revenue.
Opportunities
As for any growing company, there are several growth and expansion opportunities for DoorDash as well.
It can improve the riders' delivery experience with continuous improvement.
It can grow further beyond its primary locations in three countries.
It can expand its merchant partner network by lowering its commission costs.
It can improve its business model to reduce losses, as it has incurred regular net losses.
It has an opportunity to take the leading market share in the food delivery services in the US.
The company can grow beyond the food delivery services, as it plans to enter into different logistic segments.
Threats
DoorDash also faces business survival, litigation, and other threats.
It faces stern lawsuits and litigation risks such as pressure to legalize its riders as full-time employees.
Its business model is fiercely competitive, even though it charges a higher commission to its partners.
Threats of new entrants and existing competitors remain imminent.
It faces macroeconomic threats such as the recent pandemic recession.
The company can face a financial crisis as it has repeatedly incurred net losses for several financial years.