Key Takeaways
Instacart is an online grocery delivery and pick-up service. It operates in the US and Canada. It operates in around 5,500 cities in these countries. It has partnered with around 500 partners from local grocers to branded retailers.
Instacart is often touted as Amazon for fresh food and grocery shopping. The idea of an online delivery company isn't unique to Instacart. Instead, it took the idea of home delivery to the grocery and fresh food industry only.
The company follows a platform business model that connects buyers, grocers, and riders. It charges a delivery fee, service fee, and commission for product deliveries. Customers can use the Instacart express delivery option for fast deliveries.
Instacart was founded in 2012 by Apoorva Mehta with other co-founders. It received several private funding rounds to date. The company is still privately held with its headquarter in San Fransisco, US.
Company Profile 2022
Let us briefly overview the company profile of Instacart.
| | |
| --- | --- |
| Company Name | Instacart Maplebear Inc. (Parent Company) |
| Website | instacart.com |
| Founded in | 2012 |
| Founder | Apoorva Mehta, Max Mullen, Brandon Leonardo. |
| Key People | Mark Schaaf – Chief Technology Officer |
| Headquarters | San Fransisco, California, US. |
| Business Model | Home Delivery Business |
| Services | Retail Product Home Delivery |
| Competitive Advantage | Brand Recognition, Large network, Large Marketshare, Intuitive web, and App experience. |
| Revenue | Undisclosed |
| Competitors | Amazon Fresh, Shipt, Go Puff, DoorDash |
Introduction
Instacart was founded in 2012 by Apoorva Mehta, Max Mullen, and Brandon Leonardo in San Fransisco. It operates in the US and Canada. The company is an online retail product delivery service. It serves around 5,500 cities in these countries.
Customers can order retail products through Instacart web or mobile apps. It charges a service fee and delivery fee to its customers. The fee starts at $ 3.99 below the order of $35 and increases as the order total increases. Customers can subscribe for a monthly or annual fee structure. Subscription plans do not incur charges on a per-order basis.
Instacart connects grocery stores and buyers through a common marketplace. The order delivery is performed through a network of riders. These riders are hired on a contract and paid on a commission basis. These riders are termed shoppers and they perform the shopping, packaging, and delivery services for customers.
What is Instacart? What Does it Offer 2022?
Instacart is an online food delivery platform. It connects buyers and grocers through a shared platform. The shopping, packaging, and delivery are performed through a network of shoppers. Customers can communicate with shoppers through messaging apps for order confirmation, changes, and alterations.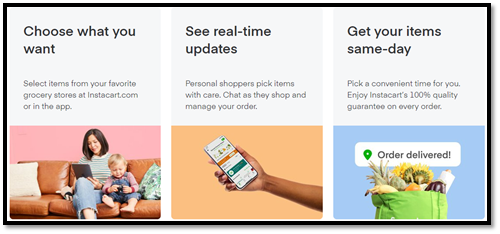 Source: instacart.com
Instacart for Buyers
Buyers can sign up for a free account through Instacart web or mobile apps. Buyers can order a wide range of products from fresh food to household essentials.
Some of the popular shopping categories include:
Fresh Produce
Dairy Products
Meat and Meat Alternatives
Sea Food
Baked Food
Frozen Food
Household Essentials
Office Supplies
Beauty Products
Instacart customers pay a delivery fee and a service fee per order delivery. The delivery fee starts at $ 3.99 per order on a total of $35 or less. Customers can subscribe for a monthly plan of $9.99 or an annual plan of $99. The subscription plans allow customers to place orders for no delivery fee for all orders of $35 and above.
Instacart for Retail Stores
Instacart partners with retail stores to deliver different products to customers. It has a large network of grocers and retail stores. Its network includes local grocers as well as retail brands. More than 500 online retailers and around 25,000 brick-n-mortar retailers are part of the network in the US.
Retail stores can also opt for the Instacart Ad program. The program is used for advertising the store products through Instacart specifically. It works on a commission basis with an option to set a specific budget and other parameters.
Instacart for Shoppers
Shoppers are a network of contract employees for Instacart. They receive orders through mobile apps from buyers. They handpick items, pack, and deliver these items to the customer's location. They earn on a commission base working model. All tipping earnings are separate income from their commission.
Instacart Express
Buyers can opt for express deliveries with the express program. The shopping items are delivered within one hour of the order confirmation time from a nearby store. Instacart charges different commissions on the express program.
Customers can subscribe to a monthly or annual pricing plan that comes with free delivery on all orders of $35 or above.
Instacart also offers some other programs for its partners and customers. For instance, it has a designated marketing program for its retail partners. It offers virtual gift cards to its customers. Shoppers can join the earning program in several ways for delivering products to customers in different localities.
Instacart Business Model
Instacart reinvented the idea of a grocery item delivery service through an online platform. The idea isn't unique to Instacart, in fact, to no one as it was tried by several companies. However, Instacart took the idea to a success level that no one could before it.
Instacart follows an online marketplace business model. It combines the customers and retail sellers through a common marketplace. Additionally, it provides earning opportunities to delivery contractors termed as shoppers here. All stakeholders can communicate and follow the order process through the same medium.
Instacart's main appeal is to buyers to shop with convenience. Customers can easily select their desired grocery or other household items. The payment options are also flexible with debit/credit card payments as well as digital wallet payment options.
Customers can use different services for in-store pickup or delivery at door. Similarly, both of these options can be used by shoppers to earn money with these options. Instacart's innovative technology brings all stakeholders to a common marketplace. All three sides of a transaction benefit from it in a unique way.
How Does Instacart Make Money 2022?
Instacart has several revenue streams as it connects three parties in online grocery shopping. It charges commission from its partner grocers as well as delivery and service fees to its end users.
Instacart's biggest revenue stream remains its service and delivery fees charged to buyers. The fee starts from $ 3.99 per order on an order of $35 or less. The fee increases with an increase in the order total.
It also charges monthly or annual subscription fees to its customers. The monthly fee starts at $ 9.99 and the annual fee is set at $99. The service fee is charged at 5% or a minimum of $2.
Additionally, Instacart also charges its grocery and retail partners for advertisement costs. It follows a different marketing program. It also incurs a heavy fee for bigger household items to its customers.
Contrarily, Instacart also pays its shoppers on a commission basis. It also attracts marketers and influencers for affiliate marketing.
The company is still privately held with an anticipated IPO. It has received several private equity funding rounds. Its current market capitalization is estimated to be around $ 14 billion.
Instacart – Unique Selling Proposition
Instacart followed an old idea of delivering grocery and household items through an online platform. It was a tried and tested formula that failed for obvious reasons and didn't work financially for many companies earlier. In that sense, following the idea and making it a success remains a key achievement of Instacart.

Source: instacart.com
Since its inception, the company has expanded its services throughout the US and Canada. It now covers around 5,500 cities in these two countries. It has a network of 40,000 conventional stores and a total of 500 + online retail brands. Thus, its brand recognition is a unique selling proposition.
Instacart covers a wide range of household items, food items, beauty products, office supplies, etc. The company states its customers can choose from around 500 million listed items through its platform. Its comprehensive range of products and categories is another unique selling proposition. The company has a large network of full-service and in-store shoppers as well.
SWOT Analysis of Instacart 2022
Instacart was founded in 2012, it has a short working history as an online household item delivery platform. Yet it has grown as a market leader in the online delivery marketplace.
Let us briefly discuss the SWOT Analysis for Instacart.
Strengths
Here are some key features and strengths of Instacart.
It has followed an exceptional business idea that required perfect execution.
It offers a large network of retail partners, covered areas, and shoppers' networks.
It has a large and loyal customer base with millions of orders processed yearly.
It offers a simple and easy sign-up as well as an order processing mechanism that appeals to customers of all genres.
It offers a wide range of products from household items to fresh food, and from baked food items to office supplies.
Weaknesses
Instacart has several weaknesses in its business model as well.
The company is still privately held, although an IPO is anticipated for a while now.
It incurs higher delivery and service charges to its customers.
Its membership fee, delivery fee, and service costs can be costly for non-express customers.
It has a limited international presence as it operates only in the US and Canada.
Opportunities
Instacart is a success for sure and it's growing rapidly. Here are a few growth opportunities for it.
It can go public as it has grown a long way since its inception in 2012.
The company can attract more customers by lowering its commission charges.
It can expand globally with a successful business model.
It can introduce a standardized and consistent fee model for all customers.
Threats
As with any successful business, Instacart also faces several business risks and threats.
Its business model can be replicated, thus poses a threat of new entrants all the time.
It faces stern competition from large companies such as Amazon Fresh.
The company relies heavily on third-party service providers and contract employees (shoppers).
The company has relied heavily on private equity funding so far.
The company faces macroeconomic threats like any other company, for instance, reduced sales in an economic recession.