Key Takeaways
Fiverr is a leading online marketplace. It combines the sellers and buyers of digital products that relate to several business categories. It offers services to a global audience of sellers and buyers. It's an outsourcing platform that brings together both sides of a business. It offers services for individuals as well as businesses.
Fiverr attracts both sides of the business. Sellers offer services ranging from web, Finance, graphic designing, marketing, sales, e-commerce, writing, translation, and so on. On the flip side, buyers can obtain all of these services at the same place.
Fiverr charges a flat fee of 20% to its seller members. It has several advanced services that charge different fees to its clients on both sides of the transaction. Fiverr is a publicly listed company on the New York Stock Exchange.
Company Profile
Let us briefly explore the company profile of Fiverr.
| | |
| --- | --- |
| Company Name | Fiverr |
| Website | Fiverr.com |
| Founded in | 2010 |
| Founder | Micha Kaufman and Shai Wininger |
| Key People | Micha Kaufman – CEO, Ofer Katz – President and CFO, Hila Klien – COO |
| Headquarters | Tel Aviv, Israel. |
| Business Model | Online Marketplace, Digital Outsourcing Platform. |
| Products | Digital and online business services in several categories. |
| Competitive Advantage | Online Marketplace, Brand Recognition, Worldwide Customer base. |
| Revenue | $ 189.5 million |
| Competitors | Upwork.com, guru.com, freelancer.com |
Introduction
Fiverr is an online marketplace for digital services. It was founded in 2010, and its headquarter is in Tel Aviv, Israel. It has established global brand recognition in its short history. It offers services to individuals as well as businesses.
Buyers and sellers can exchange digital services on this platform. It has eight broader categories for various business functions. Sub-categories include various niche services for businesses and individuals. An estimated total of 500 sub-categories is available for buyers and sellers across different segments.
Fiverr is a listed company on the New York Stock Exchange. Its current annual revenue is $189.5 million. It mainly derives its revenue from the commission charged to buyers and sellers exchanging services on Fiverr.
What is Fiverr? What Does it Offer?
Fiverr is an online marketplace for digital services that work as an outsourcing platform. It means both sellers and buyers of digital services can use this platform. It serves the business customers as most of the services are offered for businesses.
However, individuals can also use the platform to obtain different services such as personal finance, writing, translation, video editing, graphics, etc. Fiverr offers several services in different categories. It has also expanded its product range with specialized categories for business customers.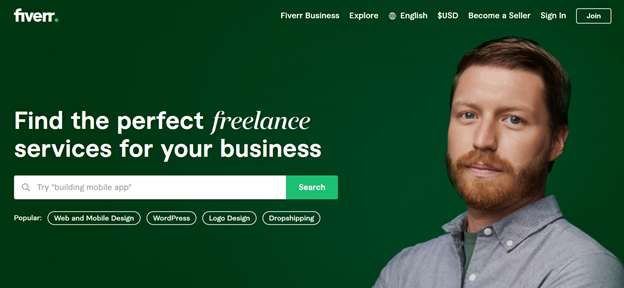 Categories
These are digital service categories that buyers can find to obtain digital services. Simultaneously, these categories are selling marketplace for sellers.
Some broader categories on offer at Fiverr include:
Graphics and Designs
Writing and Translation
Digital Marketing
Video and Animation
Business Services
Lifestyle
Programming and Tech.
Data
Each category offers several sub-categories. Sellers can offer customized services, so do buyers can obtain these customized services.
Fiverr Business
Fiverr business is a dedicated platform for small businesses to outsource their operations digitally. It is different from normal Fiverr services as with a business account, clients can form a team to work in collaboration.
Fiverr Elevate
Elevate is another dedicated segment for businesses. Clients can manage most of their business activities using the Elevate segment.
Fiverr Pro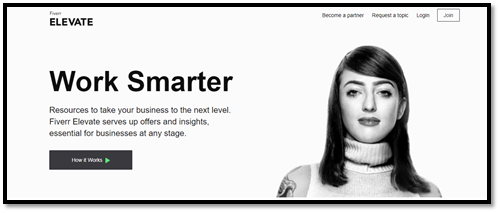 Fiverr Pro is an exclusive badge for the selected talent pool on Fiverr. Thousands of sellers offer services on its platform. It chooses the best talent pool to offer premium quality services to buyers. Pro sellers get the advantage of prominent recognition and can offer services at premium rates.
Fiverr Studio
The Studio is another excellent curated talent pool segment for buyers. However, it is dedicated to digital marketing, web design, graphics, and social media marketing, etc. A team leader from the studio collaborates and handles the project for clients.
Fiverr ClearVoice
ClearVoice is a managed content management segment on Fiverr. From web content writing, SEO, Marketing, Planning, and strategy, every service can be obtained at this segment. It also allows the sellers to join ClearVoice and offer premium services to business clients here.
Fiverr AndCo.
AndCo. Is dedicated to business invoicing and payment solutions. Business clients can get invoice management, payments, employee reimbursements, taxes, and contract management at this segment. It specifically deals with the payment side of a business. All services are offered through the digital platform though.
Fiverr also offers some free learning tools to its clients. Blogs, guides, and tutorials can be great learning tools for sellers.
Fiverr Business Model 2022
Fiverr follows a marketplace business model that combines the needs of the buyers and sellers simultaneously. Its main appeal is to the freelancers for offering digital services to the business community going online with each passing day.
Fiverr generates its revenue from transaction and service fees charged to buyers and sellers. However, the primary source of revenue is the buyers' fee. Fiverr deducts a flat fee of 20% from sellers' order revenue embedded in the total cost of the order. In that sense, all revenue of Fiverr is funded by the buyer side.
Fiverr's main marketplace comes from English-speaking countries like the US, UK, Australia, and New Zealand. According to Fiverr, 70% of its revenue is generated from these countries.
Fiverr appeals to freelancers from over 160 countries. At the same time, it offers digital services to small businesses at affordable prices. As more businesses go online, the expansion opportunities with digital services increase for Fiverr and other marketplace platforms.
How Does Fiverr Make Money 2022?
Fiverr's main source of revenue is the buyer's spending. It charges a transaction fee to its buyers. It also deducts a service fee from sellers that buyers with the order confirmation essentially pre-pay.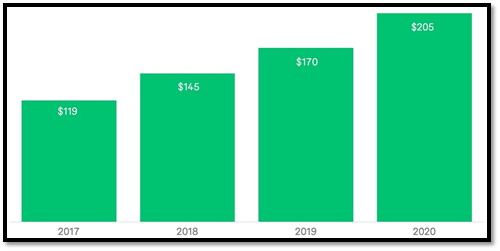 Source: fiverr.com
According to Fiverr, it has a total of 3.4 million active buyers as of 2020. These buyers spent an average of $ 205 in the year 2020. Buyers spending more than $500 account for around 58% of the total numbers. Its annual revenue reached $ 189.5 million for the year 2020. Despite increased revenue and buyers, it incurred net losses of $ 14.8 million.
Fiverr – Unique Selling Proposition
Fiverr follows a business model that isn't a unique one. However, it offers certain features that make its platform unique from its competitors. Here are some key features and unique selling propositions of Fiverr.
Technology
Fiverr uses sophisticated machine learning and data analytics technologies to offer services to both sides of the transaction. It enables buyers and sellers to collaborate and communicate in a cross-platform environment easily.
Features for Buyers
Fiverr offers several dedicated features for buyers exclusively. It offers specialized outsourcing services to buyers from individual tasks to project management and outsourcing full-scale business operations.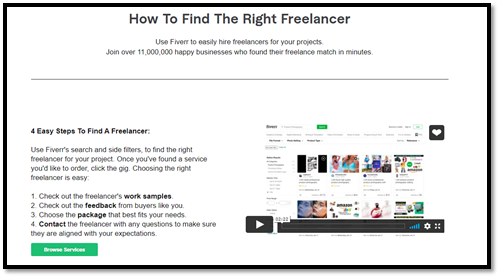 Source: fiverr.com
Features for Sellers
Sellers on Fiverr can enjoy access to a global marketplace. Their jobs are backed by exclusive services such as management, data analytics, and security to offer services to a global audience.
Brand Recognition
Fiverr has an established market for buyers and sellers. It has reached a 3.4 million buyers' figure for the last year. Its seller and buyer community come from 160 countries. However, most of its business comes from the US, UK, Australia, and New Zealand.
Intellectual Property
Fiverr is a digital marketplace. Its competitive edge is its intellectual property. Its frictionless and secure services to clients are its unique selling proposition. Thus, its intellectual property is its biggest asset and a unique selling proposition.
Fiverr – Revenue and Market Capitalization
Fiverr is a listed company on the New York Stock Exchange. Its current share price is $175.0. Its total market cap is $ 6.28 billion as of today. Its last year's revenue is $ 189.5 million. The revenue source is buyers' transaction and service fees. It has a global customer base of 3.4 million buyers.
SWOT Analysis of Fiverr
Fiverr was founded in 2010, and it's an established platform in the digital marketplace. Its revenue and customer base are growing consistently.
Let us analyze the SWOT for Fiverr briefly.
Strengths
Here are the key features and strengths of Fiverr.
It is one of the pioneers of digital marketplace platforms with an established history.
It offers dedicated services to its buyers as individuals as well as business clients.
Sellers and buyers are protected against scams and fraudulent activities.
It offers an intuitive and clean user interface for its users.
It uses sophisticated machine learning and data analytics technologies to offer scalable services to buyers.
It comes with a global presence and brand recognition power.
It offers dedicated and prompt support to both sides. It has a dedicated resolution center to resolve transaction disputes amongst both parties.
Weaknesses
Fiverr has some weaknesses that we can expect from a growing firm.
Its commission structure is relatively higher as compared to its competitors.
It cannot serve all business needs as it's an online and digital marketplace.
Its customer base is concentrated largely in a few countries such as the US and the UK.
Inevitably the platform cannot fully eliminate scammers and fraudulent activists.
Opportunities
As a growing business, Fiverr has immense potential for further growth. Here are some key opportunities for it.
It can diversify its buyer customer base that is centered in a few select countries.
It can reduce the commission on transactions and services to attract more buyers as well as freelancers.
It can improve and build on its mobile application to fully offer services through its mobile app.
It can include business side services for sellers, as most of its competitors are offering the service already.
It can introduce stricter scrutiny of transactions to eliminate any scams and intellectual property theft that can cause severe damage to its business model.
Threats
Here are a few key business threats to Fiverr:
The business model is easily replicable.
It is facing growing competition from its rivals.
It faces several intellectual property theft claims and lawsuits.
Like any other business, it is also prone to macroeconomic risks such as a current Covid-19 recession.
Despite increased revenues, it still incurs net losses for consecutive years.