Overview
Grammarly is a digital writing assistance service. It's a technology company working as Software as a Software (SAAS). It helps the writer in grammar, punctuation, and writing styles for individuals and business professionals.
Grammarly offers a freemium model for all users. Individuals and business professionals alike can fully utilize the free services. It also offers premium services with extra features such as tone selection, plagiarism detection, additional user licenses, and much more.
Grammarly is still a privately held company since its inception in 2009. It offers services to a worldwide audience through various applications. Its product range includes desktop applications, browser extensions, mac, windows, and mobile applications for IOS and Android.
Company Profile 2022:
Let us briefly discuss the company profile of Grammarly.
| | |
| --- | --- |
| Company Name | Grammarly Inc. |
| Website | grammarly.com |
| Founded | 2009 |
| Founders/Key People | Max Lytvyn, Alex Shevchenko, Dmytro Lider, Brad Hoover – CEO, Stu West – CFO Kristy Stomberg – VP Marketing |
| Headquarter | San Fransisco, California, US. |
| Company Revenue | Undisclosed |
| Key Competitors | Ginger, Hemmingway, Pro writing aid, Paper rater. |
What is Grammarly?
Grammarly was developed by Max Lytvyn, Alex Shevchenko, and Dmytro Lider in 2009. It was initially developed with an idea to help students with grammar and punctuation needs. It developed into software for plagiarism checkers as well as grammar requirements.
Today, Grammarly is one of the most developed online tools for grammar and plagiarism checking. It is AI-Empowered that fully utilizes the machine learning technique to offer unique services.
It has expanded the product range and today it comes with a desktop app, browser extensions, mobile apps, mobile keyboard, and Microsoft Ad-Ins for efficient writing.
The company has grown its business substantially since its inception in 2009. It now has around 500+ global team members working in different locations.
It has more than 3 million daily active users base worldwide. It's business and professional customers have also increased to over 30,000.
Grammarly proudly defines its vision statement as:
"To improve lives by improving communication".
It defines the company values by EAGER word.
Ethical           Adaptable                  Gritty                            Emphatic               Remarkable

Source: grammarly.com
Grammarly offers its services worldwide. Its customer base comprises individuals, students, business professionals, and enterprises such as newspapers, magazines, etc. The company operates through its four office locations in California, New York, Vancouver, and Kyiv.
How Does Grammarly Work 2022?
Grammarly was introduced as a helping tool for students and teachers in their writing needs. It has evolved to full plagiarism, grammar, and tone checker software since then.
It can now help users beyond grammar and spelling errors with style and tone detection as well. It now aims to offer a full suite of tools that can brighten the writing styles of its users.
Key Features:
Here are the top features offered by Grammarly.
Grammar Check
It is the free and prime feature offered by Grammarly. With a grammar check tool, you can evaluate your writing for spelling, punctuation, and grammar mistakes. It can also help detect complex sentences and tricky spellings.
Tone Detector
The tone detector is a premium feature that comes with paid plans for its users. It offers comprehensive tone and style guides.
Users can detect and improve their writing styles according to their needs such as formal, informal, business, conversational, and other writing styles.
Plagiarism Checker
It is another great writing tool that has become a necessity for modern writers worldwide. Grammarly's plagiarism checker also comes with its paid plans. It is used for plagiarism detection by writers that can help them write unique and plagiarism-free writing.
Grammarly Products
Here are the top products offered by Grammarly.
Premium
The basic plan comes with basic writing tools such as spelling, punctuation, grammar, and conciseness. The paid plans start with a premium product that comes at $ 12.0 per month.
The premium plan offers the following extra features:
Clarity-focused sentence rewrites
Tone adjustments
Plagiarism detection
Word choice
Formality level
Fluency
Business
The Business plan is an extended premium plan for professional users and teams. It offers some features that are useful for teams and enterprises. The plan starts at $ 12.50 per user per month.
Desktop Apps
Grammarly offers a windows application that works offline as well. You can simply drag the file or paste the content to use all the features of the Grammarly browser version.
Keyboard
It's an intuitive product for mobile users. IOS and Android users can download the keyboard that comes embedded with Grammarly features for every writing use on the smartphone.
Microsoft Office Ad-Ins
Users can install the Microsoft ad-ins for word and outlook for better writing as well. These ad-ins are linked with the user's account and offer the same feature as per the selected plan.
Grammarly Business Model
Grammarly works as proprietary software that offers compatible versions of its products for different writing platforms. It offers a free basic plan for all users. It then converts the free users to paid ones with premium and business plans.
Grammarly promotes its services through extensive marketing tools. It also converts most of its free users into paid customers. As it offers distinguishing features for paid members through its premium plans.
Business users and professional writing teams require access for more than one user. They can obtain the same premium features through Grammarly business plans that start at $ 12.50 per user per month.
In a nutshell, the Grammarly business model is based on a freemium model. It then uses extensive marketing and opt-in features to offer its paid services. Thanks to its powerful AI-enabled features that work seamlessly on any device, most users subscribe to its premium services.
Grammarly – Unique Selling Proposition
The most compelling and unique selling proposition of Grammarly is its tech-driven approach. It helps writers and users with an all-in-one solution.
Once a user creates an account on one device, it can use the features on any other device as well. Its grammar, punctuation, tone, style, and plagiarism tools are AI-Empowered.
Offering comprehensive writing assistance tools for free is another unique selling proposition for the company. It offers many advanced features to its premium users too. However, users with free plans can access most of its grammar and punctuation features.
A wide range of products that can synchronize customers' needs is another key feature of Grammarly. It offers a desktop app, browser extension, Microsoft ad-ins, and mobile apps that work with similar features.
How Does Grammarly Make Money 2022?
Grammar makes money primarily through its paid plans. It offers basic features with a free plan for all of its users.
However, unlike many other sites, its free plan is ad-free. Thus, the main revenue stream for the company remains its paid members.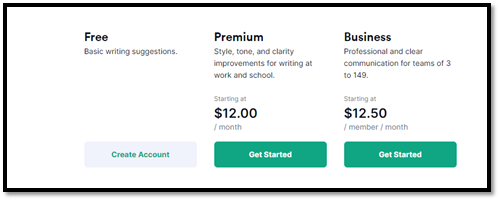 Source: grammarly.com
The premium plan can be used by individual professionals with advanced needs. The business plans are for professional writing teams and enterprises. These plans are the main revenue stream for Grammarly.
Grammarly also offers comprehensive writing services to educational institutes with dedicated plans. The plan pricing isn't disclosed as it largely depends on the custom requirements of the educational institute. These plans are offered at a discount for educational institutes than its normal business plans though.
Grammarly also offers customized sales with customized pricing plans to large businesses with more than 11 employees. In short, its main revenue stream comes through paid subscribers.
According to the company, it has over 3 million daily active users. It has more than 30,000 professional and enterprise teams that are paid, subscribers.
Grammarly Revenue and Financials
Grammarly is still a privately held company, so its financial statements are not publicly disclosed. It has received a few private equity funding rounds.
In one of the largest private funding rounds in 2019, it received $ 90 million. At that point, the company had an estimated market value of $ 1 billion.
As a growth company, its market cap is increasing continuously. However, we can expect it to be a loss-making entity as it is in the rapid growth stage.
SWOT analysis of Grammarly
Grammarly has exceptionally expanded its product range since its launch in 2009. It was primarily introduced to help students improve their writing and plagiarism detection.
Today, it offers services to professional writers, educational institutes, and individuals worldwide. Thus, as a growing business, it has several strengths and weaknesses.
Strengths
Let us briefly discuss the key strengths of Grammarly.
It comes with a trustworthy brand reputation, as it offers compelling services to its customers and fulfills the promise that it advertises.
It offers free and paid plans that work well for its users with different needs.
Its platform comes with compelling features through its cutting-edge and AI-Empowered technology.
Grammarly offers a wide range of products for browsers, desktop app, Microsoft ad-ins, mobile apps, and other integration features.
Weaknesses
Here are a few weaknesses in Grammarly's business model.
It offers limited features with a free account and most of its features come through premium plans.
It does not offer a suggestive alternative for sentences as it does for words. Some of its competitors offer that feature.
It does not provide feedback on a single piece of writing collectively, as it ranks the writing through its score system only.
Some of its paid features are offered for free by its competitors such as Hemingway App.
Its paid plans are competitive with its rivals; however, these plans can come with discounts and lower prices as well.
Opportunities
As a growing business, Grammarly has immense growth opportunities.
It can expand its global reach with attractive features to a global audience.
It can include services for other languages as well.
It can set its paid plans at a competitive pricing point.
It can add more features to its free plan to attract more users.
As a growing and established business, a public listing is awaited for a business worth more than $ 1 billion.
Threats
Here are a few business threats to Grammarly.
With technological advancement, its tech-driven business model has become replicable.
Its competitors are offering some free features such as alternative sentence structure and feedback on writing collectively.
Its premium plans can become a competitive risk with higher pricing.
It needs to invest continuously in its tech-driven business model that can be difficult to sustain in the long run.