Overview
The White Revolution of India was sparked by the dairy cooperative Amul, which grew into India's biggest milk and dairy commodities company. The Amul business strategy has made India the world's leading milk producer. The nation has 1,44,000 dairy societies, where approximately 15 million milk producers incorporate their milk.
Based on our research study, we will examine Amul's business model, business strategy, and SWOT Analysis. Let's start by learning more about this leading enterprise.
Company Profile
| | |
| --- | --- |
| Company Name | Gujarat Cooperative Milk Marketing Federation Ltd |
| Website | https://amul.com/ |
| Founded | 1946 |
| Founders | Tribhuvandas Patel |
| Key People | R. Sodhi – CEO, Rakesh Kumar – Head of Procurement, Ashok Mathur – Regional Head, Kalpesh Rana – Head Office |
| Headquarter | Anand, Gujarat, India |
| Company Revenue | 392 billion Indian rupees |
| Key Competitors | Kwality Walls, Baskin Robins, Arun Ice Cream, Vadila, Nestle. |
What is Amul? A Brief History
"White Revolution" in India was started by the Anand Milk Union Limited  (a.k.a AMUL). In 1946, it was established by Verghese Kurian, and currently, the entity is located in Anand, Gujarat.
This leading company is India's top producer of dairy and milk commodities. It is generally regarded as India's most compelling brand, developed to showcase its character in every capacity. This business has served consumers and manufacturers in India since its establishment.
POLSON Dairy was the leading milk purchaser in the Kaira District during that period. But, on the other hand, POLSON's existence started to engage in exploitative tactics, which prompted the founding of AMUL. Since then, the dairy production enterprise has become a national outstanding brand name.
There are a variety of milk products that the company now manufactures and acquires. It delivers more than a million liters of water across the nation every day. More than that, the company brand has represented Indian farmers' dreams.
How Does Amul Work and What Does it Offer?
So how exactly does Amul work?
Amul has concentrated on the Indian mass market without any premium offerings and strives to provide high-quality products at reasonable prices. As a result, the company bases its pricing strategy on acceptably budgeted pricing as its competitive approach, attracting many clients.
What does Amul offer to its consumers?
Amul supplies clients with goods that deliver 'value for money.' As a global leader in butter, dry milk, and cheese, it has provided consumers with high-quality goods at fair rates. Customers can also take advantage of their award and loyal Membership advantages.
Amul Business Model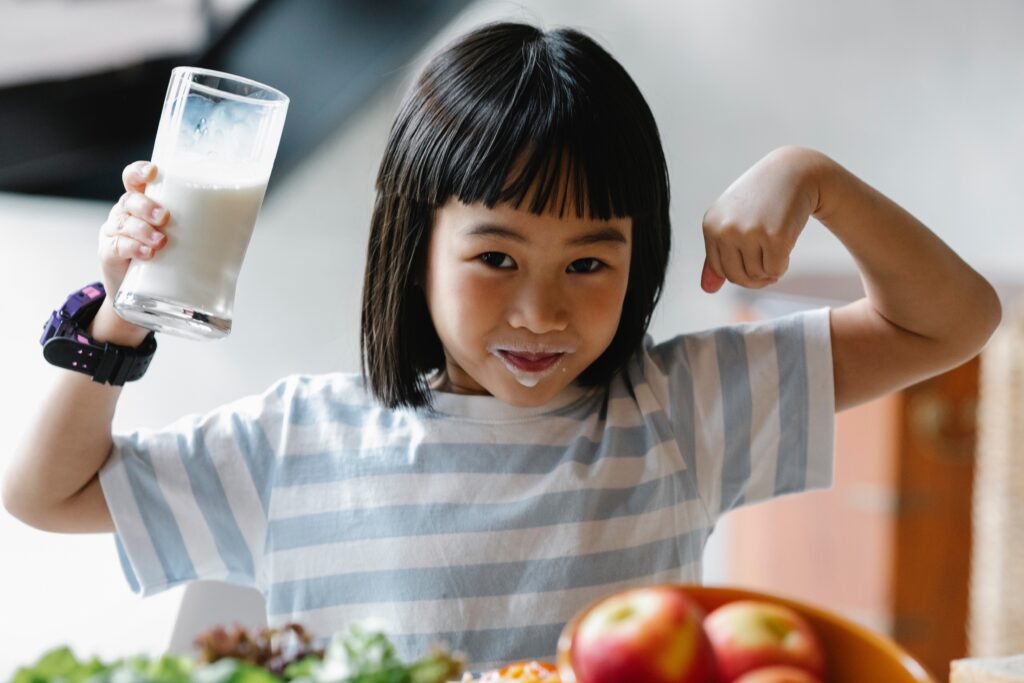 Amul executes on a cooperative society concept, in which individuals band together and share resources to flourish in the market. These members administer this cooperative society's earnings, execution, and resources.
The business concept aims to keep costs low for customers while sustaining farmers' mutual interests.
Tier 1: Farmers are members of the Village Dairy Cooperative Society (VDCS). Each village has a delegate that advocates their community in the District Milk Unions.
Tier 2: The delegates chosen by the Village Society are then responsible for managing the District Milk Union as a group. These cooperatives are in charge of the milk and milk-related products and the production of these commodities. The goods are then sold to the State Milk Federation once processed.
Tier 3: The State Milk Federation works as a distributor and makes the goods available for sale in the market by selling those finished products that they obtain from District Milk Unions. The earning income is allocated similarly downwards.
Amul Unique Selling Propositions
Amul offers no luxury items, and the company focuses on delivering high-quality products at competitive rates to the masses of Indian consumers. This is why this powerful brand supports its low-cost strategy, which has worked successfully in the past and still continues to do so.
The company has earned millions of customers' trust by providing high-quality dairy products manufactured from natural ingredients in the past 60 years. The King in the milk and dairy world has never substituted inferior ingredients for superior ones.
People are aware that when they purchase Amul items, they will be priced fairly and will get high-quality products that have been manufactured utilizing the most cutting-edge packaging technology.
Consumers take Amul throughout the day, from when they wake up until they go to sleep. As a result, the brand has found its way into our everyday life.
How Does Amul Make Money?
Projected investment
Amul provides a number of different franchise opportunities. However, to get started with an Amul Railway Parlor, Amul Outlet, or Amul Kiosk, you'll need to fork up roughly Rs 200,000. In addition, there is a non-refundable trademark security fee of Rs 25,000, a remodeling fee of Rs 1 lakh, and equipment costs of Rs 75,000.
The franchisee in Ice Cream Scooping Parlor would need to inject capital of Rs 5 lakh. It consists of brand security costs 50,000, renovation work costs 4 lakh, and equipment costs 1.5 lakh. In addition, they also need to be accountable for some other expenses such as the cost of employees, power, and leasing fees.
Earning Frameworks:
The average return on Material Requirements Planning (MRP) for Amul commodities will be 10% for milk products, 2.5% for a milk pouch, and 20% for ice cream.
Therefore, franchisees of Amul Ice Cream Scooping Parlor may expect a 50% increase in income from sales of ice cream, shakes, pizza, sandwiches, and hot chocolate drinks when they are on board. Simultaneously, 20% reward on pre-packaged ice cream plus earning on Amul items at 10%.
What is Amul SWOT Analysis in 2022?
Amul SWOT Analysis discuss Amul's external factors that influent the way how company fails or succeeds including the threat from the government, economic factors, and the threats from its competitor on the prices and technology. It is also analysis the company's internal weaknesses like the ineffectiveness of the production line as well as its straight like the quality-oriented productions process.
Now, lets discuss the detail of Amul Swot Analysis:
Strengths
Immense Expansion – The firm continues to evolve and adapt the same way it has for decades. India has made significant investments in its dairy business, and the corporate is now aiming for record expansion with INR 50,000 crores in 2020.
Market Role Model – Amul has established itself as a market role model in India due to the ordered ice cream area, that accounts for around one-third of the country's total ice cream market share. This ice cream market is predicted to increase by 30%, while the market for flavored cheese and milk is expected to grow by over 20%.
Huge Scale in Manufacturing Capacity – The Gujarat Cooperative Milk Marketing Federation Ltd (GCMMF) is a cooperative that distributes roughly 17.7 million liters of milk each day under the Amul brand. The GCMMF has become one of the top dairy organizations globally due to its production capabilities. According to an IFCN study conducted in September 2018, the company was positioned ninth in the International Farm Comparison Network survey.
Gigantic Customer Base – The company has a unique ability to spread beyond the urban population and into rural regions. When the company grows its customer base and retains a presence in all corners of the nation, it has a unique influence over its competitors.
Excellent Quality – Amul's consistently standard quality manufacturing has earned a substantial and devoted consumer base. Over the years, the brand has maintained a high level of openness in its operations, establishing positive working relations with the department of health and government.
Brand Equity and Recall – Amul's outstanding baby campaign has made the brand a favorite among many Indians, evoking beauty and passion at every opportunity. It has solidified brand awareness, particularly brand recall and equity, among consumers.
Weaknesses
The issue in Lawsuits – When the company decided to promote its goods by denigrating its rivals, it encountered an internal struggle. Hindustan Unilever Limited, Amul's rival spotted this campaign, launched a lawsuit, and brought the dairy firm to court. Amul is ordered to cease and desist from using insulting advertising immediately by The Bombay High Court in 2017. Using aggressive and unethical tactics to defeat its rivals has damaged the company's reputation as an aristocratic company.
Portfolio Growth – The company has broadened its dairy product line, but it hasn't had the same success with its other products. Perhaps the clearest illustration of this is its chocolate offerings, which have not been as successful as its ice creams.
Cost of Operations – Running costs in the company are significant due to its vast framework. And it has led to problems for the corporate since it undergoes numerous price adjustments and relies on its agricultural community. Both of them have expanding demands on a daily basis.
Opportunities
Global Markets – The brand is well-positioned to expand its horizons beyond India's borders. It will be able to reach additional Asian markets from adjacent nations to other areas and will be able to work efficiently. The company's overseas exports will significantly impact its profit margins and turnover.
Milk Consumption Per Capita – Compared to nations like the United States and the European Union, the company has a far lower milk consumption per capita of 97 liters annually. And the company has the resources to take advantage of the growing milk products' requirements.
Chocolate Manufacturing – Amul has the financial wherewithal to make significant investments in its chocolate manufacturing and reap its rewards. It has the potential to become the most successful if properly advertised.
Threats
Rising Market Competition – The ice cream market is becoming more competitive, and Amul feels the heat in rivalries. Greater local and international companies and brands are encroaching on the country's marketplaces and displacing its products.
Negative Coverage in Publicity –Its sales have suffered due to negative media publicity, which has driven the company to make public pronouncements that have drawn undesired media attention.