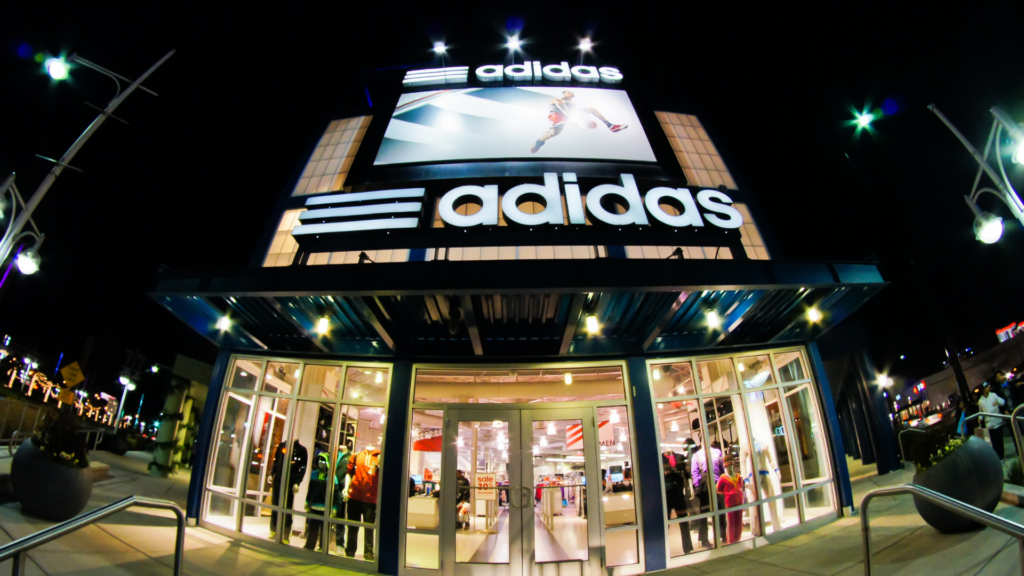 Adidas was founded in 1949 by Adi Dassler. This corporation has evolved into a worldwide sneaker company with a greater prevalence in all geographies.
Even though distribution network problems continued to plague Adidas, the business succeeded in increasing its net sales to 23.6 billion Euros in 2019 alone.
For this reason, the company had acquired e-commerce as a major engine of its business development that year. Moreover, the firm expanded rapidly in the Greater China and North American regions.
Background of Adidas
Adi Dassler created Adidas, located in Herzogenaurach, Germany. While commoners remember Adidas as a shortcut of the phrase "all day I dream about sports," this athletic apparel firm takes its original name from its inventor, Adolph "Adi" Dassler.
Adi and his brother had built the corporation that would later become a global name, but their past member, Nazi Party, is less widely recognized.
Adidas became the most popular sports shoe brand in the United States in the 1970s. In addition, the organization was selected as the official supplier for the Olympic Games in Munich in1972.
What is Adidas Value Chain Analysis in 2022?
Adidas value chain analysis is below will cover the ways how Adidas's inbound and outbound work, specifically discuss its operation, sale and after-sales services as well as marketing. It also talks about the support activities of Adidas which is included human resources, Technology, and so on.
Adidas Primary Activities
Inbound Logistics
The company relies heavily on third-party producers for shoe manufacturing. The implication is the corporation has to outsource all of its production to its subcontractors to cut costs and keep the pricing competitive.
Nevertheless, the organization has also built a solid dealer network in numerous areas worldwide. For example, it streamlined the distribution channels, focusing on key countries such as the United States and China in 2019.
After receiving finished goods from the global suppliers, the items must be held at distribution centers before being directly delivered to shops or clients who make a purchase from e-commerce platforms.
To manage its supply chain and inbound logistics effectively, the firm also emphasizes using various digital technologies and advanced inventory tracking methods.
But regardless of all that, the business successfully implemented its incredible expansion in 2019. More than that, it grabbed a chance to magnify both the new and third-party-own distributing centers, including Pennsylvania, West Coast, and Rieste, Germany.
Operations
Across its key networks, such as offices, shops, warehouses, distribution centers, and e-commerce platforms, the firm has been building a momentous presence around the world.
As it turns out, Adidas has effectively accumulated its worldwide footprint by establishing an unmatched network of consumer touchpoints that includes company-owned branded shops, distributors, franchisees, and e-commerce outlets.
It is undeniable that these sites are supremely critical to the entity's operations and management.
Outbound Logistics
One thing is for sure, the entity has developed a global distribution network that contains massive warehouses and distribution midpoints in its strategic areas.
These divisions, warehouses, and e-commerce marketplaces are critical in handling all the brand's logistics. This means products purchased from suppliers are stocked at these intended sites before being distributed to retailers or consumers.
Marketing and Sales
Because the world of show business is very competitive, shoe firms always prioritize all sorts of promotion and advertising to boost sales, remain competitive, and present in the market.
Likewise, it attracts clients via various persuasive campaigns in their physical outlets. However, unlike before, the firm has currently increased its sales by transferring the client's attention to digital channels.
The truth is the online community has helped Adidas generate a lot of progress for its business. At the same time, its e-commerce networks have proven to be the brand's effective sales and marketing channels.
No wonder, in recent years, the company's e-commerce sales have grown at a quicker rate, by 34% in 2019 compared to the preceding year.
The corporation invests huge amounts of money on marketing and promotions every year in a general sense. Most of the company's marketing costs are tied to sponsorship contracts with teams and individual athletes, advertisements, exhibitions, and other promotional initiatives.
On top of that, the firm employs paid web ads, events, and other marketing means to reach its global consumers and enthusiasts.
After-Sales Services
This venture also adopts digital marketing, campaigns, and other consumer involvement to drive sales and revenue growth.
All that said, the firm has been snowballing its emphasis on corporate social responsibility (CSR), sustainability, and customer satisfaction to increase its image and value proposition more than ever.
There is no doubt that this business is a world-renowned manufacturer of athletic shoes, clothes, gear, and gadgets. In case you miss it, Adidas also acquired Reebok. As a result, this firm is the front runner in many sports product categories.
Although the company is still much smaller than Nike, it is the top rival to Nike in some key products. For instance, Adidas seems to be the game-changer in the footwear market.
The company's net revenues increased to 23.6 billion Euros in 2019 compared to 21.8 billion Euros in 2018. The sale of footwear accounts for the majority of its net income.
Indeed, during 2019, Adidas earned 57% of its net revenue from footwear, 38% from clothing, and 5% from hardware. It is noteworthy that sales in footwear and clothes are the driving force for its growth.
Adidas Support Activities
Infrastructure
Kasper Rorsted, Adidas's CEO, supports its worldwide infrastructure by employing a combination of functional and divisional organization structures.
The corporation has ahead of worldwide operations, marketing, sales, human resources, finance, and more. Furthermore, the firm's activities are segmented into regional markets such as North America, Europe, and China.
Human Resource Management
A significant source of competitive advantage in Adidas is the human capital. Since 2010, the company has increased its emphasis on handling its human capital effectively and efficiently to increase its staff's competitiveness.
Therefore, the corporation makes huge investments in its human resources, including compensations and bonuses for employees.
In addition, it has implemented numerous initiatives to increase employee commitment and improve top talents. It has also implemented training and educational programs geared to assist workers in achieving speedier career advancement.
Technology Development
The organization values technology as it is the most important engine of corporate success. For Adidas, there has been a constant increase in net revenues from e-commerce over the last decades.
With the use of digital technology, the firm can increase operational efficiency, return on marketing expenditure, productivity, and overall business performance.
In addition, the firm has been developing in-house technology to upsurge the speed at which items are made and sent to retailers as soon as possible.
Speedfactory, for example, is one of the advanced technologies that the corporation uses to increase its manufacturing pace.
Besides, the entity invests in the latest technology to improve the overall quality of the production process. It has also accomplished many milestones in user experience and consumer interactions as a result of digital technology adoption.
Procurement
The entity's main supplier is based in Hong Kong. However, the majority of its subcontractors are based in Asia.
Adidas states that it is important to establish long-term partnerships with its suppliers or subcontractors to ensure a steady supply of raw materials.
That is why this shoe company is continually on the lookout for future raw materials to use in the production of shoes and garments that are environmentally friendly.
Nowadays, the company mainly concentrates on developing items from ecologically friendly materials to increase their popularity.
Key Takeaways
Adidas indeed remains a prominent and famous trademark today. However, its proportion of the worldwide sports shoe industry has been stagnant over the years.
What started as a German family company is now a corporation (Adidas-Salomon AG) merged with Salomon's French multinational enterprise.
However, through its value chain analysis in this article, you will learn how the company is handling its business in this highly competitive industry.