Overview
Founded in 1896, Adidas AG is the second-largest sportswear company in Europe and the world. This gigantic sportswear company was established and is based in Herzogenaurach, Germany. They manufacture sports shoes, sneakers, jerseys, and sports accessories.
In addition, the Adidas group contains other giant corporates, such as Reebok, Runtastic, TaylorMade, and many other brands.
With this huge ecosystem, Adidas made billions in revenue yearly, which led them to purchase shares of one of the biggest football teams in the world, Bayern Munich.
Despite owning a series of companies, Adidas has its own unique company logo. Like their competitors (NIKE, Puma, and Under Armour), Adidas' emblem consists of three stripes, which are utilized as a marketing tool on the company's clothes and footwear products.
Company Profile
| | |
| --- | --- |
| Company Name | Adidas AG |
| Website | https://www.adidas.com/us |
| Founded | August 18, 1949 |
| Founders | Adolf ("Adi") Dassler |
| Key People | Kasper Rorsted – Chief Executive Officer, Roland Auschel & Brian Grevy – Executive Board Member of Global Sales, Harm Ohlmeyer – Executive Board Member of Finance, Amanda Rajkumar – Executive Board Member of Human Resources, People and Culture, Martin Shankland – Executive Board Member of Global Operations, Emily Maxey – VP Global Marketing. |
| Headquarter | – Adi-Dassler-Strasse 1, 91074 Herzogenaurach, Germany. – adidas Village, 5055 N Greeley Avenue, Portland, OR 97217, USA |
| Company Revenue | € 24.64 billion |
| Key Competitors | NIKE, Reebok, New Balance, Converse, Puma, Fila, Bata, Liberty Shoes, Under Armour, Umbro, Woodland, Asics |
What is Adidas? A Brief History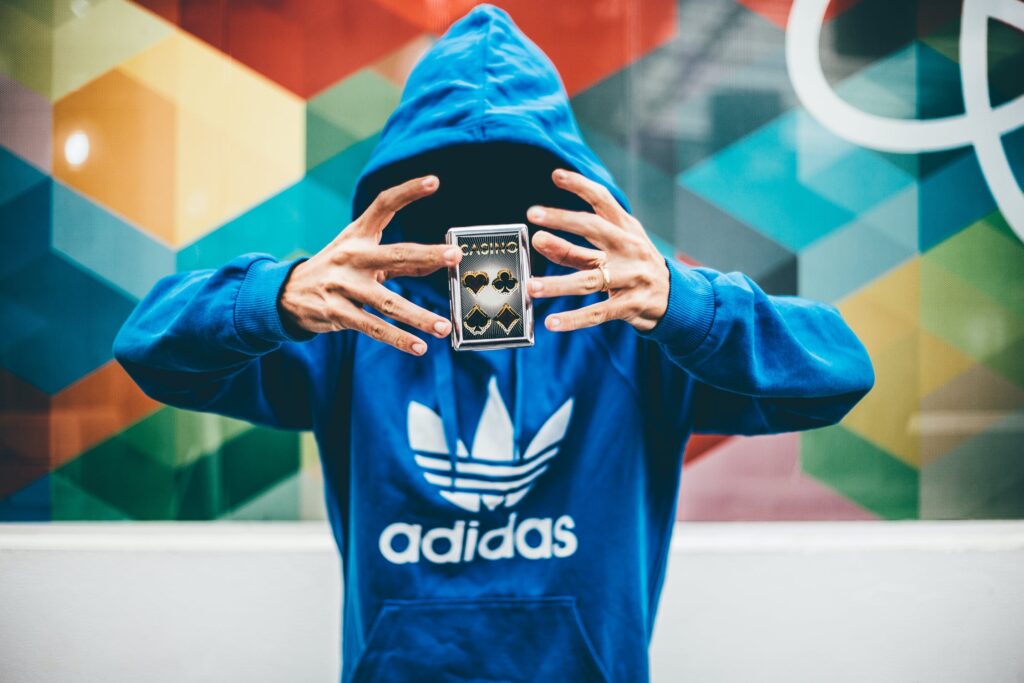 Without a doubt, Adidas is one of the most well-known companies worldwide that everyone recognizes. The company manufactures sportswear brands for worldwide uses. In addition to footwear, this sporting production corporate produces attire and sporting accessories.
Most popularly, sporting footwear, such as sneakers, boots, and many others, accounted for 57% of total sales volume. The footwear division alone generated up to 13.67 Billion euros.
The information above demonstrates how it has developed into such an established company. So, without further delay, the next story will be about the fascinating history of Adidas that you should learn.
It started when the two brothers, Adolf 'Adi' Dassler and Rudulf 'Rudi' Dassler produced the first shoes back in 1920.
The shoes were made using canvas. After 4 years, the two brothers established a company known as 'Dassler brothers shoes factory'. Then, the factory continued to expand manufacturing sporting wear for athletes, including spikes and boots, in 1925.
In 1928, the Netherlands held the Olympic games that saw the first German runner winning the Gold medal by wearing the Dassler spikes.
That year saw a crucial turning point for the Dassler brothers. Moreover, the forthcoming years saw the significant growth in popularity of the Dassler boots and spikes being worn by many professional athletes from all around the world. A 4 gold medal US athlete winner, Jesse Owens, won the Berlin Olympics with Dassler boots.
Not long after that, Adidas expanded more than 10 factories, employing 100 workers. The company kept increasing the employee population year by year while having a relatively low staff turnover rate.
In early 2021, this sportswear company had a total population of 62,285 employees contracted. Now they plan to hire 2,800 newly recruited staff in 2022.
How Does Adidas Work and What Does it Offer?
So how exactly does Adidas work?
Adidas develops, produces, and distributes sporting and lifestyle equipment. The manufacturer's product line includes shoes, clothes, and other sporting accessories. In addition, all products are sold directly on the company's own website, retail stores, big department stores, wholesalers, franchisees, or other affiliate websites.
What does Adidas offer to its consumers?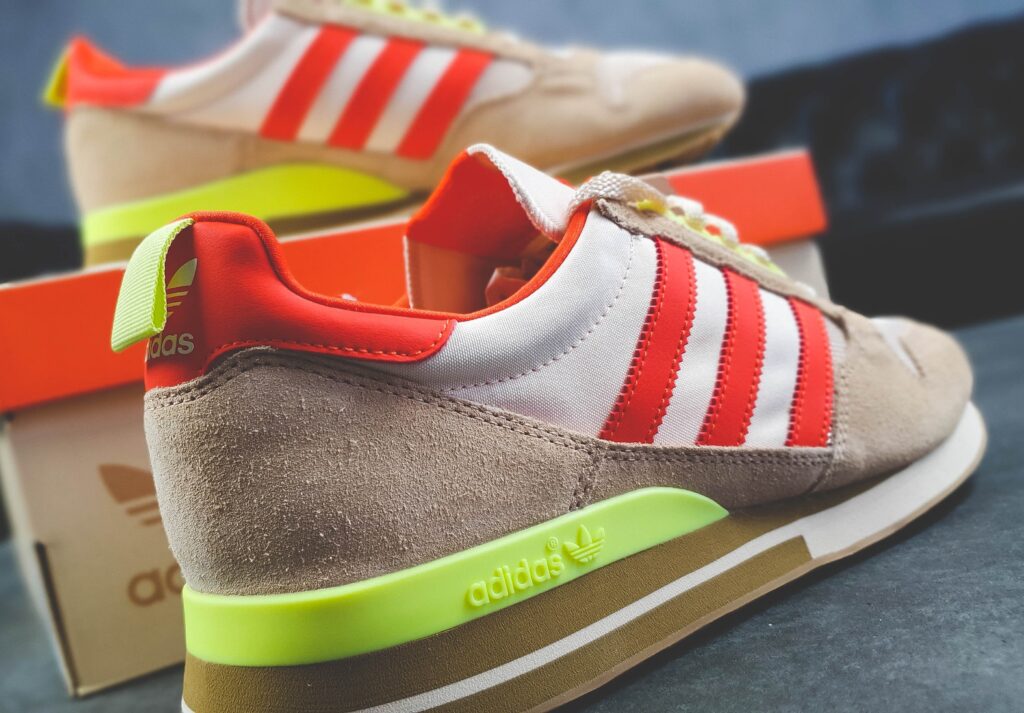 The Adidas brand has established a really distinctive and complete sports product line because of its persistent commitment to research and development and years of accumulated sports scientific experience.
Moreover, the company offers a wide range of sporting products to meet the needs of everyone who is interested in sports. So whether they are professional players (individually or collectively), semi-pro, or teams to ordinary individuals, everyone can use the product. This is based on the company's fundamental belief that sport has the ability to improve people's lives.
Adidas Business Model
Customer Segments
Because Adidas operates on a large-scale business strategy, there is little diversity among its various clients. Meaning says the company's products are designed for anyone involved in sportswear and footwear.
Value Proposition
Personalization, creativity, and status are the chief value propositions of Adidas's company.
The organization values innovation as a top priority in the business. Apart from that, as a way to steer its vision, the company built five critical innovation areas for its research and development division, including the innovation of athlete, female athlete, manufacturing, sustainability, and digital and user's experience.
In addition, the company has collaborated with athletes, businesses, and colleges to develop game-changing elements for the development process in the innovation of athletes.
Moreover, the business allows customization, which means the customers can customize their purchased goods for their favor.
As customers, when you buy directly from the company's official website, you are allowed to personalize your footwear with the following designs: angle type, size, colors, name, number, and many more.
Channels
Simply speaking, this footwear company sells its products through a lot of physical stores, including its own stores and those of other brands.
On top of that, affiliate programs and other eCommerce sites are one of the company's channels. In addition to elite players' endorsements, there are also advertisements on various social media platforms, TV channels, banners, and other possible types.
Adidas Unique Selling Propositions
Own The Game
Adidas 'Own the Game' strategic long-term plans are to build brand trust, push the frontiers of sustainability, and hence improve the consumer experience.
Implementing this plan is facilitated by a culture of innovation in all aspects of the organization and the development of technology. Plus, the company gets what is going to bring in the people.
The people, customers, really own the game. The interests and behaviors of every customer help the company identify trends.
With this observation and hint, customers' drives could be spotted as an opportunity for the company to produce trendy products. Thus, the company has the power to alter people's lives through this mission.
Our Employees
For the long-term strategic plan, the company will help all employees become truly in charge of their own game. The concept for owning the game means that every customer will use the best product ever made thanks to the company's employees.
Therefore, everything is about establishing a cultural and atmospheric working environment in which all employees could regularly succeed, feel valued, and love working hard.
For this reason, the 'Our Employees' plan is sustainable and achievable under the construction of 3 principles. Initially, leadership comes from a good leader that carries the best possible outcomes with the best working atmosphere for everyone.
Thus, the company focuses on building these powerful frontlines that have the potential capabilities to own the game.
Secondly, learning curvature does matter in principle. Developing and reinforcing the employees to independently build a mindset of self-development will help the company achieve more. Lastly, every performance counts. The better the performance, the more rewarding the employees receive.
How Does Adidas Make Money?
Adidas generates revenue simply from two sources:
Direct Sales of Products: Boots, sneakers, jerseys, flip-flops, and other sporting wears, accessories, and attire are the main revenue stream from which the company earns.
License Fees: Adidas receives fees from parties that make sales of the trademarks under the company's group through licensing agreements with other companies.
What is Adidas SWOT Analysis in 2022?
Adidas Swot Analysis in 2022 discusses the internal strengths, weakness that Adidas facing and need to solve to help its move to the next position as well as external threat and opportunities in the market. Those external factors include the influent of competitors and regulators. One of the examples of threats that might affect Adidas's business is its competitor could products a lower cost compared so that the price of competitors' products is more affordable.
Here is the detail of the analysis in 2022,
Strengths
The company has a strong distribution channel as a competitive advantage to boost up its revenue. There are more than 2,500 retailer stores worldwide.
The company maintains its robust branding awareness almost a century old.
The brand is advertised on the world's biggest sporting events like the Olympics, World Cup, UEFA Champions League, and other tournaments.
Without doubt, Adidas is widely known as the second-ranking sportswear company in the world.
The company sells a lot of different sport-related products, from clothes, boots, and gears to other necessary accessories.
The brand has employed more than 52,000 staff since establishment.
The brand logo is linked to superstars like Lionel Messi, Dominic Thiem, Karim Benzema, Mohammad Salah, and many professional athletes.
The direct sales through its website captures every customer's attention as everyone can customize their favorite sportswear.
Weaknesses
Generally, every newly released product is expensive. And the price falls sharply once the new ones come out. Thus, it is not ideal for people who want to update their styles.
Customers are more prone to purchase other brands because of the fierce rivalry and similarity of the top brands.
The majority of the company's products are manufactured by third-party factories, including Cambodia, China, and Vietnam. Because of this, the company takes a risk of becoming too dependent on foreign suppliers.
Opportunities
The company updates approximately 60 new pairs of shoes with unique designs that are good for your feet every year to stay ahead of the game.
The corporate can expand its product line to include more fashionable styles and cuts.
Sports Academy is a good opportunity for the company to sponsor to build branding.
Quality along with the creative style of the sportswear or accessories should be sold at budget cost to target uni and college students as well as low-income class groups of people.
The potential clubs or players from different countries should be considered for sponsorship.
Threats
Their main competitors, especially NIKE, keep producing stylish products.
Except for NIKE, other footwear companies manufacture the same products at lower costs.
There are copies of the origin of the company's model everywhere in the world, causing a bad image.
Domestic brands are also the potential competitors that can compete.