In the world of online e-commerce platforms, Amazon does not need any introduction. Amazon is the world's leading online retail store and is considered one of the 'Big Five' companies in the US. Initially, the company started as an online bookseller.
Today, however, the company offers a wide range of digital services, including cloud computing, digital streaming, online music, and even artificial intelligence.
Founded in 1994 by Jeff Bezos, Amazon is a highly profitable company. The company has a 100% dividend retention policy, which means it reinvests all its profits into its operations.
It allows the company to invest in new markets and develop new products that generate billions of profits yearly.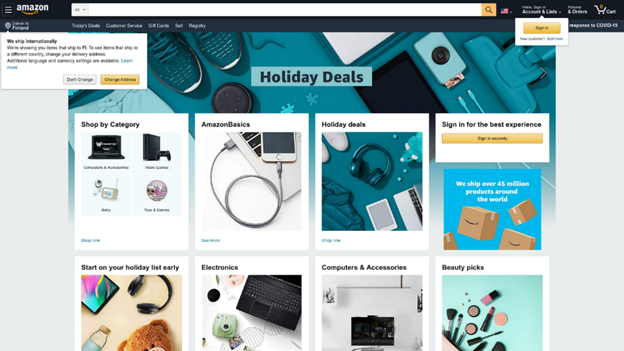 Most of Amazon's services are available worldwide, enabling the company to attract users from around the globe.
Amazon generated revenues of $280.5 billion in 2019. Its operating and net income for the same year were $14.5 billion and $11.6 billion, respectively. Similarly, the company had total assets of $225.2 billion in 2019.
Due to its outstanding performance, many users want to understand how the company makes money. The answer to this question lies in Amazon's business model.
Amazon's Business Model:
A company's business model defines its target markets, products and services, and expenses. In short, the business model shows how a company generates revenues and profits. Amazon's sources of income come from different segments within the company.
1) Retail sales
By far, Amazon's most significant portion of its revenues comes from its retail sales. Retail sales are the consumer products that Amazon provides through its physical or online stores.
Out of its $280 billion in sales in 2019, the company generated $158.4 billion from its online and physical stores. These revenues contributed to 56% of the company's total sales in 2019.
Among online and physical stores, online store sales make up a large proportion of the total sales, which in 2019 was $141.3 billion. Therefore, of all the company's sales, online stores generate 50% of the total sales.
The numbers are justifiable because Amazon is well-known for its online stores and captures a substantial portion of the market.
2) Third-party seller services
Amazon also offers services that enable sellers to use its platform to sell their products and fulfill their orders. In exchange, Amazon charges these sellers a commission for the sales made through the platform.
Amazon also generates revenues through the shipping fees they earn from these arrangements. In 2019, the sales from third-party services were $53.8 billion.
These services accounted for 19% of the company's total sales in 2019. After retail sales, third-party seller services are a significant source of revenue and income for Amazon.
3) Subscription services
Amazon also provides several subscription services to its customers through which it generates money. These come from Amazon Prime memberships, Audible subscriptions, or other Amazon Web Services (AWS) related subscription fees.
In 2019, the company generated $19.21 billion from this source, which makes up about 6.9% of its total sales.
4) Amazon Web Services (AWS)
Amazon Web Services (AWS) includes Amazon's arrangements with global sales of computers, storage, database, and other services. The company offers various hosting and virtual private server solutions businesses and individuals use.
Recently, the company has started offering online cloud storage facilities with competitive pricing known as AWS.
Through AWS, Amazon generated $35 billion in revenues in 2019. AWS sales make the third-highest proportion of sales, with 12.5% of its total sales.
5) Others
Amazon also offers multiple other services. The company categorizes these incomes as others because the revenues generated through these incomes represent a minor proportion of its total sales.
These mainly include sales of advertising services, for which the company charges advertisers per click or impressions.
The company generated revenues of $14.1 billion from other services in 2019, representing only 5% of the total sales in the year.
Revenues summary
Below is a summary of Amazon's sources of income and how they changed over two years.

Conclusion
Amazon is one of the world's largest technology companies. It generated revenues of $280.53 billion in 2019. Amazon makes money through various services, including retail sales, third-party seller services, subscription services, and Amazon Web Services. These products are all a part of Amazon's business model.