Overview
Zomato is an online meal ordering and delivery service that allows users to find and order from Indian restaurants. Deepinder Goyal and Pankaj Chaddah created the food tech unicorn in 2008.  Furthermore, this company is well-recognized across the nation and has successfully entered numerous overseas markets. It actively participates in 10,000 cities in 24 countries, including India, the USA, Brazil, Australia, Singapore, New Zealand, and Middle East Qatar.
Company Profile
| | |
| --- | --- |
| Company Name | Zomato Limited |
| Website | https://www.zomato.com/ |
| Founded | 2008 |
| Founders | Deepinder Goyal and Pankaj Chaddah |
| Key People | Akriti Chopra – Co-Founder, Chief Financial & People Officer, Rukmini Bhattacharya – CEO & Chief of Staff, Akshant Goyal – CFO, Mohit Sardana – Chief Operating Officer. |
| Headquarter | Gurgaon, Haryana, India |
| Company Revenue | $280 Million |
| Key Competitors | Swiggy, Foodpanda, FreshMenu, Dunzo |
What is Zomato? A Brief History
Zomato is a restaurant discovery and food delivery company that serves the needs of customers, restaurant partners, and delivery partners by connecting them on one platform.
It's a website where individuals can find and browse restaurants, check menus, leave and give feedback, order food to be delivered, or reserve a table to eat out. In addition, restaurant partners benefit from the app's potential to enhance their exposure and presence and engage consumers while also gaining access to a trustworthy delivery source.
This food tech started as Foodiebay in 2008 when it was founded by Deepinder Goyal and Pankaj Chaddah. The concept was to transform paper restaurant menus into a digital platform that would be significantly more accessible and user-friendly. Moreover, this online restaurant directory provides its customers with the ability to see restaurant menus and a few more services.
Plenty of other businesses have been participating in this platform over the years. It now has about 32.1 million active users each month, and it has a presence in about 24 countries. Therefore, this allows us to see the operation of this novel and sustainable company concept.
How Does Zomato Work and What Does It Offer 2022?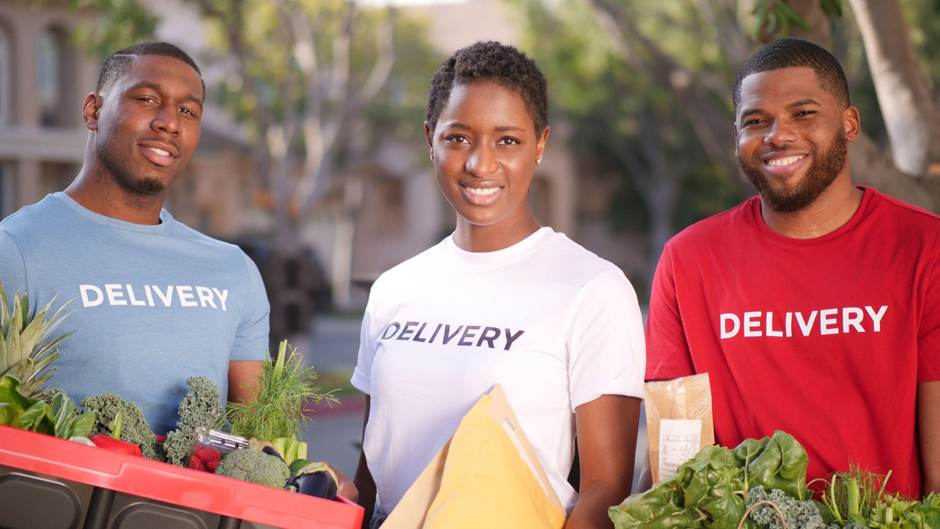 So how exactly does Zomato work 2022?
Zomato's primary function is to recommend local and neighboring restaurants to users and take their orders. Users may request their favorite restaurants based on customer ratings and reviews.
Step 1: Using the mobile app or website, consumers can browse and order food from a variety of restaurants.

Step 2: Specific restaurant merchants get a requested order and begin producing the meal immediately.

Step 3: Once the meal is ready for shipping, it is passed over to delivery companies.

Step 4: The delivery man delivered to the customer's specified location.

Step 5: Customers may make purchases and provide evaluations based on their experience using the payment methods provided.
What does Zomato offer to its consumers 2022?
Zomato offers information on restaurants, menus, user ratings, and meal delivery services from participating restaurants in various locations.
When customers purchase from partner restaurants, they will get complimentary food and beverages as well as other special deals. They may take advantage of exceptional delivery deals and be given first priority in processing their orders and deliveries.
Zomato Business Model 2022
During the company's early stages, Zomato utilized scan restaurant menus, storing them on the site, and then distributing them to users. It continues to operate according to the same concept but has expanded its offerings.
The company's business strategy is considerably distinct from other meal delivery services like Swiggy and Foodpanda. More than that, Uber and London & Partners are two of the company's strategic partners, and together they might launch Zomato in the United Kingdom within the estimated timeline.
In addition to food delivery and dining out, the platform also derives money from its hyperpure business. This food delivery entity collects commissions from restaurants as well as delivery fees from clients. "Dining out" contributes the majority of income, mostly generated through Zomato Pro and Zomato Pro Plus. Furthermore, hyperpure generates revenue via the sale of ingredients to restaurants.
Zomato Unique Selling Propositions 2022
Zomato's Unique Selling Proposition, which sets it apart from the other rating and reviews sites, is as follows:
Almost all restaurants have comprehensive menus available;
Details about the upcoming invoice;
The capacity to find a certain food at a specific location;
The company offers a wide range of search and filter choices, including city, city regions, cuisine, the cost for two, popularity, ratings, and so on.
How Does Zomato Make Money 2022?
Zomato is not just a food business, but it is also moving further into the advertising business. The company's business has two parts: one is the delivery business, and another one is in the advertising business.
This Indian-based food tech takes a 20-25% cut of each order made with the restaurant. The commission rate may range from 5-7% in different areas.
Restaurant and event advertising account for 76% of overall revenues. It enables restaurant owners to boost exposure by placing banners on their websites.
The company conducts a variety of events in cooperation with certain restaurants, including Christmas Eve and New Year's Eve. People who wish to attend these events will need to buy tickets. The ticket sales for Zomato-organised events produce 12% of the overall earning stream.
Consulting and online food delivery services make up roughly 3% and 2% of the total market share respectively. Zomato Gold and other advanced services contribute 7% of total earnings. There are also Zomato Subscriptions and Zomato Kitchens, which you can sign up for.
Zomato SWOT Analysis 2022
Strengths
Ease of access: Both app and website are simple to use and handy since they are available on a variety of Android and iOS devices.
Greater affordability: The platform offers clients cheap options without sacrificing quality or revenues. The Zomato Pro subscription-based model also attempts to benefit consumers in various ways, such as by giving them deals, savings on eating out and food delivery, and speedier delivery services.
First mover advantage: In India, this food tech was one of the first firms to launch their services, which resulted in an enormous client base of more than 90 million users.
Comprehensive interface: The company has already won several awards for its fantastic design and user-friendliness. It facilitates and expedites clients' searches for eateries in your area or at areas you want to visit.
Substantial funding: Because this brand has been developed in multiple countries over the years, the company has gotten outstanding funding and support from different organisations. So it has a large amount of cash available for future app development.
Economically profitable: The company announced last year that it is profitable in all 24 countries where it operates.
Superb marketing plan: Although it is a food tech firm, it markets itself both online and offline. Its advertisements are so innovative and genuine that they instantly connect with people.
Weaknesses
Safety challenges: The app has been attacked numerous times throughout its existence, putting the data of at least 17 million users in danger.  Security risks are a daily nightmare for a growing digital firm like Zomato.
Ineffective expansion: For the last 10 years, this app has been steadily growing and has positioned itself in 24 nations. Despite being present in those nations early, the platform enables other businesses to develop themselves in this specific sector. This should not be permitted since they are setting the way for tighter competition on their own. However, given its massive budget, it should have been better.
Greater competition: The brand's expansion in any place is hampered by competition from search engines and other comparable food discovery and delivery applications like Swiggy.
Threats
Volatile business model: Besides benefiting from being the first mover in this industry, the corporate has sufficient room to expand its business strategy into the worldwide market. However, the company's business model has recently become relatively brittle. Any new entrants with similar skills and expertise can also take advantage of this approach to grab the market share from Zomato.
The government's policies: Various challenges such as cybersecurity,  identity theft, data privacy concerns, and so on have triggered the general people to be more aware of and careful about their online behaviour. As a result of these factors, governments are developing new norms and regulations for these online sites to obey. These rules seriously impede the smooth operation of the corporations' business models.
The intensity of rivalry: The internet meal delivery sector is quite competitive. These challenging circumstances make it difficult for the firm to expand and succeed.
Opportunities
Future expansion plans: The company needs to extend its reach to other nations and create its base quickly. The fact that services may be duplicated and executed is a big challenge in the service industry. As a result, to remain ahead of the competition, it must develop and grow quicker than others.
Additional acquisitions: There are plenty of new players, both little and large, entering this area regularly. The corporate may form alliances with numerous of its rivals while also keeping an eye on the newest technology and trends in the market to remain ahead and develop further.
Online users: The number of smartphone and internet users has risen dramatically. Hence, firms like Zomato have an extremely good potential to contact new consumers and convert them into clients. More importantly, the platform's expansion has also been accelerated due to the covid-19 pandemics.