Overview

Uber is a ride-sharing app on mobile phones. It links drivers and passengers who need a ride. The app creates, advertises, and manages for users to make a booking request. It is then directed to crowd-sourced vehicles.
In March 2009, Garrett Camp, Oscar Salazar, and Travis Kalanick launched UberCab, which later became Uber Technologies in October 2010, with headquarters in San Francisco, California, an engineering center in Bengaluru, India, and a regional office in Singapore.
Company Profile
| | |
| --- | --- |
| Company Name | Uber Technologies Inc. |
| Website | www.uber.com |
| Founded | March 2009 |
| Founders | Garrett Camp, Travis Kalanick |
| Key People | Garrett Camp – Founder & Chairman, Dara Khosrowshahi – CEO, John Badalamenti – Head of Design, Advanced Programs & Aviation Merry Morud – Head of LOB Creative Optimization – Performance Marketing Nick Foley – Director of Product & Design, JUMP Hardware |
| Headquarter | San Francisco, California, United States |
| Company Revenue | 11.14 billion USD (2020) |
| Key Competitors | Lyft. Curb, DidiChuxing, Grab |
What is Uber? A Brief History
Uber is a mobile-phone platform focusing on transportation. This service provider enables users to book a vehicle to go from place to place.
The app pre-estimates the charge, measures the arrival time, and gives the flexibility to riders to share the expense, all with a few simple clicks on the app.
When the founders couldn't locate a cab on a freezing winter evening in 2008, the company decided to revolutionize the whole cab business. Everything began with a simple question: "What if you could order a taxi from your phone?"
They tackle significant challenges to get riders, drivers, fleet owners, and customers rolling in over 600 cities worldwide. It also operates on wide-ranging apps, including IOS, Android, Windows, and Blackberry.
The platform supports passengers across the Americas (North, Central, and South) and Europe, the Middle East, Africa, and the Asia Pacific.
How Does Uber Work and What Does it Offer?
Uber has a two-pronged business plan. One segment emphasizes bringing as many taxi partners on the platform as possible to provide a satisfying experience to every user.
Another one promotes the company to users as a wonderful commute app that can be used to book a cab with a few simple clicks on the smart device. This is how the app works from the perspective of the end-user.
Advanced Application
The app is the initial selling point when the user inputs the information for a specific departing point to a drop-off point.
They also select transportation alternatives based on vehicle type, cost, and arrival time by selecting the one that best meets their needs; and then accepting the ride.
Excellent Algorithm
The application algorithm notifies all nearest accessible drivers about the request, which they may either accept or deny at their discretion.
However, it does not provide the destination information to drivers until they accept the service to avoid prejudice.
When the ride is approved, the passenger is informed about the driver and its time to arrive at the pickup spot.
Convenient Cab Ride
This is when the company's standards and assurance play a role. Although the vehicle is owned and controlled by the cab driver, the firm maintains its corporate identity well.
When the rider and the driver arrive at the departure point, they confirm their contact details and departure location. This is frequently accomplished through the use of two-factor authentication. The driver ensures that the rider's directions are followed.
In addition, an entertainment system and WiFi are built for the riders to enjoy throughout their travel in premium transport. This contributes to the expansion of brand awareness.
Aside from that, it ensures that the rider has a safe journey. Likewise, there is also a way of sharing the trip information and live location with other family members and friends to guarantee the safety of the passengers.
To that end, the corporation always conducts proper due diligence on all drivers who work with the firm. Riders must also authenticate their accounts with their contact details and other social media profiles.
In an emergency, both drivers and passengers may contact 911 or other helplines immediately from the app, which displays their real-time location and route, which can be readily shared with the emergency operators.
Seamless Payment Method
Uber's payment method varies according to the region in which it conducts business. It is available in cash, debit card linked to the app, credit cards, direct deposits, or wallets. In any case, the charges are normally removed once the ride is done.
Verified Social Validation
Uber implemented this social validation as one of its core operating models. This feature will make the product more appealing and consensus.
Both the passenger and the car owners can evaluate one another after each ride. Such ratings of both riders and drivers are displayed on their profiles when they reserve or confirm the service.
Additionally, the social validation framework allows the firm to keep an eye on its vehicles and guarantee that they adhere to the criteria to keep the passengers feeling safe and content.
At the same time, to fulfill the commitment given to the drivers, every rider who does not respect the conditions of service will be blacklisted.
Uber Business Model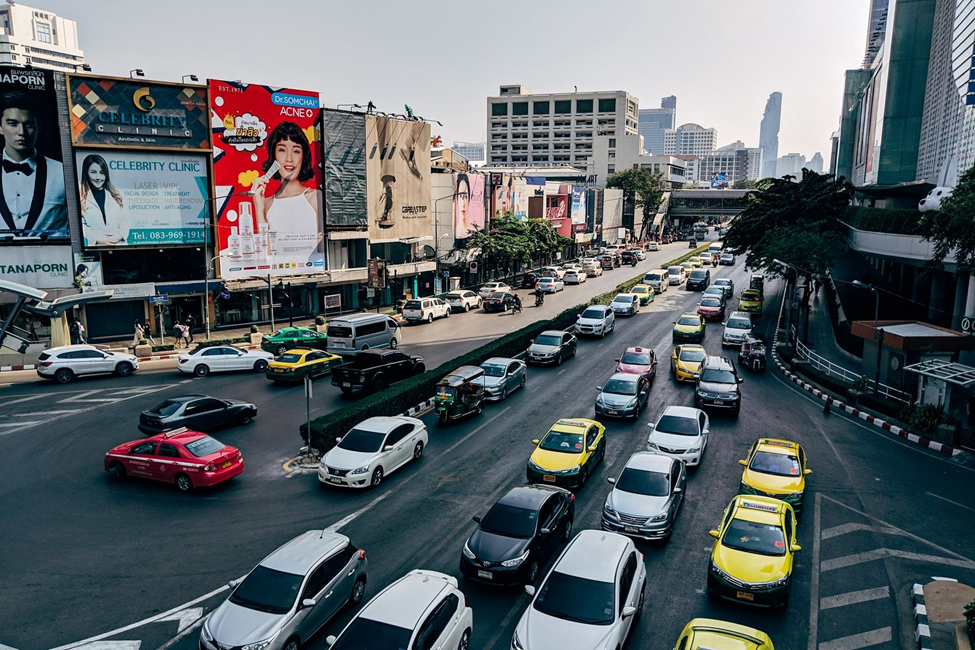 The enterprise introduced a partnership business model to the world. This approach entails collaborations and allows the partners to operate under one brand rather than creating and growing the service on their own.
To put it simply, the business does not own any cars. The company unites cab drivers who own vehicles and are willing to work under this trademark.
While partnerships supply the main business, it assures that service guidelines are pursued — the cars show up on time, are hygienic, take the correct road, and protect the user's privacy and security.
Because it was the first mover, this business model is also known as the Uber for X business model. Nowadays, the enterprise is projected to have more than 100 million monthly active users globally.
It is a unicorn valued at USD 60B and offers transit systems ranging from inexpensive bikes and scooters to Uber Air.
Uber Unique Selling Propositions
Reliable Service With Cashless Payment
The app can detect a car from any location and arrive in minutes. No cash is needed, as the passenger's credit card is linked to the user's account. A receipt is sent via email, with links to options for rating and tipping the driver.
Ethical Service Provider
This service provider and its rivals use the drivers' vehicles, and the drivers appear to be encouraged to keep the vehicles hygienic and well-preserved. Drivers are typically considerate and respectful.
Passengers review the driver's work. Thus unethical drivers are filtered out. A driver who frequently receives bad ratings will be forced to leave the platform. As mentioned earlier, all of the factors contribute to a great ride-sharing experience for users.
Economical Pricing
It is hard to determine a fixed or standard pricing for an Uber. Longer rides are normally less costly with Uber, while shorter trips may be more costly.
Its spike pricing strategy might result in significantly higher charges during peak hours. The application has one advantage in that it shows you precisely what the rates will be for the selections obtainable at the moment.
Security For Both Riders And Drivers
Passengers that are nasty, violent, or disrespectful are sorted out since drivers can rate their behavior too. At the same time, riders who use the platform have entered their credentials and payment card information on the application. Uber drivers have a lot of freedom and security.
How Does Uber Make Money?
At first sight, Uber appears to be just like any other transport business. However, its operation and business strategy deviate from those of old-fashioned taxi firms. It does not earn by rides because it does not hire chauffeurs.
In reality, Uber's income model is a commission-based approach. It collects a 20% to 25% fee which varies depending on geography and vehicle type on all charges for using its image and services by the driver.
The firm connects clients with vehicles and offers payment methods like credit or debit cards and wallets. Also, it provides a nice interface with maps, instructions, safe ride fees, and booking fees.
Uber SWOT Analysis 2022
Strengths
Its worldwide trademark awareness is clear, which is "ride-sharing." It has grown to become a global transportation player with solid market dominance.
Its fares are less expensive and more accessible to use than conventional vehicle services. Besides, users are loyal to this app because it provides an excellent user experience.
It has minimal operating expenses. Meanwhile, the company's dynamic pricing boosts driver morale and increases Uber's availability to riders.
The firm has a high-profit margin and can easily obtain extra funding to fuel its expansion.
Weaknesses
The application's verification procedure has previously been insufficient to assure rider or driver safety. Also, gender inequality is still rampant, both in terms of prevalence and pay gap.
Due to Uber's disruptive industry nature, governments have taken action on it many times. For example, driver earnings have been reported to be consistently lower than Uber's predictions.
Lyft, Uber's rival, continues to be the winner in terms of driver service quality.
Opportunities
Because of the Covid-19 pandemic, there has been a significant increase in delivery service, giving rise to a 125% growth in revenue for Uber Eats.
Toyota, Denso, and Softbank made an investment of $1 billion in Uber to develop self-driving cars.
Uber Freight, a digital freight brokerage business, represents 1% of the group's booking and 4% of the firm's net revenue.
Threats
Competition is increasing; the organization will have to strive to retain its consumer base. It is not just inside the ride-sharing sector but also from all sides.
Legislators and courts have challenged Uber's classification of its drivers as contract workers rather than staff members.
Local regulations differ tremendously between locations and constantly evolve, making it impossible for the business to ensure compliance anywhere it thrives.
Legislative changes can sometimes impact how much the business pays taxes; the company is currently under fire from numerous countries for evading its tax obligations.
Some governments will impose access or other special taxes on Uber, driving up the cost of a trip and making the provider less competitive with other alternatives.
It has experienced some negative press that might turn off some users.
The constant filing of litigation has distracted substantial amounts of money down fast from the business revenue.