Introduction:
Stripe is an industry-leading brand when it comes to online payment processing platforms. It was founded by Patrick Collison and John Collison in 2010 in Ireland.
The company has since moved its headquarters to San Francisco, USA. Stripe's prime business is in online payment processing and software as service (SAAS) products.
Stripe offers an online cloud-based integrated program to all sizes of businesses to process payments. A comprehensive partner program and an extended range of applications allow Stripe to offer payment and financial service solutions.
 The Business Model:
Stripe is a tech firm that offers a wide range of business solutions. They started the business with an online payment-accepting platform only. Over time, they have extended the products and services range for all types and sizes of businesses.
Stripe's main revenue generation service is online payment processing software. Developers can use their API-coded software solutions to embed with any online payment or business solution for their clients.
Stripe's wide range of services includes:
Payments
Billing
Connect
Payout
Atlas
Radar
Issuing
Corporate Cards
Terminal and
Capital
These services are tailor-made business solutions from online payments processing to POS, Fraud detection, Business Cards, and Business Financing Solutions.
Stripe offers a comprehensive billing plan for each of the services. Their prime online payment processing plan starts at 2.9% + 30 ¢ per transaction.
Company Profile 2022:
Here is an outlook for the Stripe company profile.
| | |
| --- | --- |
| Company name | Stripe © |
| Website | stripe.com |
| Founded- In: | 2011 |
| Headquarters: | San Francisco, California, US. |
| Founder | Patrick Collison (CEO) and John Collison (President) |
| COO | Claire Hughes Johnson |
| Business Model | Software as a Service (SAAS) for Businesses |
| Product/Services | Online Payments, Billing, Fraud Detection, Business Cards, and Capital Requirements. |
| Competitive Advantage | Technology, Brand Recognition, International Presence |
| Revenue | Undisclosed – Private Business Category |
| Competitors | Braintree, PayPal, Square, 2Checkout, Wepay. |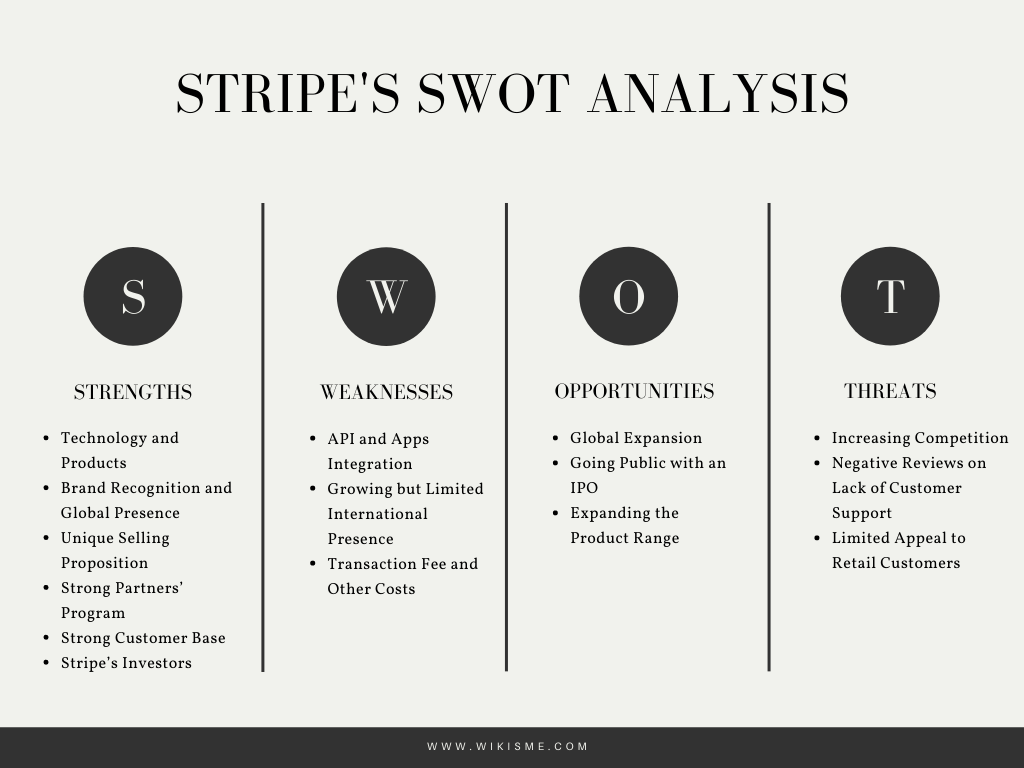 Stripe's SWOT Analysis:
1) Strengths of Stripe:
Stripe is easily among the top-tier online payment processing companies. If you can think of any online business payment needs, Stripe has a solution for it.
Their global presence of services in more than 135 countries creates a wider reach for their customer base. In addition, they have business payment solutions for all types of businesses, including sophisticated ones like SAAS, E-Commerce, Retail, and Marketing businesses.
Technology and Products:
Stripe offers cloud-based data processing and a wide range of apps and solutions. If they do not have a direct solution for a business problem, chances are they'll find it for you through their partner program.
Stripe's biggest strength is its technology advantage that allows flexible payment processing through readily available apps or API integration.
Stripe offers a comprehensive set of readily available business website apps. Their payment processing apps can be integrated with any customized business site. Stripe's easy-to-use and powerful APIs attract millions of businesses globally operating through any network.
Brand Recognition and Global Presence:
Since its inception in 2011, Stripe has taken long strides in the global online payment processing platform market. Although the true market value of Stripe remains guesswork, it is currently estimated to be worth $36 billion.
Stripe has a global presence directly or through local partner programs in over 42 countries. Millions of businesses operate through Stripe payment processing products.
Unique Selling Proposition:
Stripe has a diversified range of business solutions for its corporate customers. Its main business revolved around online payment processing. Recently the company has introduced business cards and financing facilities. An online tech-based payment processing company has emerged as a full-time financial solution provider.
Its core technology and open-source API approach with a diversified range of products remain the unique selling proposition for Stripe.
Strong Partners' Program:
Initially, Stripe lacked a few functions that came readily available with its competitors. For example, Stripe didn't offer a tax calculator embedded with its online payment processing solution.
Stripe has now partnered with various online tax calculation developers that offer an integrated solution for Stripe customers as ads-in.
For their payment partners, their partner's programs include industry giants like Visa, Apple Pay, and Alibaba.
Their partner program has opened up solutions for corporate customers. E-commerce or retailer looking for website building through payment gateways, business cards, or marketing solutions can find an all-at-one place solution with the Stripe partners' program.
This strong partner program has enabled Stripe to offer online payment solutions to any type of business.
Strong Customer Base:
Stripe has millions of customers worldwide in over 135 countries, from small businesses to medium-sized enterprises to world-leading corporations.
Stripe's prime customers include the world's leading brands like Amazon, SHOPIFY, XERO, SQUARESPACE, WIX, Zoom, Slack, Uber, and Hubspot to name a few.
Stripe's Investors:
Patrick and John Collison initially founded Stripe in 2011. Since its enormous success, the company has been able to raise funds through different investment calls over the decade.
Although the accurate and official financial records of Stripe remain undisclosed, its current worth is estimated at over $ 36 billion. Stripe has attracted investments from people like Elon Musk and Peter Thiel. They have reportedly attracted $ 1.6 billion in total investment calls so far.
2) Weaknesses of Stripe:
Stripe's cleaner and open-source approach for e-commerce businesses to integrate payment processors is their biggest strength. Over time, it has become a bit of a weakness of Stripe, with small businesses lacking techy skills.
API and Apps Integrations:
Stripe's many functions come through third-party developed apps as a partner program. For example, if you need to embed a tax calculator with a Stripe payment processor, you'll have to choose another app developed by one of their partners.
Similarly, if you need customization, you'll have to know a bit about coding or hire an expert. Many of Stripe's latest features do not represent its core business values and strengths.
Growing but Limited International Presence:
Stripe has come a long way since its inception in 2011. They've expanded their global presence to over 40 countries in just under a decade. It still remains a competitive weakness as some of their top competitors, like PayPal, have a global presence in over 200 countries.
Transaction Fee and Other Costs:
Stripe's fee structure for online payment processing fees is at par with its competitors like PayPal and Square, with 2.9% + 30 ¢ per transaction and no monthly fee.
However, their foreign currency conversion rate is 2%, double that of PayPal and Square. Also, with some of the payment features lacking the built-in tag, customers may have to pay higher costs to third-party app developers.
3) Opportunities for Stripe:
Stripe has come leaps and bounds in the online payment processing market. They still have a lot to achieve, though. Here are a few business-expanding opportunities for Stripe.
Global Expansion:
Stripe has every chance of expanding globally in different regions and countries. In particular, the company has great expansion potential in the MENA and South Asia regions, with limited direct presence.
Stripe can catch up with competitors by expanding to as many as 200 countries globally.
Going Public with an IPO:
Financial market watchdogs and pundits predicted an IPO of Stripe in the year 2020. Perhaps the global pandemic and recession have disturbed the company's plans.
There is no official word from the company Stripe on its IPO program. However, going public through an IPO is inevitable and offers a great expansion opportunity for Stripe. Going public will attract huge investment gateways and increase its goodwill manifold.
Expanding the Product Range:
Stripe recently joined the financial services market for businesses in the US. They now offer quick and fast capital resources to business owners. From payment processing to capital approvals, the leap is gigantic.
This offers Stripe a whole new world of business opportunities in the financial service sector. The scope of financing and credit card issuing can expand to individual customers too.
If launched properly, it offers a great business opportunity for Stripe with several different product launching options.
4) Threats for Stripe:
There is no risk-free business in the world. Even the strongest of businesses around face stern competition and business failure risks.
Increasing Competition:
Fairly speaking, the increasing competition's threat isn't limited to only affecting Stripe. Advanced technologies empowering digital currencies like Bitcoin greatly threaten all online payment processing platforms.
Stripe also faces a tough market challenge from its traditional rivals like PayPal, Braintree, Adyen, and Square.
Negative Reviews on Lack of Customer Support:
Stripe enjoys the reputation of an industry leader. However, on popular social media platforms, its customer support finds lower ratings than other metrics like ease of use, pricing, and value for money.
It certainly isn't a business threat, but it may somewhat damage the company's reputation.
Limited Appeal to Retail Customers:
Unlike its main competitors, Stripe offers all of its products and services aimed at the corporate customer base. Stipe's main business market is the corporate world and businesses globally.
However, the lack of options for retail customers may pose a business risk with its global expansion programs.