Stripe is one of the industry leaders when it comes to online payment processing platforms. It offers payment processing solutions to businesses anywhere in the world. It's a well-known brand name for its transparent fee structure, a wider range of applications, and valuable security measures.
Stripe aims to take the conventional trade economy to the e-commerce world. Thus far, it has lived up to its reputation. Small businesses and large brick-n-mortar businesses alike feel e-commerce is challenging in many aspects.
Cybersecurity challenges, increased costs, and lack of knowledge remain the biggest hurdles with e-commerce even today.
Every online payment processing platform defines its rules and fraud prevention measures. Stripe also comes with strict security and fraud prevention measures. However, Cybersecurity challenges remain significant and difficult to mitigate completely.
Along with Cybersecurity challenges, there are some business risks that Stripe and any other payment processing platform pose to your business.
1) Account Approval with Stripe
You can set up the account and business information settings with Stripe in a few minutes. However, it does not guarantee that your business account with Stripe will be approved.
Stripe follows strict rules on high-risk industry definitions. You must ensure to check the business category before setting up the account with Stripe.
Usually, Stripe would accept account opening applications from all over the world in most business categories. Some risky business categories, such as financial services, gambling, betting, certain online gaming, adult website, etc., may not get approvals.
2) Account Suspension with Stripe
Your account needs approval once you start the application, sign up, and complete the registration process. Even after approval, your financial transactions will be monitored by Stripe.
Like the account opening criteria, Stripe may suspend or freeze your business account for security and risk prevention reasons.
Your business risk profile with Stripe ranks higher in restricted industries. Stripe will also monitor your e-commerce working mechanisms, such as product description and customer services offered.
Your account may get frozen for violations with Stripe fraud and risk prevention measures during your business operations.
3) Business Risk with Additional Costs
Many of the applications and extensions offered by Stripe are third-party developed. Unlike its competitors, it offers a lot of applications, such as a tax calculator from third-party integration. For small businesses, the additional costs of these basic ad-on applications may prove significant.
Although Stripe provides extensive customer support to all its clients, its premium support feature does not come free. In a unique method of offering paid premium customer support, Stripe charges $ 1,800 monthly. The cost may prove a significant business risk for small businesses.
4) Financial Losses with Cybercrimes
Stripe offers the best online security feature to detect and prevent fraud and cybercrimes. Yet, we have seen an increased number of online fraud and credit card theft cases in recent years. Cybercrimes pose significant challenges to both individual users and corporate clients alike.
With limited technical knowledge and limited customer support, Cybersecurity poses big threats to small business owners particularly.
Practically as Cybersecurity measures evolve, so do the fraudsters' hacking tricks.  The costs of mitigating and containing such risks are getting higher each day. However, It becomes difficult for any online platform to mitigate such risks, not just Stripe fully.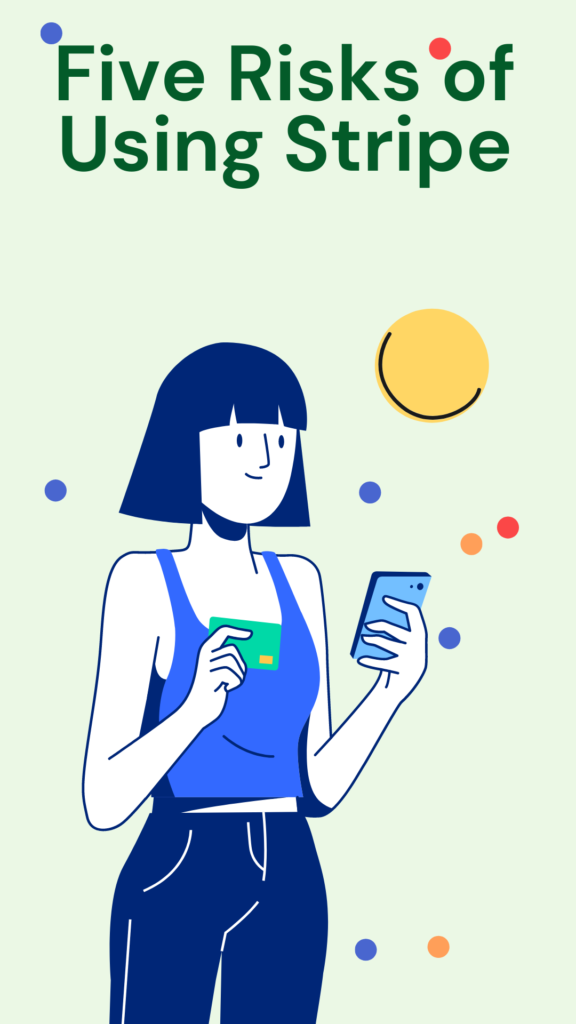 5) Lack of Customer Support
One of the persistent complaints that have been registered against Stripe is its lack of direct customer support. Large businesses with customized offers and the bulk of transactions may get premium support from Stripe.
For small business owners, the case may not be that simple. Many social media and other platform forums indicate a lack of customer support from Stripe in difficult times.
Online payment processing platforms, in general, share some common business risks. Most of these risks are associated with Cybersecurity and application integration features. As a growing business, Stripe has made great strides in offering valuable products to its customers worldwide.