Overview
Roofstock is an online real estate marketplace that allows everyone to own their properties within the budget with a very simple and effective mechanism. From smaller investors to bigger corporates, any entity can use the platform to make a comprehensive appraisal, purchase, or even own properties from all over the world.
Not only for that but this real estate firm also provides quality services for its customers to diversify or expand their investment portfolio.
In addition, since its establishment, the company has always developed great technologies and innovations to better their product and service quality to the end-users. At the moment, there are over $4 billion in real estate transactions on the platform.
Therefore, it shows that the company has great potential. With trustworthiness, the firm now has total funding of $132.3 million from over 20 diverse investors across the globe. Needless to say, this real estate company signifies a rapid growth that builds a firm cash flow.
Company Profile
| | |
| --- | --- |
| Company Name | Roofstock, Inc. |
| Website | https://www.roofstock.com/ |
| Founded | 2015 |
| Founders | Gregor Watson – Chairman & Co-Founder, Gary Beasley – CEO & Co-Founder |
| Key People | Rich Ford – Chief Development Officer & Co-Founder, Suresh Srinivasan – Chief Marketing Officer, Amit Akhouri – Chief Technology Officer, Michael Shoemaker – Chief Operating Officer, Kristine Radhakrishnan – Vice President Controller, Navneet Arora – Chief People Officer, Mark Halstead – Chief Science Officer, Geoffrey Thompson – General Counsel, Laura Orr – Head of Leasing and Resident Services |
| Headquarter | San Francisco Bay Area, West Coast, Western United States |
| Company Revenue | $29.8 million |
| Key Competitors | Homeppl. 2nd Address, Property Finder, Cozy Services |
What is Roofstock? A Brief History
Roofstock is a real estate platform that acts as a marketplace where every investor can come in and look for properties.
The platform allows the investors to buy or sell any properties (both single-family and entire-family homes) that are listed on the marketplace. On top of that, after making purchases, the investors can rent out the property on the platform as well.
Rich Ford, Gregor Watson, and Gary Beasley founded the company in 2015. It was then instituted to become the world's leading real estate investment marketplace, luring over 20 big firms and other investors.
This gigantic real estate corporate has over 15 million single-family residential homes in hand. Moreover, it is expected to double the number of SFRs that they own in the next decade.  
How Does Roofstock Work and What Does it Offer?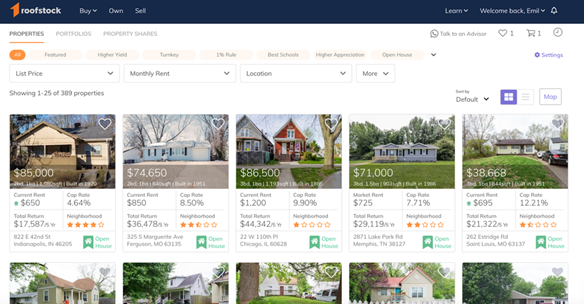 Source: Roofstock
Roofstock acts as a crowdfunding place for real estate investors that has potential for return on investment (ROI). This real estate company is ideal for investors to make wealthy cash flow through monthly rental income from the property that is owned.
On top of that, you will get a steady and passive cash flow by using a property manager to work on daily responsibilities with your tenants. Moreover, the firm has posted a list of more than 15 million residential single-family homes for every investor to evaluate and make purchases on the platform easily.
In addition, the company has already studied and gone through a detailed inspection process before listing the homes for prospective investors on the platform. What is more, every home will generate instant monthly cash flow for the buyer because the home has already had tenants. By doing this, the buyer will receive guaranteed immediate income from the home they just bought.
Other than that, the real estate platform offers low commission fees than any other real estate agent. If you sell the house to the agent, he/she will charge a 6% commission fee for helping to sell your house. However, the platform only asks for 3% from the sellers, yet 0.5% from the buyers. By using this marketplace, both the buyer and seller can enjoy a lot of benefits. 
So how exactly does Roofstock work?
Roofstock is a handy and insightful online real estate marketplace that everyone can use for free. By browsing the company's website, you will be able to register on the platform. With or without an accredited balance, you still can view any properties listed on the website easily. Additionally, every listed property has a piece of very detailed information and analysis that the company has precisely made before listing.
You can browse through a list of summary, financial analysis, legality, and buying process. Therefore, you can create comprehensive judgements on the property you are going to buy. Besides the detailed information, the platform also offers a quality picture of the property for investors to see and the location on a google map.
After evaluating the property, the buyer can make an offer immediately to close down the deal. However, if the buyer wants to get a loan, then the buyer needs to get approval from the lender first. More importantly, before closing each deal, the buyer needs to learn about the financial and legal process. It is crucial for the buyer to own a property safely.       
What does Roofstock offer to its consumers?
Roofstock has several features that serve the users well. Initially, the company offers an online marketplace, where investors and landlords could buy and sell single-family homes on the platform. As investors, you can own property, put money in a portfolio of many properties, or bring your interested property to the platform.
For the third case, for example, you are interested in a house that is not listed in the marketplace. You can send the house address for review in the 'bring your property' account feature. Once it is approved, the company will find an agent to discuss the information and process with you.
What is more, 'Open House' is an additional feature of the platform that allows the buyer and seller to negotiate information, pricing, or make decisions within 24 hours before the property will be listed on the marketplace.   
Roofstock Business Model
This real estate firm has attracted many big investors, getting roughly $50 million in Series D funding. Consumers do not require an accredited balance to start seeking for potential properties to invest in. In addition, the platform allows everyone to search for more than 16 million single-family homes in over 70 markets.
With this online real estate platform, investors can look for homes that already have tenants. Therefore, it is easy for them to gain instantaneous income from renting. On top of that, the investors can scale up their portfolio by using Fractional Shares. This model allows them to fund a part of some designated properties for future profit.
Roofstock Unique Selling Propositions
Roofstock allows its consumers a guaranteed monthly rental income from the property they buy. By doing so, the company can have an increased chance of attracting more and more investors to buy properties through their platform. As a result, the firm can generate money by getting a very low commission fee from the consumers.
How Does Roofstock Make Money?
The real estate company only charges a commission fee only if the transaction completes. While the seller gets charged by 3% commission, the buyer also gets a 0.5% commission fee. However, if compared to the normal commission rate from agents (6%), the corporate charges its consumers for only 3.5%, which is 2.5% lower.
On top of that, if the investors use Roofstock One, the company will charge 10% of the management fee for gross rent or earnings. For home and interest prices, the platform charges 0.5% of the management fee.
Roofstock SWOT Analysis
Strengths
A Secure Cash Flow Rental – Every SRFs, which investors make purchases, has tenants renting already, so the buyer will receive a constant rental fee from the tenants
Low Commission Fees – The platform asks for a 3% commission fee from the seller and 0.5% from the buyer
30-days Return Guarantee – Within 30 days of purchase, the buyer can request the refund. In case he/she does not feel happy about the property, he/she can write a letter of request for review. Once approved, the company will pay back the fund. On the other hand, the company will buy back the property from the seller in the next 180 days if it has not sold
No Accredited Balance – Users can start looking for properties on the online marketplace for free without putting a single buck
Property Management Service – Investors no longer need to take care of daily operations for their rental properties as the property manager will do the job on behalf
Weaknesses
No Mobile App – The company has a website only
Big Percentage of Down Payment – Investors are required to invest 20% in advance for a down payment
Only for US Residents
Threats
There are many competitors for this real estate firm to look for, such as Homeppl. 2nd Address, Property Finder, Cozy Services
As the technology advances, there might be potential hackers trying to dig into every big investor's account on the platform
Opportunities
Since many people are familiar with using phones, it would be great if Roofstock developed a user-friendly app for the consumers
There are a lot of remaining homes beside the US. Therefore, the company can extend further listings to another country