Overview
Pinterest, a social networking platform that specializes in photo sharing, got listed publicly in 2019. In other words, advertising is how this firm generates money. On April 18, these shares were set up to trade and ready on New York Stock Exchange, noted with the "PINS" symbol.
The initial public offering of this large social network garnered USD1.4 billion at a price of $19 per share. This brings its valuation to 12.7 billion USD, including restricted stocks plus options. The company's market capitalization was $14 billion as of Oct. 17, 2019. Every month, over 300 million pinners engage their photos, as well as other elements of content in the "pins" form on the bulletin board-like network.
Company Profile 2022
| | |
| --- | --- |
| Company Name | Pinterest, Inc. |
| Website | https://www.pinterest.com/ |
| Founded | 2010 |
| Founders | Ben Silbermann, Evan Sharp. Paul Sciarra |
| Key People | Ben Silbermann – Co-Founder and CEO; Evan Sharp– Co-Founder, Chief Design & Creative Officer; Paul Sciarra – Co-Founder, Todd Morgenfeld – Chief Financial Officer, Christine Flores – General Counsel – Andréa Mallard – Chief Marketing Officer, Christine – Deputy Chief People Officer, Jeremy King – SVP, Head of Engineering, Lily Yang – Chief Accounting Officer, Naveen Gavini – Head of Products, Jon Kaplan – Head of Global Sales, Waleed Ojeil – Head of Monetization Engineering, Matt Crystal – Head of Monetization Product |
| Headquarter | San Francisco, California |
| Company Revenue | $1.6 billion ( see the latest here) |
| Key Competitors | Instagram, Snap, Twitter, Facebook |
What is Pinterest? A Brief History
Pinterest is a social networking and board-based image-sharing platform that employs a visual discovery engine to help users find inspiration for things like fashion, recipes, and home decor ideas.
Users may save their favorite 'Pins' to boards to keep ideas organized and accessible. For its 416 million monthly active users (MAU), the network is a 'feel-good' plus inspirational place, and I believe there is still an opportunity for it to expand. This platform's monthly active users (MAUs) increased by 39 percent year over year (YoY). According to CEO Ben Silbermann, "Users came looking for ideas as they adjusted to life during a global pandemic."
Rakuten, Andreessen Horowitz, and Goldman Sachs (GS) earlier invested 1.5 billion USD in the company launched in 2010. In the financing in 2017, its valuation was 12.3 billion USD. And it conducts its structure in a dual-class style.
This entity gets inspired by the concept of social media sites like Twitter and Facebook. At the beginning of establishment, the firm initially planned to build a large user network, after that,  add revenue-generating functions later. In 2018, it brought in 756 million USD in sales, an increase of 60% compared to last year. During the Q2 of 2019, the company generated revenue of $261 million, a year-on-year increase of 62%.
The company mentioned their advertising products assist business owners to increase the reach to Pinners along their decision-making pathway. Based on a Talk Shoppe survey, 68% of active users on a weekly basis found a new product or brand on Pinterest.
How Does Pinterest Work and What Does It Offer 2022?
So how exactly does Pinterest work?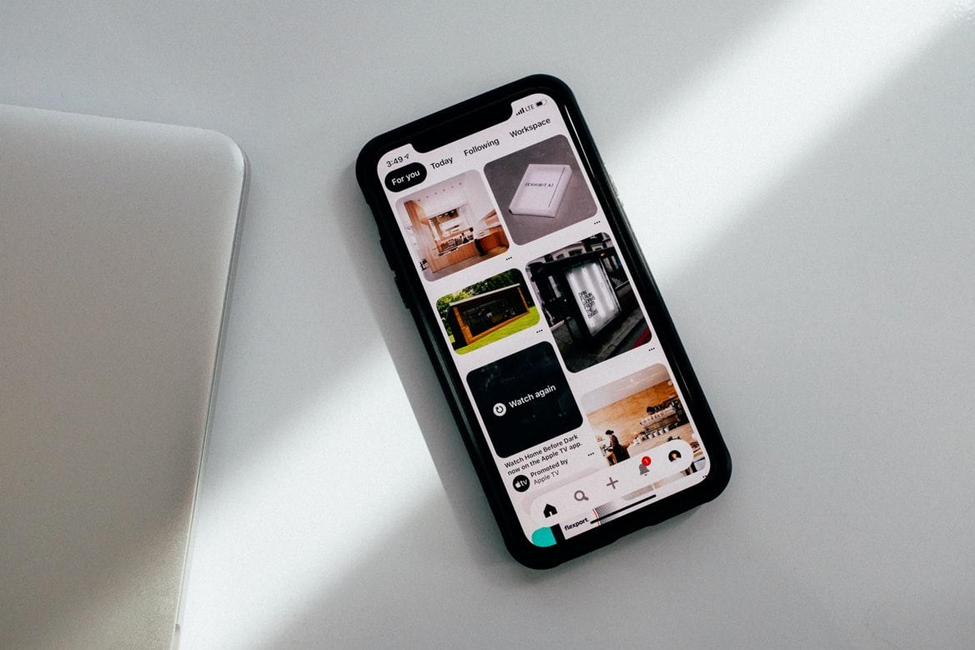 Pinterest is a very rich virtual pinboard that allows you to "pin" or collect photographs from the Internet. Creating the board can organize your photographs and add explanations to remind yourself why you saved them in the first place.
Here are some basic Pinterest guidelines to follow as a new user:
Create an Account on this social network
Follow a Few Boards
Verify Your Account
Adjust Setting
Make Your Own Boards
Get started pinning
Participate in Social Media
What does Pinterest offer to its consumers?
Pinterest is a visual search engine for finding homes, recipes, fashion inspiration, and others. With billions of Pins to choose from, you will never run out of creative ideas on this platform. Save your favorite Pins to boards to keep your ideas organized and easy to access.
Users can use this social media to post content, such as photographs, comments, links, and other stuff. The term "user content" refers to any content that you upload on Pinterest or otherwise provide.
Pinterest Business Model
Pinterest's advertising revenue comes from promoted pins which appear quite similar to user-generated pins.
Monetizing Pins
Prior to more traditional income streams, it is interesting to know how the company used its special pin system to provide monetization potential. Instead of visiting a separate merchant site, the business has added a "Buy It" link button that allows customers to purchase pinned things straight from this leading platform. Merchants who use Shopify,  BigCommerce, or Salesforce can also collaborate with the corporate.
Promoted Pins
"Promoted pins" are the company's main revenue source. These unique pins are essentially advertising that has been settled by certain sponsors. Promoted pins are similar (but not identical) to ordinary pins, just like they are used in Facebook's timeline function and social networking sites. The user data are used for advertising depending on user searches and interests, plus demographics. This procedure is pretty simple for the organization because customers pin goods that they are already interested in.
Interest in the usage of Pinterest's platform is more trendy among beauty and fashion brands, which drives the company's income. The platform is more than excellent for e-commerce because its users mainly have above earnings and are female demographic.
Pinterest Unique Selling Propositions
Members "pin" photographs they find online to themed inspiration "boards" on the social network, which has 265 million monthly users. Two-thirds of the user base is female, making it extremely lucrative to advertisers. The company offers "promoted pins," tailored advertisements that show at the top of users' search results and feed. In 2018, the ads brought in around $3 per user. Also, click-to-buy shopping ads are sold to hundreds of retail partners and businesses.
How Does Pinterest Make Money?
Instead of revenue growth, Pinterest's major focus was on gaining as many active users as possible in the firm's early days. The organization has paid more attention to generating revenue in recent years because they already have a huge user base.
The company earns all of its revenue from digital advertising, and its tools assist businesses in reaching consumers at various stages of their decision-making process. This is accomplished through 'Promoted Pins,' which are advertisements that include a picture, a carousel of photos, or a video that enhances user engagement. Advertisers target certain devices, regions, demographics to reach customers looking for or who have expressed interest in their products.
Pinterest and Shopify launched a collaboration in May of this year so that Shopify merchants can upload catalogs to the platform, then transform their items into shoppable Product Pins. Thus, the customers on the app can buy from Shopify merchants immediately. The app also includes a 'buy button' for businesses that use IBM Commerce, Shopify, or Salesforce Commerce Cloud.
These merchants can use the app to promote with a buy button that allows consumers to purchase pinned things without going to the merchant's website. It has no commission cost here, but the functionality improves advertiser convenience and conversion, resulting in more advertising income for the entity. The company's average revenue per user (ARPU) in the third quarter of 2020 was $ 1.03, while it was $ 0.90 in Q3 of 2019.
Pinterest SWOT Analysis
After we explain Pinterest's business model, now lets we discuss its strengths, weakness, threat, and opportunities.
Strengths
Simple to use.
Easy to make a "board" depending on your interests.
Option for instantaneous search
Multiple Applications
"Flag" option available to use
Excellent visuals or graphics
Possibility of individualization
Unrestricted access
Pinterest offers a section dedicated to education
Rather than keeping ideas and links on your PC, it is simple to save them on its app.
Exchange ideas with individuals from all around the world easily
User-friendly interface
A sizable following recently
Appealing to the eye
Easy to search, store, and share content or ideas.
Weaknesses
Improper content or spam
Inaccessible link
Generic emails
Gender Bias
Problems with "re-pinning"
Having issues with the "Pin" Button
Time-consuming
Limitations of user-submitted content
The majority of modern education materials focus on literacy and numeracy.
Most articles are aimed at students in primary and secondary school.
Most pins are for do-it-yourself projects, fashion, cosmetics, or cuisine.
All things must link to a website.
Searches are not always appropriate when seeking anything specific.
Threats
Unacceptable content
Risk of Spam from unknown users
Predators on the internet
Clones websites
Other social networking websites (Twitter and Facebook)
Advertisement-friendly websites
Other bookmarking the favorite sites or toolbar
Educational resources have been usually exchanged among board members recently.
They might connect to websites that frequently have educational tools accessible.
Teachers now have additional resources for activities in the form of e-learning/blended learning courses, which are growing increasingly popular
Legal copyright problem.
Opportunities
Opportunities to increase revenues that Pinterest is planning to pursue include a greater international expansion, focusing on video and expanding advertising capabilities, and expanding its e-commerce initiatives.
Numerous educational opportunities
Building a greater social networking
Triggering ideas spreading and inspiration
Linked with Facebook and Twitter for faster relaying for information
Producing more potential jobs especially creating more creative communities
Possible to place ads on the website to generate revenue
Can be made more attractive and exposed to the male population.