Ipsy was founded by Michelle Phan and the co-founder Marcello Camberos in 2011. It's an American beauty subscription service that offers beauty, makeup, and skincare products. The subscription plans start at $12 per month, and customers get 5 items in the beauty box with 1 or 2 full-size products.
Ipsy's business model is now a common one, with many of its competitors and rivals already replicating the idea. However, Ipsy's marketing strategy is largely social media-centric, with the founder Michelle Phan having a huge fan following. The company uses her social media influence to good effects. As of now, Michelle Phan has over 8.85 million subscribers and over 1 billion video views.
What is Ipsy?
Ipsy is a beauty and makeup subscription service. You'll get 5 beauty products at $ 12 per month. The beauty box is called the glam bag at Ipsy. It will contain one or two full size items. The box contains a mix of luxury and mass brand items. On average, the box value is worth around $50.
Customers start with a questionnaire to provide a starting point in their profile set up with Ipsy. The form is used to analyze customer's preferences and requirements. Ipsy also uses advanced data analytics to customize the selection of beauty products for subscription boxes.
Ipsy has three different pricing plans that offer different value proposition to its customers. Currently, the company serves customers in the US and Canaday only. Customers can choose a pricing plan of their choices. Each box is delivered monthly that can be changed to quarterly delivery option as well.
One of Ipsy's key strengths is its use of social media marketing. It invites vloggers and influencers in the beauty industry to join its studio. It offers them mentorship and association with the Ipsy brand. In return, they promote the Ipsy brand and its products that create a win-win situation for both sides.
Key Products/Services Offered by Ipsy
Ipsy offers a comprehensive product range of makeup and beauty products. Customers can subscribe to monthly plans in three categories. Customers can also buy beauty products directly from the online store at discounted prices for its members.
Ipsy's customers can subscribe to one or all three beauty box subscriptions at the same time. Each box contains different beauty products every month. The collection of beauty box items consists of renowned brands. However, not all items in the box come from luxury brands.
Subscription Plans
Ipsy offers three different subscription plans to its customers. Each subscription box is sent monthly, however, customers can change the frequency to quarterly deliveries as well.
Subscription plans at Ipsy include:
Glam Bag at $12 per month – 5 deluxe items
Glam Bag Plus at $25 per month – 5 full-size items
Glam Bag X at $55 quarterly – 8 full-size items and 4 deluxe items
Ipsy Shop/Offers
Members of Ipsy subscription boxes can take advantage of discounted prices at the Ipsy shop. Ipsy comes with seasonal and product offers as well. Both of these options offer great value and a variety of full-size beauty products to members.
Customers can buy these products directly or can use these products as an add-on item with their subscription plans.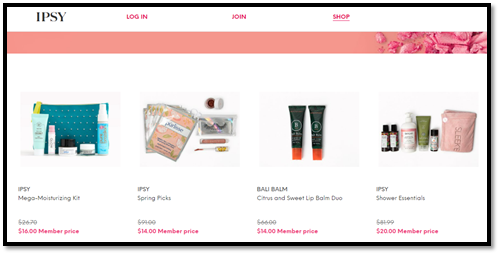 Source: ipsy.com
Refreshments – Organic Products at Ipsy
The refreshment segment at Ipsy refers to organic and clean products. These products are dermatologists and clinically tested for harmful ingredients. These products are chosen carefully and are free from gluten and nut allergen. These products also include sustainable and environment-friendly products.
Range of Products
Ipsy offers a wide range of beauty and makeup products. These items include beauty products for women and men. For members, these products are available at discounted prices.
Some of the top product categories available at Ipsy include:
Skincare
Hair
Fragrances
Men's beauty and grooming products
Bath and Body
Nails
Face and Lips
Eyecare
Makeup brushes and tools
Top Brands at Ipsy
Ipsy carries a number of recognized brands. These brands include luxury as well as mass brands. Subscription boxes contain items with both types of branded products.
Some of the top brands at Ipsy include:
Huda Beauty
Sunday Riley
Tarte Cosmetics
Tatcha
Anastasia Beverly Hills
Beauty Blender
Kate Somerville
Who are Top Ipsy Competitors and Alternatives?
The subscription business model in the beauty and makeup industry is replicated by many companies these days. Ipsy faces stern competition in the subscription beauty boxes business model. However, it means more choices for customers to compare prices and product range.
The top 5 Ipsy competitors and alternatives are:
Birchbox
Boxycharm
BeautyFix by Dermstore
Glossybox
Allure Beauty Box
Let us review the products offered by Ipsy's top competitors.
1) Birchbox
Birchbox was founded in 2010 and is an established player in the subscription beauty box business. It is one of the popular beauty box companies offering great products and pricing to its customers. It is one of the main competitors of Ipsy and a good alternative for customers.
Birchbox offers a wide range of beauty and grooming products. It offers three pricing plans to its customers starting at $ 15. The basic package offers 5 beauty products with 1 or 2 full size branded products.
Subscription Plans
Birchbox offers three subscription plans to its customers.
Monthly Plan at $15
3-month plan at $15
12-month plan at $13
Birchbox Products and Services
Birchbox customers can buy products directly from its online store. These products can also be added to the monthly subscription boxes. Birchbox also comes with a reward program for its customers that is equivalent to 10% cashback.
Top products offered by Birchbox include:
Beauty and makeup
The Clean Shop – Organic products
Grooming Products
Haircare
Face and skincare
Nail
2) BoxyCharm
Boxycharm is another popular alternative to Ipsy. It also offers a similar business model with subscription boxes. It offers beauty and makeup products at great prices and value. It is a popular option among subscription box customers as it offers great value for money. The beauty box offered by Boxycharm priced at $25 can contain products worth $270.
Subscription Plans
Boxycharm increases the subscription box prices with increased items in each box. It offers three pricing plans.
Boxycharm with 5 items – $25
Luxe with 8 items – $ 49.90
Premium with 6 items – $35
Customers can choose 1 item with the regular package and 2 for the premium and Luxe packages respectively.
Boxycharm Products/Services
Boxycharm has a wide range of beauty products with renowned brands. Some of the top brands are Boxycharm include:
Huda Beauty
TATCHA
IGK
BECCA
TARTE
Glow Recipe
Top products offered by Boxycharm include:
Makeup and beauty
Skincare
Haircare
Nails
Applicators and Beauty Tools
3) BeautyFix by Dermstore
Beautyfix is a subscription service offered by Dermstore. Thus, it enjoys greater brand recognition and competitive advantage as compared to some of its rivals. Subscribers BeautyFix boxes can also shop a wide range of products directly at Dermstore.
BeautyFix boxes come with full-size and deluxe products. Each subscription box would include at least five beauty products. The product mix comes through a variety of branded and mass brands. However, each monthly box would contain at least one branded and full-size product.
Pricing Plans
BeautyFix offers a single monthly pricing plan at $24.95. Customers can also buy previous boxes at a discounted price of $34.95. It offers free shipping to its regular customers while first-time buyers have to pay for the shipping charges.
BeautyFix Products/Services
BeautyFix comes with brand recognition. Its customers can also buy similar products from the Dermstore online. Thus, it offers further flexibility and choice to its customers. Its loyal customers enjoy a loyalty program that offers reward points to its members.
Top product categories at BeautyFix include:
Beauty and Makeup
Skincare
Haircare
Nail
Beauty tools
Bath and body
Shaving and grooming
4) GlossyBox
Glossybox is another popular beauty subscription service. It is one of the key competitors of Ipsy as well. It offers four pricing plans to its customers starting at $ 21. It comes with a wide range of products from renowned brands.
GlossyBox is popular for its value-for-money subscription boxes. Customers can enjoy a great variety of branded and mass brand beauty products. It also offers great discounts for direct buying to its members.
Subscription Plans
GlossyBox offers four pricing plans to its customers. These subscription plans include:
A Monthly Package at $21
A 3-month package at $ 58.50
A 6-month package at $ 111, and
A 12-month package at $ 210
GlossyBox Products/Services
Glossybox offers a comprehensive product range to its customers. These products are included in the regular subscription boxes. Some of the unique products are offered through the limited-edition section. Glossybox also rewards its loyal customers with a loyalty program.
Its boxes contain valuable beauty products that come from luxury and mass brands. It has partnered with some of the renowned brands.
Some top brands at GlossyBox include:
Becca
Burberry
Bvlgari
Crush by Rihanna
GLAMGLOW
TARTE
Tom Ford
Some of the top product categories available include:
Makeup and beauty products
Haircare
Skincare
Nails
5) Allure Beauty Box
The Allure beauty magazine launched allure. It comes with great brand recognition since the magazine was launched in 1991. It is one of the key competitors of Ipsy. It offers comprehensive beauty products with the added advantage of beauty events, newsletters, and magazine subscriptions.
Allure comes with a huge fan following through its beauty magazine. It gives Allure a competitive advantage over its rivals. However, its product range and brand partnerships are similar to those at Ipsy.
Subscription Plans
Allure offers three different pricing plans. Each plan comes with different beauty box delivery frequency.
A monthly plan at $ 23
A 3-month plan at $ 65
A yearly plan at $ 250
Fragrance box at $ 50
J-beauty plus K-beauty box at $ 60
Allure Products/Services
Allure offers great discounts to its customers on direct purchases as well as subscription boxes. It also offers a referral program that rewards its customers. Additionally, Allure offers its flagship magazine subscription and newsletter coverage to its customers as well. However, the magazine subscription is charged separately.
Allure comes with a great collection of beauty products and brands. Some of the product categories include:
Makeup and Beauty
Skincare
Haircare
Nails
Fragrances
Bath and body