The realm of pharmaceuticals has changed a lot in the last century. What was initially started as an industry built to help those in need and those with illnesses has grown into one that has increased greatly in cost?
This form of growth has primarily been beneficial to the human population. As companies have grown, they have been able to deliver medicine and support to countless people around the world and have bolstered medical research in the same manner.
Given the necessity of medicine across the globe, it is unsurprising that prescriptions and nearly all forms of over-the-counter pharmaceuticals have drastically increased in price.
Staggering costs have always limited the accessibility to medicines for many individuals, though the situation has become even harder on people in the last few decades.
As a result, several companies like GoodRx have started up in an effort to help out the average person get the medicine they need without bankrupting them. Although GoodRx may be among the most well-known companies, it is hardly the only one and there are many good alternatives.
To help familiarize you with these industries, this article will cover what GoodRx is and how it works while also outlining five other competitors that are just as reputable. Though different in origin, each of these is all centered around helping you get the prescriptions you need without hampering you.
What is GoodRx?
The key idea behind GoodRx is generally thought to be about saving money. While this is true, the actual goals of the company are a bit different. In reality, GoodRx is a company that values equity, accountability, transparency, and, of course, putting consumers first.
It is a company that was founded in 2011 by Doug Hirsch, the current CEO. He began the company because he had tried to fill a costly prescription.
Given his experience with various other companies, namely Yahoo!, he decided to use this experience to create GoodRx as an effective way to combat the diminishing accessibility of medical attention being afforded to less-entitled and well-off individuals.
Today, the company operates as a healthcare company that has a website that can be used free of charge. Though it is focused on getting people better deals on their necessary prescriptions, it serves several other functions as well.
Key Products/Services
In addition to giving users guidance on where their prescription will be the cheapest, it also enables them to access online doctor's visits, find lab tests that are at home and/or far cheaper, and is a good source of medical information that would otherwise be hard to come by.
Plus, the site is also invested in supporting doctors, pharmacists, and other medical staff in ways that can help them understand the needs of their patients better.
Here Are The Best Alternatives to GoodRx 2022
GoodRx is a great company to go through for your medical needs. Regardless, these alternatives are just as useful, if not even more advantageous, depending on your current situation.
They aren't all centered solely around getting better deals on pharmaceuticals, but each of them is committed to providing a better medical lifestyle to wider populations through their operation.
What is Doctor on Demand?
As the name implies, the purpose of Doctor on Demand (DoD) is straightforward. It revolves around getting people in to see a medical professional with near-instant access. They firmly believe in connecting patients with doctors extensively that does not solely rely on an individual having the funds to do so.
It is also essential to DoD that insurance does not hamper the care that a person receives. In building these relationships, DoD constantly acknowledges that getting medical treatment to be available for all people has been a consistent challenge that they are willing to undertake on their behalf. In addition, getting them in to see a physician fast is also a top priority.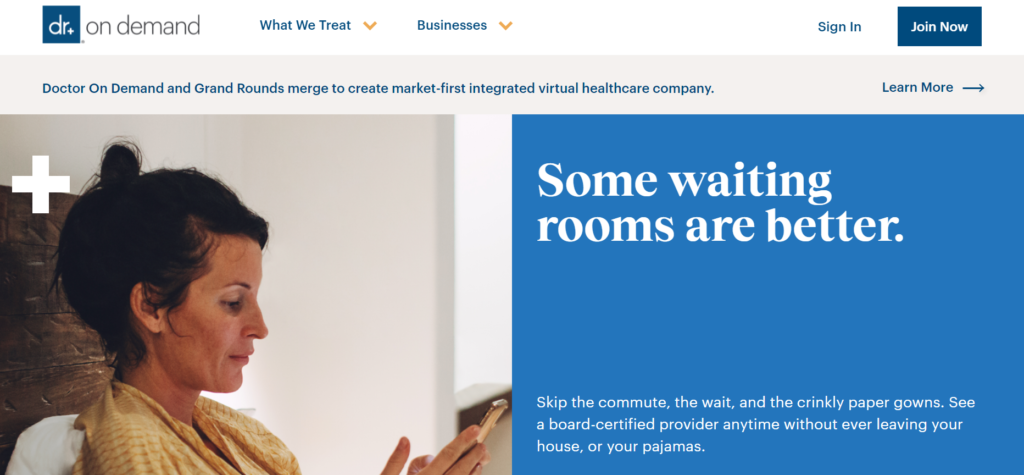 Key Products/Services
There are four pieces of DoD that work for the people. They come in the form of Urgent Care, Behavioral Health, Preventative Health, and Chronic Care.
Urgent Care centers around getting emergency cases the proper care they need in a shorter time frame, while Behavioral and Preventative Health focuses on mental assessments and daily self-care routines, respectively.
Finally, Chronic Care is based on providing consistent, effective support for long-term injuries, diseases, or other illnesses.
What is PharmacyChecker?
PharmacyChekcer (PC) is one of the top competitors for GoodRx and has been around nearly a decade longer. Not only do they have an edge in longevity, but they are also well known for having intense verification processes for licensed pharmacies that are accessible both domestically and internationally.
The company is also run with two different, yet complementary and essential fronts. Tod Cooperman, CEO, and Founder has been a prominent researcher in the healthcare industry. Unlike anyone else, he knows the ins and outs of it, also recognizing the difficulty that many patients have in paying for their prescriptions.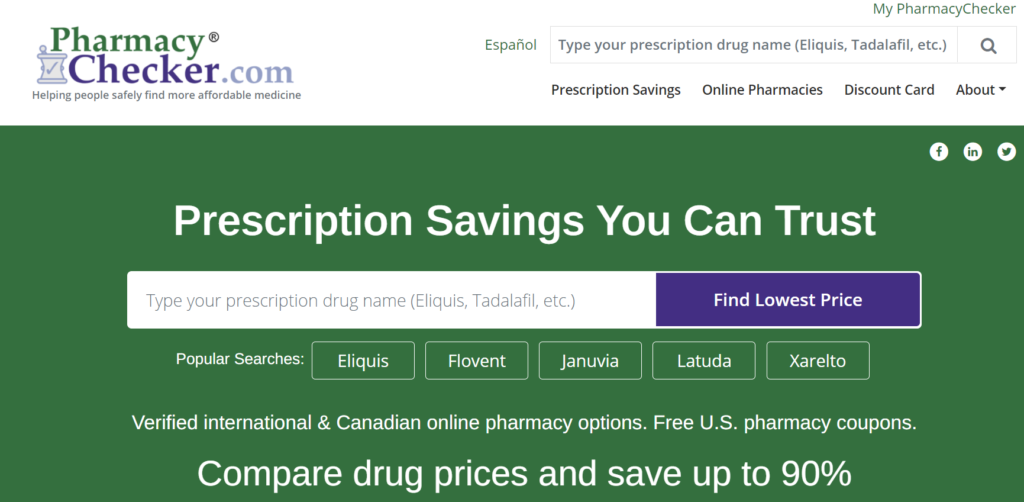 Gabriel Levitt, President, and Co-founder focus on managing the business end of things while ensuring the company runs as smoothly as possible. Given his previous experience in business research and development, his direction enables PC to operate in a way that benefits the consumer first without compromising PC's reach.
Key Products/Services
PC's primary service is focused entirely on locating and determining the most affordable medicines for individuals in a given area. It rapidly checks all nearby pharmacies for the same drugs and medicines, cross-references them, and provides users with an easy-to-read breakdown of where the best deals are at.
Along with these prescription savings, PC also has online pharmacies and a discount card service. Online pharmacies can be beneficial for those seeking out certain medications.
A wide range of pharmacies can be accessed here that ship around the globe. The discount card from PC enables users to have access to prescription discounts that can total up to 87% off. It's a free service that is accepted at over 67,000 pharmacies in the US.
What is Amwell?
Amwell is another competitor of GoodRx's that focuses on getting patients into doctor's offices without ever having to leave their own homes. Compared to GoodRx, Amwell is incredibly reliable for getting users connected with physicians easily.
The platform is friendly for patients and providers and a convenient mobile app that is perfect for providing virtual primary care. Even amongst other services aimed at putting patient care above all else, Amwell stands at the top in customer satisfaction and overall happiness.
Key Products/Services
There are Carts, Kiosks, and other services among Amwell's virtual doctor visits and related products. Carts are mildly futuristic, enabling physicians to roll around through remote usage. Kiosks are the next step forward, providing telecommunication with physicians while also giving users access to various testing apparatuses (thermometers, blood pressure, etc.).
In addition, Amwell can also support patients by having Professional, Clinical, and Engagement Services that create easier physician-patient interactions and Hardware Support that can solve any technical issues related to the machinery patients may have.
What is OneRx?
OneRx is centered around the same ideals that GoodRx is, especially about providing affordable medications. The major difference is that OneRx exclusively focuses on this aspect in operation – they don't have resources that provide telemedical visits or the like. Still, they have great deals of information that help patients navigate the difficulties of managing co-pays, comparing costs for prescriptions, and other money-saving tips.
Key Products/Services
The joy of OneRx is that it is relatively simple and really only offers a couple of different services. First, they have a mobile app that's free and gives full access to their services.
Among these are the coupon/discount finder and the price comparison tool. You're also able to redeem different discounts for your prescriptions entirely in the app.
What is SingleCare?
Last on this list is SingleCare (SC) which is somewhat different than the other alternatives listed here because they directly deal with pharmaceutical companies. As a result, they're able to set even lower prices on most prescriptions, by comparison, are reliable for getting those deals, and are completely available to anyone with or without insurance.
Their discounts are accepted through their card at over 35,000 pharmacies throughout the United States. Plus, it's absolutely free for anyone interested.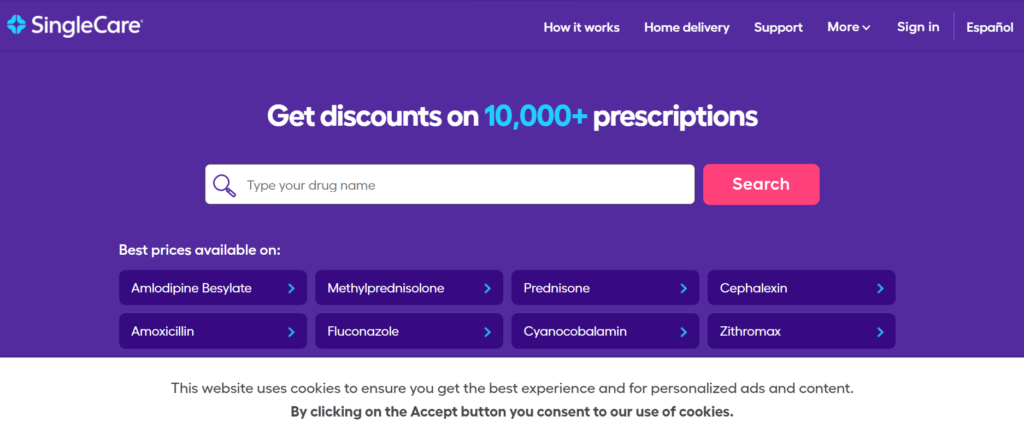 Key Products/Services
Again, the key service for SingleCare is the discount card that an individual or a whole family can use. You can take the traditional route of seeing prices compared for prescriptions by nearby pharmacies, or you can have your prescription delivered to your home by using their partner GeniusRx.
This partnership also makes transferring between pharmacies easier if you happen to find your prescription cheaper elsewhere.
To make things even easier, their mobile app provides full functionality for users that streamlines the entire process.