How does Stripe make Money – What Is the Stripe Revenue Model?
Stripe is a technology firm that offers payment processing solutions to corporate customers globally. It still operates as a privately held business since it was founded nearly a decade ago.
The true market valuation and revenue model can only be assessed with publicly published financial statements. The tech firm is one of the eagerly awaited IPO from the Silicon Valley club of tech-based companies.
Stripe has a global presence in 40+ countries directly. However, it enjoys a global partner program customer base that increases its indirect customer base to millions globally.
The company's biggest assets are intangible, like its API developed, software, apps, and worthy talent pool. The current estimated market valuation of Stripe is above $36 billion.
With a wide array of payment processing products and customized business solutions, Stripe has a varied pricing model. Mainly its products offer a similar per-transaction-based pricing model like its competitors in the market.
Stripe's Pricing Strategy:
The obvious mainstream for Stripe remains the collection of fees per transaction basis with each app offered. If you dive into the pricing strategy adopted by Stripe, you'll see two different patterns.
Stripe offers a linked pricing strategy on a per-transaction basis and a flat per-purchase pricing strategy. These one-time purchases are significantly increasing the revenue stream for Stripe in recent years.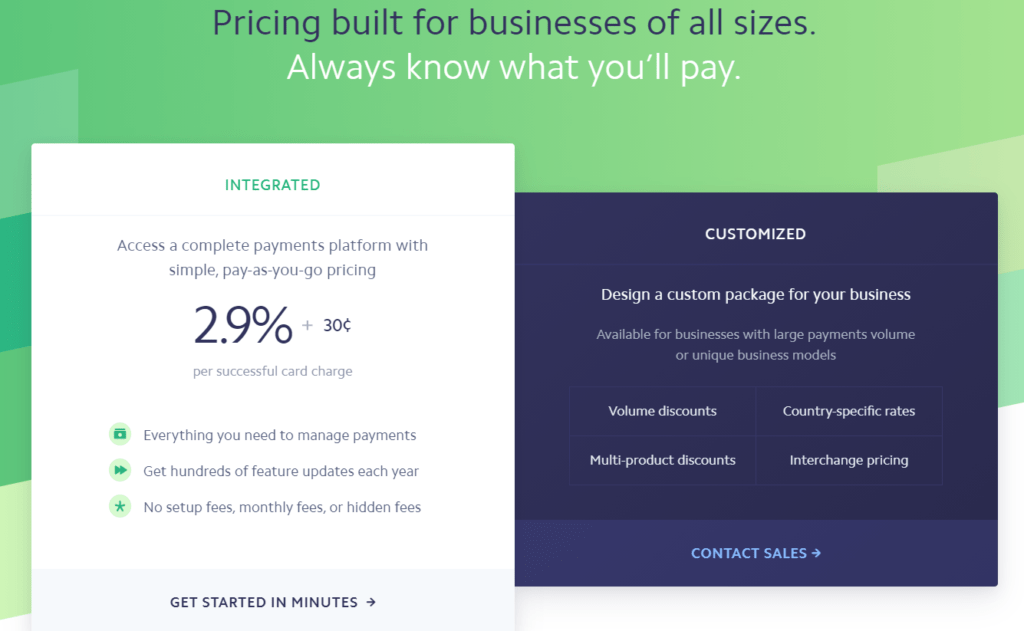 Revenue from Fixed-Rate Sales:
Customer support is what makes some businesses a big success. It doesn't come free all the time. As Stripe offers a comprehensive business payment processing solution, customers likely need support at all stages.
Stripe offers Premium Customer Support to its customers at a staggering $1,800 per month.
The premium support package includes additional support features like response in different languages, emergency response, dashboard help, and quarterly expert review, to name a few.
Stripe Atlas is an online company incorporation program exclusively for US customers. It offers a comprehensive package of a complete company setup from registering to offering e-commerce support.
It starts with a one-time setup fee of $500 plus other services opted for by the business. In a recent report, Stripe has seen a surge in its Atlas sales, accumulating more than $200 million.
Stripe Terminal offers Point of Sale solutions to businesses. Along with transaction processing fees, its other sales stream comes with card readers priced at $59 and $299.
Similarly, Stripe Issuing provides business cards to its corporate customers priced at $3 per physical card and 10¢ per virtual card. It comes with a $15 charge of dispute card transaction fees.
Revenue from Transaction Fee Sales:
Stripe's largest revenue funnel is per transaction fee collection on its various products.
Let us briefly see how its various programs offer a varied pricing model.
| | | |
| --- | --- | --- |
| Product | Category | Pricing |
| Payment | Cards and Digital Wallets | 2.9% + 30 ¢ per transaction |
| |   | 1% for International Transactions and 1% on currency conversion |
| | Instant Payouts | 1% of Payout Volume |
| | Domestic Funds Transfer | 0.8% maximum $5 |
| Billing (invoicing app) | Starter plan | 0.5% on a recurring billing |
| | Scale Plan | 0.8%  On recurring billing |
| | Invoice Reconciliation | $7  per invoice |
| Connect | Standard | Included in the Payment App plan |
| | Custom | 0.25% of the volume |
| Radar (fraud detection) | Chargeback protection | 0.4% per transaction |
| | Fraud protection Team | 7 ¢ regular, 2¢ with Payment Plan |
| Terminal | POS app | 2.7% + 5¢ per transaction |
| |   | Additional 1% on International Trans. |
| Sigma | Online Business Records | 2¢ per charge |
| Issuing | Domestic payments | 0.2% + 20 ¢ per transaction |
| | International Payments | 1% + 30 ¢ per transaction |
Most Stripe customers opt for its Payment plan that includes additional features of different apps. With millions of users globally, per-transaction fees remain its largest revenue stream.
Stripe Partner's Program:
An internationally recognized brand reputation with unmatched technology has leveraged Stripe to partner with various well-known brands. Stripe partners with various brands that can offer additional solutions to its customers.
For Example, many of Stripe's competitors came with readily available marketing or tax calculation tools. Stripe has made it possible with its partner program. However, its featured partner program does not come for free.
It starts with a free standard and $250 annual verified partner plan. It's highly unlikely that this partner program could generate high volumes of sales, but it still remains a valuable income stream for Stripe.
Stripe Investors:
Cash revenues from product sales aside, Stripe has successfully secured millions of investments through its investment calls. Over the years, it has accumulated over $1.6 billion in different investment calls over several series in the decade of operations.
Stripe created a differentiation of payment processing by quickly processing merchant transactions. Although Stripe clears merchant balances within 3-5 business days, it still remains an interest-earning source.