Key Takeaways:
EToro is a FinTech company that permits users to trade various financial assets, including cryptocurrencies, stocks, commodities, and many more. eToro operates an exemplar matchmaking business model. It's the most extensive online investment and social trading network. It combines the value propositions from virtual social networks and electronic trading brokerage networks. eToro links investors from all over the world to share, follow and copy each other's trading activities. 
The platform provides services such as brokerage firm, investment management. 
eToro has more than one way of making money, such as inactivity fees, commission on each trade/spread, and withdrawal fees. 
For the accounting year 2020, eToro posted annual revenues of $650 million, up 147 percent from the previous year—the company projects to hit a little over $1 billion in 2021.
Company Profile:
| | |
| --- | --- |
| Company Name | eToro |
| Website | www.etoro.com |
| Founded- In: | 2007 |
| Developer: | eToroX Labs |
| Headquarters: | Limassol,Cyprus |
| Founder | Yoni Assia, Ronen Assia, David Ring |
| Business Model | Online social trading and investment network |
| Product/Services | Commodities, cryptocurrencies, Stocks, |
| Competitive Advantage | Commission-free, no strings attached |
| Revenue | $600 million in 2020 |
| Competitors | Trade24, tradeo, ayondo, trayport, Zulutrade, Swipestox. |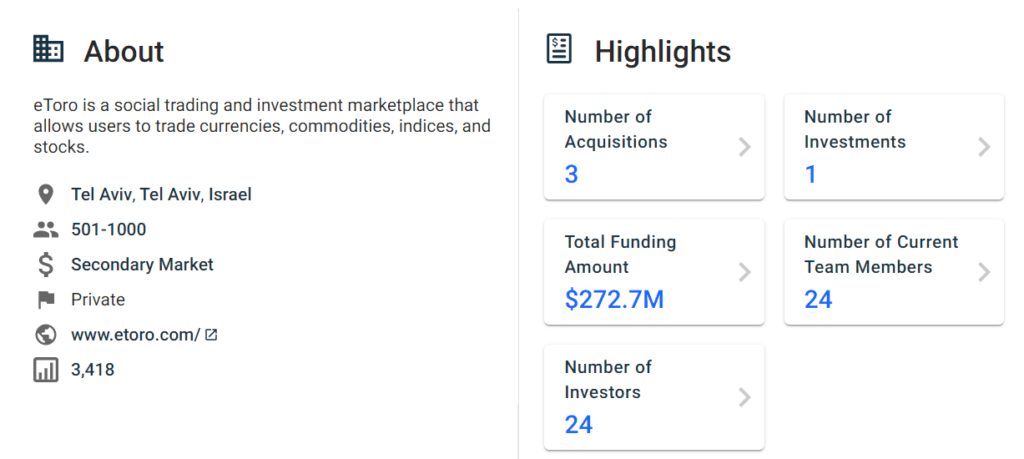 What is Etoro?
Etoro is an online social trading platform and brokerage firm run by Israel that has been around for almost a decade. The company was founded by Israeli brothers Ronen Assia and Yoni Assia and a partner David Ring in 2007. Initially, this trading company was named RetailFX but changed to Etoro when it introduced social trading. This trading firm supervises an impeccable matchmaking business model furnishing investors with a tenet. It organizes a link between online brokerages and social media gateway.
It offers trading and investment in various commodities, stocks, currencies like Bitcoin with clear and transparent traders' portfolios that users can copy according to their own choice. The company generates its revenue by spread, i.e., every time the investor visits the e-portfolio, the fee is automatically deducted. The annual income of Etoro is approximately 133.6 million dollars.

SWOT Analysis Of Etoro:
Here is the SWOT analysis of the world-renowned online trading platform, Etoro.
Strengths of Etoro:
Free of cost online application service:
Every trading platform operating online has some service charges to be paid by traders. Still, Etoro is leading the market in this regard by offering a free subscription to most of its services especially meant for new traders. The application is completely free of cost and almost accessible to everyone.
The ease by which any trader or client can execute copy trading marks the critical feature of Etoro. It promotes those traders who have desires to get their portfolios and business to be copies following risk-control. This way, the retailers get an opportunity to mimic successful clients and their trading strategies in real-time.
Great platform for trading:
Etoro is a vast and decade older set up of trading that has got user trust on it. Thousands of users across the whole world rely on this platform to buy and sell assorted and innumerable commodities. The latest technological innovations and easy-to-use free mobile applications are two major reliabilities for users.
An incredible forum for cryptocurrencies:
Etoro possesses a wide range of U.S based users who exchange cryptocurrencies like Bitcoin, lite coin, Ethereum, XRP etc. It offers exchange on more than 15 U.S based cryptocurrencies within no time.
Free online tutorials and demonstrations:
eToro's online services also include some educational tools to let the new traders and users learn more about this business model's usage, mode of working, and commission. So far, the best innovation this model has got is the introduction of online video tutorials.
Brokers can have a handful of video tutorials under the heading of 'trading school' in just one click. These videos cover the content about platform usage, exchange of cryptocurrencies, spreads, and shares, etc.
Weaknesses of Etoro business model:
eToro is a beneficial financial trading platform, but besides its numerous advantages, the firm has some setbacks and trails behind in various aspects.
Substandard customer support:
The eToro company is just earning millions, and they claim a 24/7 customer support service, but there is no contact number provided on web site. It only offers online chat and ticket-based service, which not everyone can avail of. In the name of customer service, users are directed to the FAQs page, and live support does not work satisfactorily.
Limitation for currency exchange:
Though the firm does not charge any subscription fee for cryptocurrencies, the Limitation of $25 is there, which restricts low-level investors.
High charges for copy trading:
Copy-trading highly successful traders require a high minimum transaction for the copier. In general, $200 is the minimum rate to copy any portfolio.
Opportunities for Etoro:
CFDs on eToro come with leverages. The user is at risk of losing 67% of the money during crypto trading as it is a volatile currency, and the company is not liable for the losses. Improving CFDs and extended stop-loss-trade limits can improve crypto exchange.
Improvement in Cost services:
The cost of services on amount withdrawal, ticket-based customer service, copy trading and the Limitation of possessing a particular amount for cryptocurrencies exchange is causing the company to lose its active users. Improvement in cost service structure and revising the charges would be a great deal to its market value.
Threats faced by Etoro:
Decreased market value due to volatile cryptocurrencies: –
Etoro is too much involved in cryptocurrency; Etoro allows people to trade in cryptocurrency, which is very much popular in U.S. Cryptocurrency is volatile, because the worth of bitcoin deflates rapidly or inflate quickly; when the market boost, the buyer gets the benefit and, when the market deflate the buyer's loss the amount, which he invested.
By losing the wealth, the clients of the Etoro lose the confidence and try to leave the etoro. Along with etoro, the world should initiate a new way to make investment strong in cryptocurrency.
What is the Business Model of Etoro?
Etoro is an online trading platform that links many investors worldwide who can share their trading activities. The users can sell and buy their assets on eToro and offer no dealing deck activity to its users. The eToro is making revenue through commission and fees related to CFDs or not related to trading. In a nutshell, it charges fees from its user, and that is how it makes money.
How Does Etoro Make Money?
Etoro makes money by spreading, which they apply on the weekend fees, currency conversion fees, inactivity fees, and withdrawal fees. They applied spread whenever the customers buy or sell an asset on eToro that is how they make money.
The eToro charges overnight and weekend fees in which they lend the money to its users through which they can hold their assets through weekends and overnight. Withdrawal fees are applied when the client withdraws money from his account in eToro. Another source of revenue for the company is when the user withdraws money from the united states dollar to any other currency. The withdrawal fee of eToro is $5.
Etoro creates its income in many ways, and in the first place, they are a market maker broker with an STP-NDD hybrid model. They bring in cash from losing trades; however, they balance it to guarantee no contention.
Market Maker model:
eToro works as a hybrid market broker utilizing both NDD and STP features. This contrasts with a regular market broker operation quite significantly. eToro also generates revenue through commissions and charges, when you trade CFDs.
Non-Trading Commissions:
They can moreover generate from non-trading charges like a $5 withdrawal expense and dormancy charges. They charge a dormancy expense which remains at $10 after you have been inactive for a year. There is an additional withdrawal due that is set at $5 on each eToro withdrawal you make.
Spread:
The eToro spreads and commissions are competitive. On forex, these will begin from 1 pip, on crypto from 0.75%, and there is a 0.00% commission on genuine ETFs and Stocks; however, you must be eligible for the assistance. A spread is the contrast between the bid (SELL cost) and asks (BUY cost) for any given financial assets the trade wants to trade in.
Spreads are applied at whatever point a client purchases or sells assets. Overnight and Weekend Fees Like numerous other CFD exchanging stages, eToro charges so-called for the overnight and end of the week expenses. The charge structure is subject to the traded monetary trade, the kind of position being held (BUY versus SELL), just as the general trading volume.
Furthermore, eToro also charges money from its users who do not log in to their accounts for the past 12 months. If the user is not online for more than a year, he would be charged with the amount of $10 from his account.

Etoro Valuation & Revenue:

Well, In the 12 rounds of the venture capital funding, etoro has raised almost $272.7 Millions.
The investors of the eToro include a long list that includes Korea investment partners, soft bank, china Minsheng financial holdings, spark capital, fidelity, commerce ventures, and much more.
The annual revenue generated by etoro in the year 2020 is $600 million compared to the year 2019 when the revenue was just $3.1 million. In the year 2020, the revenue is 400 % up than the year 2019.