Key Takeaways:
E-Trade is a personal finance platform that permits its users to save for retirement, open a bank account, invest money, and even take out a personal loan. E-Trade is an online bank and brokerage which has developed many financial products. These include the ability to open savings accounts, invest in securities, or even take out loans.
E-Trade makes money on multiple services and products, and their day trading platform for retail investors is the surface of it. The E-Trade company's services are a brokerage account, portfolio management services, bank account, and retirement account.
The revenue generated by the E-Trade company comes from the interest income, service charges, and commissions and fees. E-Trade invests the funds deposited by customers in money market funds to earn interest. They also make money when users purchase or short stocks by borrowing margin from E-Trade.
As of the year 2019, Etrade's net interest income was $1.9 billion. That is revenue generated passively, with no money of their own. 
Company Profile:
Company Name
E*TRADE
Website
www.etrade.com
Founded- In:
1982
Headquarters:
Arlington, Virginia, United States
Founders
William A. Porter, Bernard A. Newcomb
Key People
Rodger Lawson, Chairman
Mike Pizzi, CEO
Business Model
Interest income on free float and order flow revenue
Product/Services
Personal Finance Platform, trading, investing, banking, managing employee stock plans.
Competitive Advantage
Charges no commission on ETF trades and online equity.
Revenue
$716 million second-quarter of 2020
Competitors
 TD Ameritrade, Ally, Fidelity Investments, Schwab, IBKR, Vanguard, Robinhood, Merrill Edge, T. Rowe Price, and Betterment.
What is Etrade?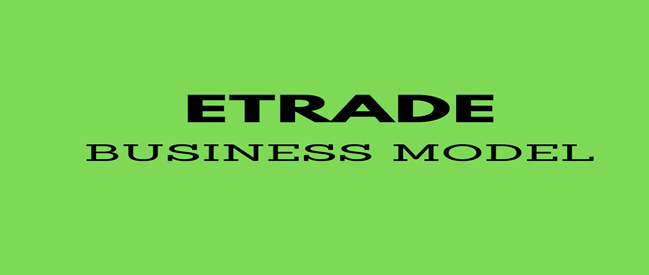 Etrade is an Electronic trading platform that helps its customers trade financial assets, including future contracts, exchange trading funds, common stocks, fixed-income investments, and mutual funds. It offers low investing, brokerage and retirement. Etrade operates in the united states and can be easily accessed through desktop sites and mobile apps.
 The advantage of the platform is that its trade execute quickly, and you can get a quick response from its customer service. One of the most interesting thing about the Etrade is that it charges no commission, specifically on the options trades and online stocks. It also offers free education to its customers about the trades to better their trading acumen.
To summarize, You can trade and invest with Etrade with its three accounts brokerage, trading and investing. You can sell and buy stocks in Etrade. It provides many different plans for its investors which better suits them they can choose it easily.
Etrade's most popular accounts are Brokerage account, Core portfolios, Premium saving accounts, Traditional IRI, Roth IRA and Rollover IRA. One of the good thing about the Etrade is that it has no minimum deposit requirements for IRAs and Brokerage account.
SWOT Analysis of Etrade Business model:
In this virtual world of competition and the economic Cold war, E-trade has its claws firmly on the world trade. E-trade has emerged as a solid backbone to hold the world's trade economy. E-trade has led to the sustainability and globalization of this world. 
1) Etrade Strengths
trade is an online electronic trade and commerce brokerage and financial platform. Investors invest, save money, create bank accounts, take loans, sell and buy different stocks without any hassle. E-trade can utilize its strengths to gain a consolidated high-end place in the marketing world. These strengths are built-in potentials and assets for Etrade to anchor upon to achieve a well-structured competitive marketplace.
Round the clock customer service: 
The most vital part of any trade business is effective communication. E-trade has its customer service representatives available round the clock. Their perpetual service has given E-trade a massive strength by dealing with customer issues and solving them on the dot.
Public Out-reach and distribution:
The successful part of the business is its reach to every locality of the world, and electronic trading has got you covered because it has financial corporation stores far and wide 17 states of the world. E-trade is a website-based service that eliminates physical barriers.
Offers best portfolio management service:
A portfolio for an investor is mandatory to maintain to aim to fit the goals. E-trade gives excellent portfolio management, whereby professionals scrutinize your assets, keep an eye on news and investments and manage your account at 0.65 to 1.25% of the cost.
Automation and skilled labor force:
The automation of various products on the Etrade website has allowed for reduced human labor and consistency in the supply of the product concerning its market demand. Besides this automation, Etrade has highly trained and skilled laborers.
2) Etrade weaknesses
Although the strengths of e-commerce overshadow its weaknesses, still, it has a few lacks and limits.
The growing Etrade business has very little researched data about the markets that it has been serving for the last few years, which ultimately results in decisions based on outdated data to customer demand.
 Employee turnover rate is higher than others:
Etrade financial corporation spends more budget to skill the employees, but Lack of handsome salaries is causing high turnover rate in contrast to local competitors in the market.
Etrade Company has less budget ratio due to which some of the mandatory financial steps are overlooked, such as quality control check. It blows the hostile party to produce high-end quality check products. This causes quality compromised products and Lack of uniformity in the market.
The stock report for E-trade is recorded to be four, far less than other in-market business competitors, who have a stock value of 15 or 16. The company takes a long time to purchase raw material and stock and sell it, which brings the market value down. E-trade relies on inventory and stocking raw material that takes a long time to manufacture the product and adds extra cost.
3) Opportunities of E-trade
Opportunities in swot analysis represent many incoming developments and chances that trade can grasp to build an unbeatable position in electronic marketing. 
Etrade being an online business platform, can target a broad group of people as a low-income group can benefit from attractive offers.
Service implementation globally:
As the target group is broad, irrespective of income, borders, and nationalities, educational background, online web service of e-trade can be implemented globally.
Etrade could hold its back strongly if the products sold are standardized and properly copyright labeled by it. It must also focus on the most trending and successful products. Besides these, E-trade has many opportunities to flourish, like consumer disposable income, artificial intelligence, technological developments, etc.
4) Threats faced by Etrade
Globally operating companies like Etrade are affected by the fluctuating interest rates, thereby leading to undulating finance and market value.
With the advent of new technological tools, new entrants are rising with more discount offers that lead to competition while on the contrary, the massive clutter on media has decreased the effectiveness of Etrade promotional messages.
The increase in costs of fuel has caused a hike in the input costs for E-Trade. Moreover, these expenses have risen as different enterprises contributing to this organization, have also experienced rising fuel costs and ultimately charging more.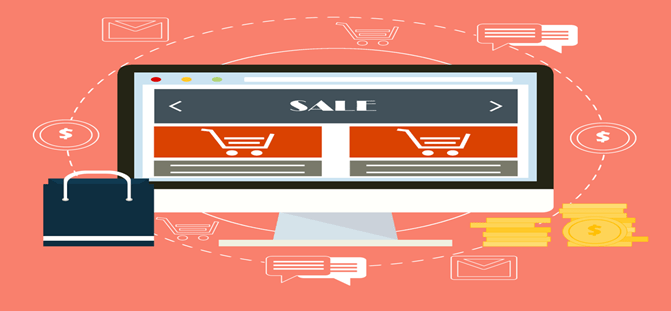 What is the Business Model of Etrade?
Etrade uses a interest income on free float and order flow revenue to generate revenue.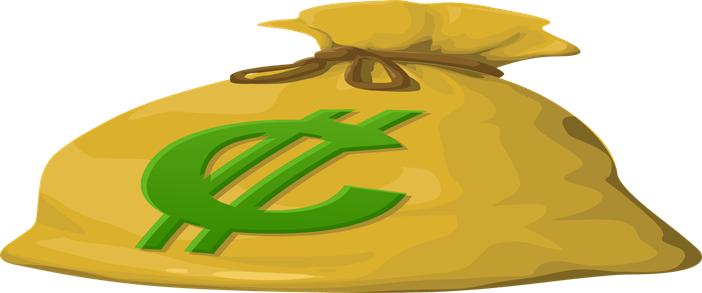 How Does Etrade Make Money?
For most retail investors, Etrade is probably a household name; however, if you went on the street and looked at a survey, most people would not understand how Etrade makes money. Only 24% of the second-quarter revenue of Etrade came from the commission from its online brokers' platform. 55% of the revenue of the Etrade comes from the net interest income, which is the same metric you would see if you looked at the income statement for any major bank.
Two ways of making money:
There are two staggering ways through which E-trade creates cash. Order flow is the main wellspring of bringing in colossal money, and free float is the source of interest income, which remains second. When the client stores assets in the currency market, E-trade puts the holdings to a premium.
E-trade makes income, when the client buys or when an investor borrows shares and immediately sells them by taking margin from E-trade. E-trade centralizes its advertising around financing the client's business. Because the more cash you have contributed with them, the more interest income they generate.
E-trade's net interest income for the year 2019 was $1.9 billion. That's revenue generated passively, with no money of their own. Their advertising focuses so much on funding your accounts than asking to trade. E-trade trading sprints on the interest generated through the float that's invested by the millions of users.
Since retail investors are the least likely to actively trade, offering them "free trading" is a great idea to increase their float. Offering free trading to retail investors is like offering free cakes to a fitness freak.
Out of the millions of traders, about 10-20% are active. And active traders trade big and trade consistently. And a lot of them trade futures and options, which is the most profitable segment in the stock markets. This 20% of the active traders make them 20 times the revenue they lose by offering free trading.
From the investment standpoint, that is the way you need to look at it, as 55% of the revenue came from the business in the second quarter, which means they have investments in real state loans, mortgage-backed securities, and exposure to margin accounts.
They also offer suites on deposit products CDs saving accounts, and they pay interest on them. In other words, if you invest in Etrade, make sure you understand Etrade should be viewed as a bank with a strong brokerage business; it is not the brokerage house on its own.  
Etrade Funding, Valuation & Revenue:
Etrade is the complete package for traders with intuitive tools and specialized support. As of March 2021, the net worth of Groupon is $1.7 billion. The net income generated by Etrade is $196 million in the second quarter of the year 2020. Etrade generates diluted earnings per common share of $0.88 in the year 2020. The total net revenue generated by Etrade in the second quarter is $716 million.