Key Takeaways
Crowd1 has fully harnessed the power of network marketing in modern times. It is a young and newly established network marketing company based in the UAE. It has gone berserk with popularity since its inception in a few years.
Crowd1 does not directly sell any products or services. It has partnered with different brands, mostly with digital products and subscriptions. It makes money through affiliate networking and member subscriptions.
Crowd1 offers products in different categories such as gaming, entertainment, education, and lifestyle. However, none of these products are directly sold by Crowd1. Corwd1 creates members and affiliates, who in turn, bring more customers. In a nutshell, Crowd1 makes full use of the network marketing tactics.
Company Profile
| | |
| --- | --- |
| Company Name | Crowd1 |
| Website | crowd1.com |
| Founded-in | 2018 |
| Founder | Jonas Eric Werner |
| Key People | Jonas Eric Werner – Founder |
|   | Johan Westerdahl – Acting CEO |
| Headquarters | Jumeirah Towers Dubai, United Arab Emirates |
| Business Model | Network Marketing |
| Products | Indirect sales of Gaming, Travel, Lifestyle, and Educational Products. |
| Competitive Advantage | Unique Business Model, Network Marketing tactics, Large Affiliates Network |
| Revenue | Undisclosed |
| Competitors | Multi-level Marketing Companies |
Introduction
Crowd1 was founded in 2018 by Jonas Eric Werner. It has since been established as an international firm in different countries. It currently has its headquarters in the UAE. However, it operates globally through its digital network marketing business model.
Crowd1 is a digital network marketing company that does not sell any products or services directly. It rather focuses on creating members and affiliates. Members need to make a single product purchase for successful registration. There is no registration fee for first-time users though.
Crowd1 partners with different brands in different digital product categories. These products are sold through packages offered by Crowd1. Members and affiliates receive a commission for introducing the products to newer customers. The commission structure is not disclosed publicly, however, it is understood to be around 10% on qualified sales. In a sense, it works like an affiliate marketing network that rewards its influencers.
What is Crowd1? What Does it Do?
Crowd1 is a digital networking company. Precisely, it is a crowd network marketing company that indirectly sells products and subscriptions to its affiliates. Customers can buy online digital products with a free account. Affiliates need to make referrals to earn a commission. Thus, it works like a crowd network, growing with each referral.
Some of the featured products at Crowd1 include:
Miggster
Mindoe
Life TRNDS
AffilGO
Tribute
Crowd Magazine
For customers, the sign-up process is simple. Customers need to sign-up online to make any purchases. However, every customer needs a sponsored link to open an account before making the first transaction.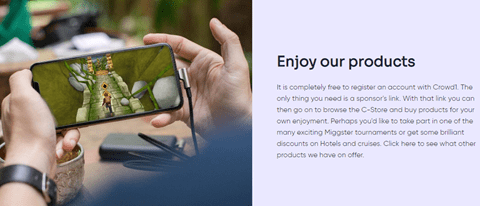 Crowd1 main appeal is for its affiliates and members. You can join Crowd1 for free through online sign-up. There are different packages for affiliates and members to choose from. These packages consist of digital products and services on offer by Crowd1, labeled as to its C Suite.
Crowd1 offers exclusive packages for its paid members. For example, its starter package starts at € 109 that includes digital products worth € 1,212. These digital products include gaming service Miggster, Travel Company Life TRNDS, and so on. With each package, members get access to premium products at discounted prices. Moreover, all members get a commission for referrals to other customers. Whenever new customers make a qualified purchase, affiliates get paid.
Here is a brief description of Crowd1 Packages.
| | | | |
| --- | --- | --- | --- |
| White | Black | Gold | Titanium |
| € 109 | € 299 | € 799 | € 2,499 |
| Miggster | Miggster | Miggster | Miggster |
| Mindeo | Mindeo | Mindeo | Mindeo |
| Life TRND | Life TRND | Life TRND | Life TRND |
| Crowd1 Loyalty Point: 5000 | Crowd1 Loyalty Point: 6000 | Crowd1 Loyalty Point: 7500 | Crowd1 Loyalty Point: 15000 |
| – | Planet 1X | Planet 1X | Planet 1X |
| – | – | Link Me | Link Me |
| – | – | – | SoMe |
The total prices for these subscriptions remain much higher. Crowd1 offers lucrative package pricing to its loyal customers for yearly packages with large discounts. It also helps its affiliates to grow the network through discounted prices on these packages. Every customer must provide one sponsor link to become a subscribed customer of Crowd1.
Crowd1 Business Model
Crowd1 uses the network marketing business model. The business model is also dubbed as the pyramid marketing model. In this business model, affiliates and members get paid for qualified promotions and referrals. Each customer requires a sponsor's link to become a paid member of the company. In this way, each affiliate can refer as many new customers as possible. These affiliates earn a commission on each qualified customer.
Crowd1 uses the power of social media marketing to its full potential. The company organizes online events through its dedicated digital media platforms. Its affiliates and members also play an important role in its marketing campaign. As each member needs to bring newer customers for earnings, it becomes a rewarding marketing tool for the company. In that sense, it's a win-win campaign for the company and its affiliates.
Crowd1 does not sell any products or services directly. It partners with different brands to offer digital products in different categories. These products mainly belong to the gaming, travel, and lifestyle industries. Crowd1 then offers these products in four different packages at discounted prices.
Crowd1 follows a similar business model as Airbnb and Uber. Neither of these companies directly sell hospitality or transportation services but bring together the buyers and customers. Crowd1 is a similar digital platform that brings together the buyer and the seller. It also offers lucrative commissions to its affiliate members for promoting its partner brands and subscriptions to Crowd1.
Crowd1 Unique Selling Proposition
Crowd marketing remains the most unique selling proposition of Crowd1. It is a young and newly established company founded in 2018. Since then, it has grown in popularity worldwide. It now serves a community of around 5 million paid members.
Crowd1 is a digital marketplace that brings together the buyer and seller. However, it offers lucrative earning potential to its affiliates to promote the partner brands.
Another key feature of Crowd1 success has been its use of social media marketing. Crowd1 fully harnesses the powers of social media marketing without spending hefty sums on advertisements and traditional promotions.
How Does Crowd1 Make Money?
Crowd1 uses the network marketing business model. It sells products of partner brands through its affiliates and members. These members need to subscribe to its paid packages to buy products and services on offer. Hence, Corwd1's biggest revenue source is the online membership packages subscriptions.
Apart from membership sales, Crowd1 also makes money through investments. Like any other company, Crowd1 can invest the revenue money into other profitable investment schemes.
Crowd1 Revenue and Market Capitalization
Crowd1 was founded in 2018, it has headquarters based in the UAE. It also operates through its international offices in South Africa and the Philippines. The company is still privately held with no disclosed public information about its financials. The annual revenue or the market capitalization of Crowd1 remains anybody's guess. However, the company claims to surpass the membership figure of 5 million by the year-end of 2020.