Overview
Stitch fix is an online styling and clothes brand. It offers customized products in clothing and apparel categories for women, men, and kids with various sizes and brands. Stitch fix has a wide range of brands and products. It started operations in the US and now offers products in the UK as well.
Stitch fix offers a unique business model to offer personalized styling services to customers. It charges a styling fee of $20 and sends a customized pack of 5 items to the customers. The customers can then choose items and buy them if they like.
Stitch fix was founded in 2011 by Katrina Lake. It is now a publicly listed company at the NASDAQ stock exchange. It reported net revenue of $ 1,711 million and net losses of $ 67.117 million for the fiscal year 2020. The company reported a large customer base of around 3.5 million customers.
Company Profile
Let us briefly overview the company profile of Stitch fix.
| | |
| --- | --- |
| Company Name | Stitch fix Inc. |
| Website | Etsy.com |
| Founded | 2005 |
| Founders |  Katrina Lake |
| Key People | Katrina Lake – CEO, Scott Darling – Chief Legal Officer, Elizabeth Spaulding – President |
| Headquarter | San Fransisco, California, US. |
| Company Revenue | $ 1,711 million for FY 2020 |
| Key Competitors | Trunk Club, the Daily Look, Le Tote, Wantable. |
What is Stitch Fix? A Brief History
Stitch fix is an American online styling and clothes brand. It was founded by Katrina Lake in 2011. It was started with an idea to offer personal styling and branding advice to retail customers. The company was built on the idea of offering a curated and personalized clothes shopping experience.
Stitch fix adopted a unique idea for clothing and apparel shopping. The company offers online shoppers a unique experience of getting curated items delivered for free at their doorsteps. The customers can then choose from the items they receive and pay only for the selected items. If they buy all of the items in the box, they get a flat 25% discount on the total bill. This way, the company could attract online customers that were reluctant to buy online for lack of personalization.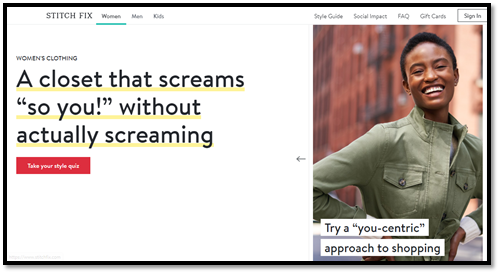 Source: stitchfix.com
Stitch Fix didn't start as an online shopping business at first. The owner Katrina Lake used to take online surveys and use other tools like Google sheets to take feedback from customers. The idea soon developed into a full-fledged online business. Today, the company uses advanced data science and machine learning tools to gather information about its customers' buying preferences. The company has around 1,000 stylists to guide its customers about their buying guides, styles, and size guides.
How Does Stitch Fix Work and What Does It offer 2022?
Stitch fix is now online shopping and personal style place for customers in the US. The company now serves in the UK as well. It offers styling advice and a customized shopping experience for women, men, and kids with various brands.
So, how does it all work at Stitch fix?
Customers sign-up for shopping and a style guide. They fill up a form by answering different questions and preferences. The customers provide vital information such as size, price range or budget, style preference such as color or material, and submission.
Stitch fix uses machine learning and advanced tools to find the best match for the customer's choice. The company has dedicated stylists and designers that provide valuable feedback and help customers choose their products.
Once the company has an input, it selects a curated list of 5 items and sends the box (called fix) to the customer. The customer then has a choice to buy 1 or all 5 items. The shipping and return are free for all customers. The style guide comes at a flat $20 fee.
If the customers buy all 5 items in the "fix box," they get a flat discount of 25% on the total shopping amount. Stitch fix has a wide range of renowned brands and offers a wide range of prices as well.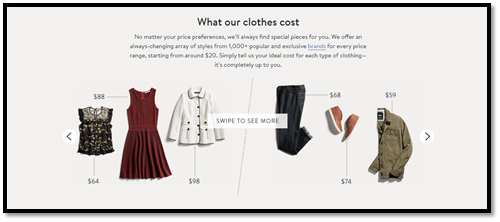 Source: stitchfix.com
Some of the top brands available at Stitch fix include:
Calvin Klien
Ralph Lauren
Madewell
Toms
Paige
Polo
Adidas
The style guide and shopping cart are available to US and UK customers only. Shipping to these countries is free. As customers could buy one or no items at all, the return and exchange are also free.
The price range for all brands available is different. There are over 1,000 brands available for women, men, and kids categories. The price range typically starts from as low as $25 and goes up to $500.
Stitch Fix Business Model 2022
The business model of stitch fix resembles a subscription model. However, it does not offer any subscription fee and ships all products to its customers. It charges a fixed styling guide fee of $20 to its customers that becomes its largest revenue source.
The sale of clothes and apparel is similar to any other online clothing brand. However, customers receive a curated selection of items based on the preferences provided and the style guide offered by experts. The customers have a choice of trying all products before buying. That allows the online shoppers to have a hands-on experience of their selected products before making a payment.
Regular customers with Stitch fix can buy an annual style pass for just $49. It allows them to buy fixed shopping boxes with curated items as many times as they want. It also helps the company in customer retention.
Stitch Fix Unique Selling Propositions
Stitch fix didn't invent the idea of offering customized clothing to online customers. However, it represented the idea brilliantly as compared to its competitors. One of its strengths is the number of personal stylists available for guiding the customers.
Another unique selling proposition for stitch fix is its power of leveraging technology. It can be termed a tech firm utilizing data science technology first and an online shopping platform later.
Stitch fix has grown in popularity and is now a publicly listed company on the NASDAQ stock exchange. It has a large customer base of around 3.5 million customers in the US and UK. Thus, its strong brand recognition and large customer base are also unique selling propositions.
How Does Stitch Fix Make Money 2022?
Stitch fix is online clothes selling business. Hence, it makes profits through selling clothes at a margin. It also makes money by selling consultation fees for styling guides.
Clothes Sales
The largest chunk of revenue for Stitch fix comes from selling clothes online. It makes contracts with renowned brands and offers clothes keeping a profit margin. Although exact profit margins are difficult to assume, it is safe to say it is the largest revenue source for the company.
Style Guide
Every customer starts with a style guide by filling out a style quiz. The style guide comes at a flat fee of $20. It is also an important revenue source for the company as it has many new customers from across the US.
Style Pass
Style pass is an online style guide subscription offered at $49 annually. It offers a great incentive and savings to loyal customers too.
Private Label Selling
Stitch fix also leverages the large customer base with private label sales. It offers direct sales to customers with its own brand name as well.
Stitch Fix Revenue and Financials
Stitch fix is now a public company with listings on the NASDAQ exchange. It is shares trade with a trading symbol of SFIX, and its current share price is $64.05. The company generated a revenue of $ 1,711 million. However, it incurred net losses of $67.117 million for the fiscal year 2020. The company currently has a total assets figure of $769.45 million.
SWOT Analysis of Stitch Fix 2022
Stitch fix is still in its growth stage as it hasn't yet expanded globally. However, it has evolved into a stable business in a short history of only ten years. Thus, it would have several strengths and weaknesses as well as its threats and opportunities.
Let us briefly discuss the SWOT analysis of Stitch Fix.
Strengths
Here are some key strength points of stitch fix.
It has strong brand recognition in the US with a growing customer base of over 3.5 million customers.
It leverages the power of technology, and its use of data science remains its key strength.
Its range of products is wider as compared to its competitors.
It does not require a compulsory subscription and its styling fee is also lower than its competitors.
It offers a comprehensive range of brands with over 1,000 brands available.
It offers styling guides through many experts and using feedback from tools such as data science.
Weaknesses
Here are a few weaknesses in the stitch-fix business model.
Its pricing range for different brands is expensive as compared to its competitors.
It does not offer products to global customers currently.
The company leverages data science tools, resulting in serious litigation cases against the company in the US.
Its business model depends largely on customer retention and style fee from new customers.
Despite introducing its white label services, it largely outsources almost all of its merchandise to third-party vendors.
Threats
Like any other business, Stitch Fix also faces some business threats.
Its business model is replicated by many of its competitors, thus, increasing the competition.
The company would require significant resources for international expansion for its survival.
Relying too heavily on third-party vendors can seriously affect its pricing strategies as well.
Its revenue stream is limited to the US market, mainly with a small addition from the UK market.
It faces considerable audit objections regarding its inventory valuations.
Opportunities
As a growing business, Stitch Fix has a lot of business opportunities to expand and grow.
It can increase its share of in-house brands and products.
It can expand globally, though, which will require substantial financial and management resources.
It can negotiate for pricing with its brand partners to offer more competitive prices to its customers.
It can improve its internal controls for inventory management and financial controls as suggested in its previous audit reports.