Key Takeaways
Duolingo is one of the leading brands in language learning and English Testing services. It started with a promise to offer free language learning services worldwide. So far, the company has lived up to the promise by offering a free language learning experience. It also comes with a premium plan that offers additional features.
Duolingo is available for worldwide customers and it supports all major languages for its website and mobile applications. It currently serves more than 500 million global customers globally. Its customers include individuals seeking different language expertise, schools, universities, and professionals seeking an English Test certification.
Duolingo has expanded its products range from language learning to learning for kids, learning for schools, publications, podcasts, and dictionary services. It is also available on all major user platforms including Windows, IOS, and Android for easy worldwide access.
Company Profile
Duolingo is a privately held company. Let us briefly look at the company profile with the available information.
| | |
| --- | --- |
| Company Name | Duolingo |
| Website | duolingo.com |
| Founded in | 2011 Beta Version 2012 – Launch |
| Founder | Louis Vohn Ahn |
| Key People | Louis Vohn Ahn – CEO |
| Headquarters | Pittsburg, Pennsylvania, US. |
| Business Model | Freemium, Subscription, Crowdsourcing. |
| Products | International Languages, English Test, English Learning for Kids, Publications, Dictionary. |
| Competitive Advantage | Worldwide Reach, Established Brand Name, Muti-language support. |
| Revenue | Undisclosed – Approx. $ 36 Million Annual |
| Competitors | Babble, Rosetta Stone, Mem Rise, Busuu. |
Introduction
If you ever wanted to learn a new language online, you must have heard Duolingo. It's an established name in the online language learning sector. It was founded in 2011 by Louis Vohn Ahn with an ambition to provide free language learning services to the global audience. It was launched for public use in 2012.
Duolingo offers language learning services for 37 international languages including a few in beta versions. Its language learning services include all major languages including English, French, Spanish, Chinese, Japanese, Arabic, and Portuguese, etc.
Duolingo offers its services through its online web presence as well as IOS and Android Applications. It has currently reached a customer base of over 500 million users worldwide. Its users include both free and paid customers. Its customers are individuals learning English and other languages, professionals seeking an English test certification, and educational institutes with language learning needs.
What is Duolingo? What does it Do?
Duolingo started as an international language learning platform. It now offers English test certification, courses, and publications as well. Its appeal was to the individuals seeking proficiency in other languages. However, professionals seeking English test certifications and schools with language classes are also its prime users now.
Duolingo Language Services
Duolingo's featured services are its international language learning courses. It currently offers language learning for 37 international languages including a few in the beta phase.
Beginners can sign up for a free account and start learning. Gamification of the language learning process is the theme of Duolingo. It has a free version with all the necessary features and a premium plan that offers additional features to learners.
Duolingo for English Test
Duolingo offers an online English proficiency test. The test comprises of different sections including a video recorded interview with open-book questions. Candidates can finish the test in 1 hour and get the result report in 48 hours.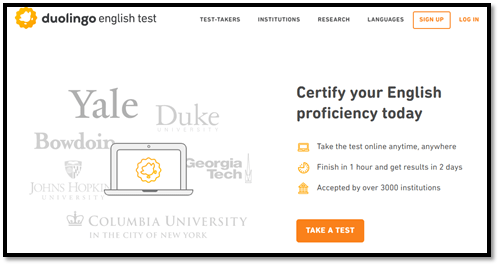 Duolingo's English Test fee is $49 and it is widely accepted by universities and professional bodies across the globe.
Duolingo for Schools
Duolingo also offers online and blended language learning experiences for schools and language institutes. It lets teachers monitor student progress from the dashboard.
Duolingo for Kids
It's a fun activity that lets kids learn the English language. It includes basic English learning features for kids through gamification and placards. It's available for free on the IOS app market.
Duolingo Dictionary
It's a free online dictionary that can help you get a word-to-word translation in different languages. It's a free service for all users through its website.
All of the Duolingo services are available on the web, IOS, and Android apps. Most of the Duolingo language services are for free. However, free versions include in-app ads.
Duolingo Business Model
Duolingo started with a mission to offer a free language learning platform. Since its inception in 2011, it has offered a free language learning experience to millions of users worldwide. Its freemium business model makes the first part of its business philosophy.
The free version of Duolingo comes with in-app ads for all users. It's a common phenomenon for most freemium apps today. Users can upgrade to a premium version for an ad-free experience.
In the beginning, Duolingo also used the crowdsourcing business model. It generated funds from venture capitalists and business angels. Crowdfunding for a privately held company isn't a unique theme to Duolingo only.
Over the years, Duolingo has evolved a lot. It now serves more than 500 million global users. It has now more than 200 employees including engineers, technicians, and translators. It has now started a premium version of Duolingo that starts with a modest $6.99 per month. Users can get a discount on the premium fee with an annual subscription paid in advance.
Duolingo brings the modern gamification and video game concept to language learning. It blends a customized theme that is familiar to most users, particularly the young lot of smartphone age. Its software is intuitive and user-friendly. It also helps the company to track users' interests and learning experiences to improve services.
Duolingo – Unique Selling Proposition
Duolingo's worldwide reach and established brand names are its compelling features. It has a global audience of more than 500 million customers. A unique aspect of its large customer base is its large proportion of free subscribers. According to Forbes, only 1.75% of its users are premium users worldwide.
Languages on Offer
Duolingo enjoys a competitive advantage over its rivals when it comes to the number of languages on offer for learning. Duolingo fully offers language learning courses in 34 languages, while three more languages are in Beta Phase. It is easily one of the unique selling propositions for Duolingo. Most of its rivals lack such in-depth language selection.
Global Audience
Duolingo has a worldwide reach that comes naturally with products and services. As it offers international language learning courses, it's natural to pull customers from around the globe. It currently serves around 500 million users worldwide.
Pricing Plans
So far, Duolingo has kept its promise of offering free language learning services to a global audience. It was founded with a mission to offer free services to customers. However, its free version includes ads that users can remove with a premium plan. Its premium plan pricing is also on the lower side as compared to its competitors with only $6.99 per month.
Minimum Marketing Plan
Global brands usually spend tons of money on marketing. Duolingo is a minimalist when it comes to marketing plans. An idea that Microsoft introduced decades ago is well and truly followed by Duolingo. It's another unique proposition to Duolingo to create a global brand with word-of-mouth marketing.
How Does Duolingo Make Money?
Duolingo makes money through in-app ads for its free user plans. It charges $6.99 per month to its premium users. Thus, the main revenue stream for Duolingo is earning through selling products directly and ads revenue.
As a private company, Duolingo has also received several private funding series. Its latest private funding came from Apple's Capital G for $30 million totaling around $138 million.
Duolingo Revenue and Market Capitalization
Duolingo is still a privately held company since its inception in 2011. Its financial statements do not disclose official revenue and market cap information. However, the company has received several private funding series that total around $138 million. Its estimated revenue for the last year remained around $160 million.