Key Takeaways
Dave is one of the leading online-only banking applications. It is one of the leading online banking apps that is challenging the traditional banking system. It offers basic banking services including a checking account, Over Draft facility, an ATM card, and a Savings account. It also offers a key service of credit builder that is unique to online banking applications only.
Dave comes with all the necessary online banking features that an individual can think of today. It offers good budgeting features and alerts. It offers a wide ATM network with no fee. Its monthly fee is fixed at $1 and offers individual banking services at low charges or for free.
A key feature of Dave that sets it apart from other online banking apps is the "Side Hustle" feature. It lets the app user find side hustles, gig jobs, and part-time jobs in their locality.
Company Profile
Let us briefly look at the company profile of the fintech.
| | |
| --- | --- |
| Company Name | Dave |
| Website | dave.com |
| Founded in | 2017 |
| Founders | Jason Wilk, Paras Chitrakar, and John Wolanin. |
| Key People | Mia Alexandar – VP Customer Success, Kyle Beilman – CFO, Chien-Liang Chau – EVP Engineering |
| Headquarters | California, US. |
| Business Model | Digital Banking Services |
| Products | Digital Bank Accounts, Debit Card, Credit Builder Services, Side Hustles. |
| Competitive Advantage | Unique Business Model, Fintech, Appeal to Digital Customer Base. |
| Revenue | Undisclosed – Approx. $ 90 Million Annual |
| Competitors | Chime, CIT Bank, N26, Capital One 360. |
Introduction
Dave was founded in 2017 by three friends to offer a fee-free banking experience to American customers. It aims to offer financial services at low costs to every American Individual. So far, the fintech has lived up to the promise with no overdraft fees and only a $1 monthly banking services fee.
Dave's Mission Statement reads as:
"Creating financial opportunity that advances America's collective potential."
Since its inception, Dave has expanded its customer base up to a staggering 7 million figure in a short history. It appeals to the young lot of modern age that likes the digital version of every product. Banking services are no exception to the digital-only phenomenon of modern times. Dave offers all banking services through its mobile applications for IOS and Android users.
What is Dave? What Does it Do?
Dave is a fintech that offers digital banking services to its customers. All of its services are offered through online and mobile applications. From account opening to the account operating and issuing checks, every service is in the digital version.
One of the core features of Dave is to lower the overdraft fees to the banking consumer in the US. It was founded on the same idea of providing fee-free overdraft services.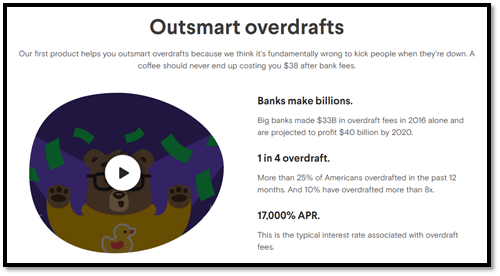 Source: dave.com
Let us briefly look at the key banking services on offer.
Spending Account
Customers can open a spending account through its mobile application. There are no minimum deposit or maintenance service charges. Customers do not need to maintain any minimum balance requirement either.
Customers can access the account features through the mobile application and ATM Card. Key features of banking with Dave include daily transaction limits, daily deposit limits, no overdraft fee, budgeting, and side hustle services to name a few.
Debit Card and ATM Network
Dave offers the MasterCard debit card that is a familiar product for many users already. It doesn't come with any loaded features but fulfills the needs of most ATM users. The ATM network supported by the MasterCard debit card spans the breadth and corners of the US. It covers more than 32,000 ATMs with no fee. Cash withdrawals from other ATM networks incur a transaction fee of $2.50.
Budgeting
Dave's customers can set up an automatic budgeting feature by connecting their accounts. It also helps users to control spending with the predictive budgeting feature. The budgeting feature creates automatic budgets according to your spending needs and sets alerts when you reach a lower threshold.
Credit-Builder Service
Dave has partnered with LevelCredit to build you credit when you pay to rent and utilities. LevelCredit offers that service for $100 but for Dave's users, the service is free of cost. Dave reports the credit reports to all major credit bureaus.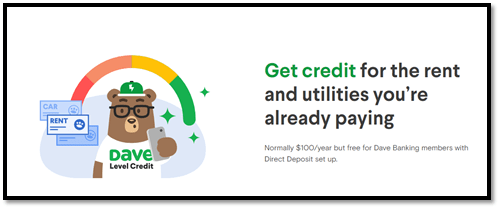 Source: dave.com
Direct Deposits
Customers can directly load cash through Green dot network machines. Customers can set up direct deposits for receiving funds directly from their employer. You can also set up transfers from digital wallets like Apple Pay and Google Pay.
ACH transfer is another convenient option for users to transfer funds from a conventional banking account to a Dave account. However, it does not support checks, wire transfers, or cash deposits currently.
Dave – Business Model
Dave is a fintech that offers selective banking services through mobile applications. It's an online-only banking app that focuses on providing fee-free overdraft and banking services to its customers.
Dave was incorporated with the idea of offering digital banking services. Its main appeal was to kill the overdraft fee that on average is $34 for American customers. Dave offers its membership monthly fee at $1 only. You can build a credit history with its credit builder feature and become eligible for a $200 advance.
Dave's business model is based on the subscription fee and fintech business models. It collects membership fees and partners with leading brands like MasterCard to offer low-cost services to its clients. Its banking services are offered through Evolve Bank and Trust.
Dave – Unique Selling Proposition
Dave offers digital banking services through a simple and intuitive experience. Its appeal for the fee-free overdraft is the most appalling feature. It comes with a low $1 membership fee that beats many of its competitors.
Dave's customers can apply for an account opening through its mobile app. It offers a simple checking account that comes with a familiar MasterCard ATM card. There are various options for its customers for deposits and fund transfers. Cash withdrawals are also available with different options and low fees.
Dave has intuitively combined personal financial services with a job-seeking feature. It offers a unique side hustle feature that lets customers find a part-time job in their locality. The side hustle jobs can include online jobs, freelancing, and domestic part-time jobs in different areas.
A unique feature of Dave is the credit builder service through LevelCredit. Customers can build a credit history by keep making rent and utility payments usually. It reports credit reports to all major credit bureaus.
How Does Dave Make Money?
Banking service providers need to follow the banking regulations that limit their ability to invest customers' money. Most of their earnings come through banking fees and charges.
Dave charges a membership fee of $1 to its active customers. It currently has more than 7 million users. It also charges out-of-network ATM withdrawals and deposits transaction charges to its customers. They also charge a portion of fees through ATM card usage by partnering with MasterCard. As merchants pay charges to MasterCard when customers make payments through card swipes, Dave gets a chunk out of it as well.
Dave has also partnered with LevelCredit for credit building services. It gets the commission for LevelCredit in the form of fee concession for its customer. The credit building service is charged at $100 usually but comes free for Dave Customers.
Dave Revenue and Market Capitalization
Dave was incorporated in 2017 as a fintech. It is a privately held company with no public listing. Hence, most of its financial reports are not publicly available.
Dave has reportedly crossed the $1 Billion valuation mark when it received a Series B funding of $50 million. It has recently received another $100 million from the venture capitalist Victory Park Capital.