Key Takeaways
Deliveroo is an online food ordering platform. It's a marketplace for restaurants, riders, and customers. It connects restaurants with their customers for online food delivery orders.
Deliveroo is an established firm with operations in 12 countries. It was founded in London in 2013 by Will Shu. It has recently gone through with its IPO in the London Stock Exchange. The company has currently more than 140,000 restaurants and grocers as partners. It serves around 7 million customers with the help of 110,000 riders in its countries of operations.
Deliveroo aims to become the world's largest online food ordering marketplace. It has gone through its ups and downs in the short history since its inception. Its biggest competitive advantage is the sophisticated software that enables its operations to connect restaurants, riders, and customers simultaneously.
Company Profile
| | |
| --- | --- |
| Company Name | Delivroo |
| Website | deliveroo.com |
| Founded in | 2013 |
| Founders | Will SHU and Greg Orlowski |
| Key People | Will Shu – CEO, Adam Miller- CFO, Akshay Naville – CPO |
| Headquarters | London, England. |
| Business Model | Online Food Delivery |
| Products | Online Food Delivery Services |
| Competitive Advantage | International Presence, Sophisticated Software, Large Partner Network. |
| Revenue | £ 4,077 million (Group Figures) |
| Competitors | Uber Eats, Just Eats, Food Panda, Grub hub, Zomato, etc. |
Introduction
Deliveroo is an online food delivery service provider. It was founded in 2013 by Will Shu, an investment banker. Its headquarter is in London, England, and it currently operates in 12 countries. Its countries of operations include England and Wales, Ireland, The Netherlands, France, Hong Kong, Australia, and UAE, etc.
Deliveroo has come a long way since its inception in 2013. Its current order delivery average has reached above 71 million for the first quarter of 2021 (global figures). It means the gross transaction value (GTV) has also substantially increased, which currently stands at £ 4,077 million (for 2020).
Deliveroo is a publicly traded company with its listing on the London Stock Exchange in 2021. Its share price is currently trading at £ 229.00 with a total market cap of £ 3990 million.
What is Deliveroo? What Does it Do?
Deliveroo is an online food ordering platform. It connects restaurants with its customers through online food ordering services. It employs riders independently on a contract and commission basis for delivering orders. The company is currently operating in 12 countries, mostly in Europe and Asia Pacific region. It started operations in Germany and Taiwan but has abandoned services in these two countries.
Deliveroo prides itself with its sophisticated technology that connects restaurants, riders, and customers seamlessly. The company has been growing in operations and currently processed 71 million orders in the first quarter of 2021.

Source: deliveroo.com
Deliveroo offers services for grocers and restaurants. It connects the common customer and job seekers with these service providers. In that way, Deliveroo offers services to all three parties.
For Restaurants and Grocers
Deliveroo provides food delivery services that benefit consumers and restaurants simultaneously. It helps restaurants generate more sales by delivering food through its rider network. Lately, Deliveroo has also starter partnering with grocery stores to expand its foodservice base.
For Customers
Customers can place food and grocery orders using Deliveroo services. The company is expanding services in more geographical areas. It is currently serving in 12 countries. The company has seen significant growth in online order due to coronavirus pandemic restrictions as well. Its quarterly online orders have crossed the 71 million mark for the first quarter of 2021.
For Riders
As much as Deliveroo offers great food delivery services to restaurants and customers, it also provides job opportunities for riders. Its growing network and global expansion mean more job opportunities. Currently, Deliveroo has a network of 115,000 riders worldwide.
Deliveroo for Business
A unique feature that Deliveroo offers is for businesses and the corporate sector. Businesses with team events, lunches, parties, and late-night dining needs can partner with Deliveroo for customized order deliveries. Corporate clients get special discounts and offer from restaurants around the area.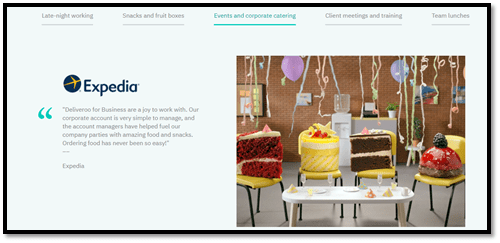 Source: deliveroo.com
Deliveroo Editions
Another propelling feature of Deliveroo is its Editions collections. Deliveroo Editions is a curated list of hand-picked restaurants with specialty recipes for customers.
Edition's kitchens are food partners that cook food in a customized way for their customers.
Deliveroo Plus
It's a premium membership plan for Deliveroo customers. For a premium price, Deliveroo customers get access to premium features such as discounts on orders, discounts on delivery charges, offers, and e-gifts.
Deliveroo – Business Model
Deliveroo follows a subscription and online marketplace business model simultaneously. It connects the buyers and sellers as a third-party service provider. On one side, it partners with restaurants and grocers to expand its businesses. On the other, it provides food delivery services to customers.
Deliveroo is primarily an online marketplace for food customers. It serves the customers through partnerships with restaurants and grocery stores. Customers can place orders through its web and mobile applications. For deliveries, it uses its vast network of riders. These riders work on commission bases with Deliveroo.
As with any other online marketplace, expansion and speed of service are key features for Deliveroo as well. It has been expanding its global operations, and currently is operating in 12 countries.
Deliveroo – Unique Selling Proposition
Deliveroo prides itself on sophisticated technology that brings the food marketplace in one place. It focuses on delivering the food by keeping all three sides connected.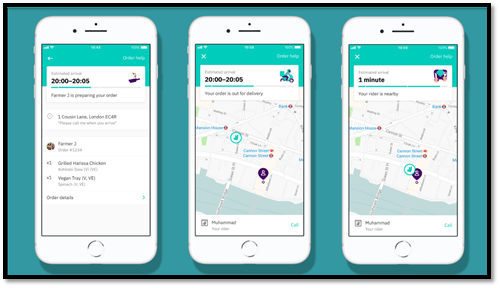 Source: deliveroo.com
Deliveroo's sophisticated software that connects all three sides of a food order is their compelling feature. It uses AI-empowered machine learning tools to enhance customer experience and improve food delivery services.
Although Deliveroo's competitors are also expanding globally, it has also expanded the delivery network. Its international presence in a short history is another unique selling proposition.
Another key feature of Deliveroo is to partner with chosen restaurants. They do not just sign up for any restaurant in the neighborhood. It means premium quality food and services to its clients. It also let Deliveroo charge premium service charges on both sides of the transaction.
How Does Deliveroo Make Money?
As most of the subscription firms do, Deliveroo also makes money primarily through subscription plans. However, Deliveroo's premium subscriptions for its Plus and Signature program are still in initial phases. Subscription money contributes a fraction of the revenue.
Deliveroo's main revenue stream is its Gross Transaction Value (GTV). Deliveroo charges a commission on each transaction to customers as well as restaurants. Customers pay delivery charges on each order. The order charges depend on the order size and distance from the restaurant.
Deliveroo also charges commission from its premium restaurant partners. Although exact information on commission structure is unavailable, it ranges around 20-40%.
Deliveroo is now a publicly listed company on the London Stock Exchange. Before that, it received funding through private funding rounds and venture capitalists. With its latest Series G funding round of $575 million by Amazon, Deliveroo reached a total of $1.35 billion funding amount.
Deliveroo Revenue and Market Capitalization
Deliveroo has listed on the London Stock Exchange in March 2021, so it is yet to publish its full year's financial statements. Its last year's financial figures indicate an increase of 130% in group GTV. It crossed the quarterly order figures of 71 million for the first quarter of 2021.
Deliveroo's share price is trading around £ 229.0, thus its market cap stands at £ 3,908 million. Its revenue book figures are £ 1.947 million for the last year. The company reported a gross profit of £ 358 million for the financial year ended 2020. However, it still incurred a net loss of £ 10 million for group consolidated financials.