Stationary bikes are very beneficial as you do not have to go to the gym. However, they demand some accessories like mats, shoes, etc. Do you really need a mat under the bike?
You will have to face severe results if you do not place them under the bike. Let us discuss the importance of mat and the best rug for bike
Why is it Essential to Put a Mat Under the Bike?
It is unnecessary to have a mat under the Peloton bike; however, putting a rug under the Peloton is recommended. It saves you from significant losses.
When we do not keep the mat under the bike, it vibrates very much, and noise produces. Moreover, there is the production of scratches on the floor
There is no stability, and when we do intensive workouts, the bike moves very much and slips. So it is necessary to anti-slippery mat under it.
Benefits of Placing a Mat Under the Peloton
Let us discuss all perks of placing the mat under the Peloton
1. Stability
Peloton needs stability, and there must be a smooth surface under it. However, when we place the Peloton directly on the floor, there is not enough smoothness, and due to it, the Peloton vibrates on the floor.
Due to this, the Peloton vibrates, and you may feel irritated. Thus if you want to avoid rocking and woggling during a workout, place a mat under it.
2. Anti-slip
Peloton bike is not very stable on the floor. That's why it is necessary to place the mat under it. The Peloton bike can slip during an intense workout and become a victim of serious injury.
However, the mat produces resistance and provides grip to the bike. Thus you can freely do all types of workouts on it without the fear of slipping.
3. Easy to Clean
When we do intense drills on it, our bodies sweat a lot, and these drops fall on the floor and get dirty. However, when there is a mat under it, all the sweat will fall on the mat and get absorbed.
Thus there will be no issue in cleaning the sweat. Remove the mat from under the bike and wash it. You must use high-quality detergent to clean it.
4. Reduces Noise
When there is no mat under the Peloton, there is the production of tick-tick sound. It is bothersome noise for the other family members and neighbors.
But when the stationary bike is placed on the mat, there is stability, and no noise is created.
5. Protects your Floor
When direct contact between the floor and the Peloton bike, the Peloton hits the floor during vibration. As a result, the floor starts breaking, and cracks produce in the bottom.
So place the mat under it to reduce the vibration, and protect the floor from damage.
6. Protects the Peloton
Vibrations not only damage the floor but also damage the Peloton. Initially, you may think that there is nothing wrong. However, with time Peloton started warning out.
So buy a high-quality mat and place it under the bike. It will increase the life of the bike and make it environmentally friendly.
4 Best Mat for Bike
Following are the 4 best mats for stationary bikes
Cyclingdeal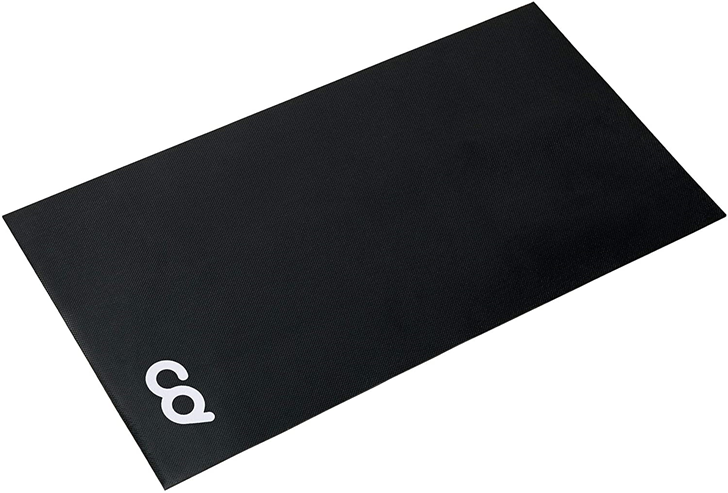 It is the best mat for placing under the Peloton bike as it is large and made of PVC. Thus it does not tear. Moreover, it has a 3 mm thickness which means it can bear the weight of an exercise bike.
You can easily clean it after using it. Best of all, it protects both the floor and bike from dust and scratches.
It has a stronghold; thus, your bike will never slip from it. Furthermore, it is waterproof, which guarantees that the bike will not be damaged because of water.
Pros
High-quality material
Durable
Non-slippery
Waterproof
Protection of dust and debris
Cons
There is some smell of PVC; however, it fades with time.
Sunny Health & Fitness

It is made of high dense Evo foam. Thus, it does not let the Peloton bike vibrate and provides stability to the Peloton. Moreover, it does not matter which drill you perform; there is no noise production.
Furthermore, it prevents harsh contact of the floor with the bike. Thus there will be no scratches on the floor. The mat is waterproof for 100% protection of the bike from moisture.
It absorbs all the dust and debris and prevents the bike from getting dirty, and you can easily wash it. Moreover, sunny health and fitness mats are lightweight, so anyone can quickly move them.
Pros
Water-resistant
Lightweight
Aborobs vibration
Prevent the bike and Peloton from scratches
Prevents noise production
Cons
Less durable
Supermats
Some mats are made with metal, and there is a coating of different chemicals on them. These chemicals can cause allergic reactions in some pets and humans.
If you have kids and pets in your house, do not bother buying such mats as they create massive problems. Instead, such people should prefer supermats to other mats as they are metal and chemical-free.
Moreover, it has an enormous size, which means that it will protect your bike from dust and debris. If you have a supermat, you need not worry about the resting time of your neighbors as it absorbs noise and vibration.
There is peace and tranquillity around you, and you are not a source of disturbance for others.
Pros
Safe for kids and pets
Reduces vibration
No noise production
Cons
It may smell strange for 1-2 days
Balance From
You have a hardwood floor that enable you to find the best mat for it. Balance is the best for people who have hardwood floors. It is made of high-quality material and lasts long.
You can clean it by just swiping a wet piece of cloth. It absorbs all the moisture and prevents the formation of scratches on the floor.
Best of all, it readily absorbs all the dust particles and debris, protecting your bike from dirt. Thus there is no accumulation of dust in its parts. As a result, the bike lasts long, and you do not have to invest in its repair again and again.
Pros
Best hardwood floor mat
Easy to clean
Absorbs maximum dust
Absorbs vibrations
Prevents noise production
Keeps the floor free of scratches
Cons
Does not have a firm grip on the floor
Final Words
In a nutshell, there are many benefits of using mat; however, it must be of high quality. In addition, the primary reason for using a rug increases the grip; thus, there is no risk of slipping.
Moreover, you do not become a source of disturbance for your housemates and neighbours, and you can freely do all kinds of drills on the bike. However, it would be best if you cleaned the mat regularly.
Mats absorb dust, debris, and sweat, so it starts smelling if not cleaned regularly. You can wash it with any mild detergent.
If you have any queries, feel free to ask in the comment section below. Thank you for your visit!