Key Takeaways
BoxyCharm looked like just another makeup subscription box. It actually went on to prove many people wrong. BoxyCharm serves the community of passionate beauty and makeup followers. It offers a full box of branded makeup and beauty products with monthly subscriptions.
The subscription business model isn't a revolutionary idea unique only BoxyCharm. However, they did it with perfection. If their customer reviews and sales growth are to go by, they fulfill the promise they make. They're fully committed to the "Beauty for All", the BFA industry.
It fully harnesses the power of social media marketing. In fact, the BoxyCharm CEO, Joe Martin uses a unique marketing tactic to appear himself on Instagram marketing videos. Social media marketing remains the most powerful marketing tactic of BoxyCharm. The company grew to annual sales of $49 million before its merger with Ipsy.
Company Profile
Here is a brief outlook of BoxyCharm. It's a privately held company, hence most of the information available is through public news sources.
Company Name
BoxyCharm
Website
boxycharm.com
Founded-in
2013
Founder
Yosef Joe Martin
Key People
– Yosef Joe Martic, CEO & Founder
– Sean Gagnon, Vice President
– Eric Kau COO
Headquarters
Pembroke Pines, Florida, US.
Business Model
Subscription Beauty Box
Products
Makeup, Beauty, and Fashion Products.
Competitive Advantage
Unique Business Model, Strong Social Media Marketing, Appeal to Young Customers.
Revenue
Undisclosed – Approx. $ 50 Million Annual
Competitors
Birchbox, Scent Bird, Facetory, Glossy Box.
Introduction
Yosef Joe Martin started his entrepreneurial career in 2005 with a small company. He took the idea of beauty box subscriptions from Birchbox. Inspired by the idea of "beauty for all" or BFA, he launched BoxyCharm in 2013.
BoxyCharm is an online beauty box subscription-based company. It offers beauty products to its customers in a box of 4-5 beauty products on monthly basis. Its pricing is competitive starting at $25 monthly. It also has premium subscriptions.
BoxyCharm's biggest advantage is its unique social media marketing campaigning. Its CEO Joe Martin is often seen in promotional videos on Instagram and other social media platforms. It appeals to the young and delivers the beauty products they want to see.
Although the company is still privately held, its revenue is estimated at around $50 million annually. It has recently been acquired by its competitor and a household name in beauty products IPSY for $500 million.
What is BoxyCharm? What Does it Do?
BoxyCharm is a beauty box subscription company. It offers monthly, quarterly, and annual subscriptions to its customers. It offers beauty products from its carefully curated list of brand partners.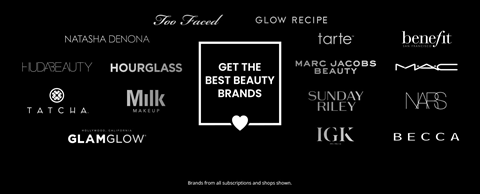 Partner Brands of BoxyCharm: Source – boxycharm.com
The beauty box or the subscription-based business model isn't unique to BoxyCharm only. However, it delivers beauty products from renowned brands. The pricing of these boxes for a simple subscription is set at $25. Each box contains 4-5 beauty products worth $100 and above on average. The company claims, the box can be worth $175 and above.
Customers have to sign up for the monthly or quarterly subscription through its online form. After successful sign-up, each customer receives a monthly box of beauty items. Customers can choose from three categories of boxes; Simple, Premium, and Luxe.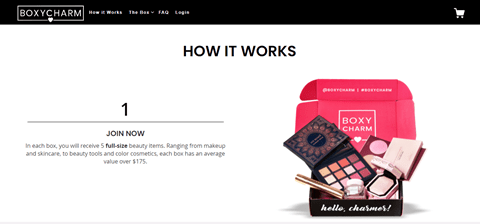 Customers mainly can choose from three types of subscriptions. Each plan offers a minimum of 5 beauty products in the subscription box. The Premium and Luxe boxes offer up to 8 beauty products in a box and charge $35 and $49.90 monthly respectively. Customers have also the choice of choosing up to 2 items on these premium subscriptions.
Along with regular monthly subscriptions, customers can purchase additional beauty products at the same discounted rates offered by BoxyCharm. Customers also get bonus points that can be translated into an account balance for adds-on purchases. These bonus points can be earned through product reviews and referrals.
BoxyCharm Business Model
BoxyCharm offers a simple subscription business model. Customers sign up through the online form on its website. Every customer can subscribe to three different monthly plans.
The revenue streamline of BoxyCharm is through subscription revenue. The company has adopted the "beauty for all", BFA mantra of reaching out to the mass customer with branded beauty products. The company aims to add valuable beauty brands that can offer products at nominal prices.
BoxyCharm is still a privately held company since its inception in 2013. Its founder Joe Martin has kept the finances through sales and retained earnings of the company revenue over the year. It has received only one private funding round in 2016. The company has recently been acquired by the fashion brand IPSY for $500 million. Apart from that, BoxyCharm has maintained its positive cash flow through retained earnings of revenues.
Let's briefly discuss the pricing strategy of BoxyCharm.
Subscription Plans
BoxyCharm offers three different subscription boxes. Each box offers similar branded products but with a different quantity. Customers can choose 2 beauty products of choice with premium subscriptions and 1 product of choice with a simple plan.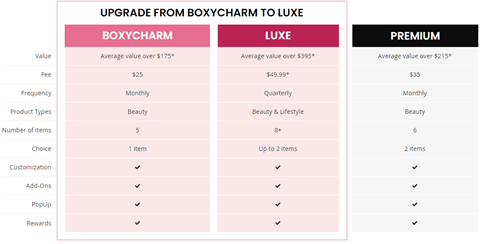 Source: boxycharm.com
The pricier subscription plan Luxe costs $49.99 monthly. It also offers 8+ items on an average with each monthly box. Customers have the choice of choosing 2 products of choice in this plan as well. However, this subscription plan is quarterly as compared to the other two monthly plans.
Add-Ons
Customers can purchase the same beauty products from BoxyCharm that doesn't include the subscription box. BoxyCharm sets the pricing for these items at the same level as of products in the subscription box. It has added to the sales figures tremendously as well.
Rewards
BoxyCharm also offers reward points to its loyal customers. These points are earned through product reviews and referrals. Customers can claim reward points against the account balance for product shopping.
BoxyCharm's Unique Selling Proposition
BoxyCharm's most unique selling proposition has been its fearless social media marketing. It appeals to the young generation and connects in a way that best suits the young lot.
BoxyCharm has 2.5 million followers on Instagram alone. It fully harnesses the socializing power of the modern generation. Its community includes all of the major social media platforms including Instagram, Facebook, YouTube, Snapchat, etc. Joe Martin, the company CEO is often seen promoting the company products on Instagram. That again is a unique marketing tactic that not many companies adapt.
Another valuable USP of BoxyCharm is its selection of beauty brands. It has partnered with several established brands including Becca, IGK, MAC, and Sunday Riley, etc. The brand collection for BoxyCharm is all set to increase and get better with inclusion from its parent company IPSY brands.
How Does BoxyCharm Make Money?
The revenue model of BoxyCharm is solely subscription based. It makes money through customer subscription plans. These plans are offered on monthly, quarterly, and yearly subscriptions. The basic plan starts at $25 per month.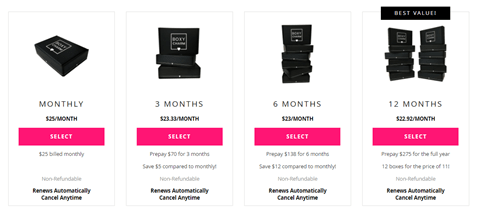 Source: boxycharm.com
Customers can subscribe for 1-month, 3-month, 6-month, or 12-month subscriptions. Moreover, the company generates sales through Add-on's sales and direct purchases from customers as well. The higher subscription plans offer lucrative discounts to customers. Also, the direct purchases through add-ons are priced at a similar pricing strategy as for the subscription boxes.
The company has only received one private funding round in 2016. It does not receive any other external funding. Its sole revenue stream comes through subscription sales.
BoxyCharm Revenue and Market Capitalization
BoxyCharm was founded in 2013 and it is still a privately held company, hence its exact financial statements cannot be assessed. However, with limited available public information, we can estimate its annual earnings to be around $50 million. BoxyCharm has recently been acquired by fashion brand IPSY for $500 million. [1]
---
[1] https://www.bloomberg.com/news/articles/2020-10-30/tpg-backed-makeup-box-startup-ipsy-acquires-competitor-boxycharm