Key Takeaways
Chime is Fintech. More precisely it is a Neobank that offers selective banking services through its mobile application. It has no physical outlets and performs all operations digitally.
Chime is a young fintech, founded in 2013. In short business history, it has reached over 6 million customers although it offers only limited banking services such as a checking account, saving account, and a credit builder service.
Chime is a prime example of a modern fintech that can be dubbed as a disruptive force to traditional technology. Chime is challenging the ways traditional banking system. It has taken digital banking to the new level of smartphone applications.
Company Profile
Let us briefly look at the company profile of Chime.
| | |
| --- | --- |
| Company Name | Chime |
| Website | chime.com |
| Founded-in | 2013 |
| Founder | Chris Britt and Ryan King |
| Key People | Chris Britt CEO & Co-FounderRyan King CTO & Co-FounderMelissa Alvarado COO |
| Headquarters | San Francisco, California, US. |
| Business Model | Digital Banking Services |
| Products | Digital Bank Accounts, Credit Card, Debit Card, Credit Builder Services. |
| Competitive Advantage | Unique Business Model, Fintech, Appeal to Digital Customer Base. |
| Revenue | Undisclosed – Approx. $ 200 Million Annual |
| Net worth | $ 14.5 Billion |
| Competitors | Varo Bank, CIT Bank, N26, Capital One 360. |
Introduction
Chime was established in 2013 by Chris Britt and Ryan King. It operates as a digital banking service. Precisely, we can categorize Chime as a fintech with mobile application banking only. It has no physical outlets to serve customers.
Chime offers basic banking services to its customers through a unique mobile app experience. Chime offers banking and credit card services with a low fee structure. It appeals to the young lot in the language best understood by them. Chime offers fee-free bank account opening. Its Credit Card APR and Overdraft fees are also lower as compared to traditional banks.
Chime is still a privately held company. It has received 8 private funding rounds so far. With the latest funding round, Chime is estimated to be worth $ 14.5 Billion.
What is Chime? What Does it Do?
Chime is a mobile-only banking service provider. It was founded with a vision to offer fee-free account opening and low-cost banking services to its customers. So far, the company has lived up to its promise. Its rising popularity is an evident of its growing customer base, as the company has a customer base of around 7 million.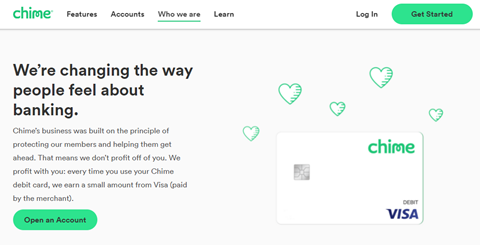 Let us briefly look at the products on offer by Chime.
Chime Spending Account
Chime spending account is easy to open and digital bank account. It comes with a VISA debit card. The spending account has no minimum account opening requirement. It also does not charge any monthly account maintenance charges.
You can opt for the automated saving feature with this account as well. It helps you round up your purchase bills and the rounded portion of your bill goes straight to your Chime mobile account. For instance, if your VISA card transaction amount is $19.65 it will round it to $20.00, the excessive $0.35 goes to your Chime Spending Account.
Chime Savings Account
Once you open a spending account, you can then move on to the Chime Savings account as well. The account offers similar features as in spending account. It does not require a minimum balance, monthly fee, or maintenance fee.

Chime Savings account offers 0.50% APR on deposited balance, as compared to the 0.05% APR of the national average for the US banks. You can also use the automated saving option with this account.
Chime Credit Builder
Chime offers a credit-builder account to its customer as well. This account lets customers improve credit scores by timely payments. You can move the balance from your spending account to the credit-builder. Your payments will be deducted from the credit builder account. Every transaction through Chime Credit Builder is reported to the top credit bureau agencies.
Chime Fee-Free Overdraft
If you have $500 of direct deposits in your spending account, you can be eligible for a fee-free overdraft feature with Chime. Chime lets you swipe your debit card with a negative balance at no extra cost. The overdraft allowance is capped at $100 per instance.
Chime Business Model
Chime is designed for banking services to its customers on the mobile application. It's a fintech with a disruptive digital banking business model. Customers are treated digitally from account opening to transactions, at each step.
Chime offers limited banking services currently. But all of these services are offered through an intuitive and user-friendly mobile app. It offers two types of bank accounts, a spending account, and a savings account. Chime offers cards to its customer through VISA. Its debit card can be used for fee-free ATM withdrawals and online use where VISA cards are accepted.
Chime was founded to offer convenient banking channels to customers. It was established with a mission of offering low-cost banking services.
Chime's Vision Statement reads as:
"We created Chime because we believe everyone deserves financial peace of mind.  We're building a new kind of online bank account that helps members get ahead by making managing money easy. It's your money. It's your life. Chime in."
Chime is a fintech company with no regulatory banking license. It offers banking services through two small banks, the Bankcorp bank and Stride Bank. Its card partner is VISA.
Chime's business model is solely based on the digital banking experience. All of its services including account opening are offered through online forums. It has dedicated mobile applications for IOS and Android mobile users.
Chime's Unique Selling Proposition
Chime's prime unique selling proposition is its low-cost banking products. It offers no account opening and account maintenance conditions. There are no account maintenance charges as well.
Chime offers competitive interest rates on its savings accounts, as of now, its APR is 0.50%, which is better than the national average APR of 0.05%. It also offers fee-free overdraft services to its account holders. For qualifying account holders, there is an overdraft of $100 with no extra charges.
Chime is currently appealing to the general public with no business account options. Its business model is based on fintech by offering convenient banking services through mobile apps.
Chime's unique selling proposition is also its simple account offerings. It offers limited banking services, but in an effective way. Its automated savings and fee-free overdraft function appeal to young customers.
How Does Chime Make Money?
There is a catch behind "free". Chime offers many services free of cost or at low-cost charges. So how does Chime make money then?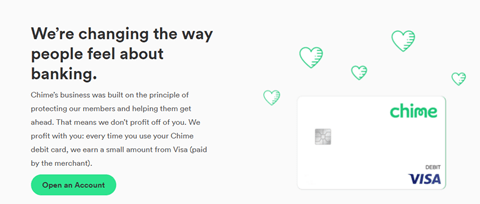 Chime makes money through commission earned from VISA. Every time a customer uses a Chime card, VISA gets paid by its merchant partners. A portion of this fee is then transferred to Chime.
Chime also makes money on customers' deposited funds. It's a standard practice by traditional banks to invest customers' deposits into profit-making funds. Chime has to pay at least 0.50% APR to its account holders, for that, they must invest the money to generate sufficient profits that can be distributed to its customers.
Chime is still a privately held company. However, it has received around eight private funding rounds so far. With its latest funding round F series, the company is estimated to be worth $ 14.5 billion.
Chime Revenue and Market Capitalization
Chime's annual revenue is estimated at around $50 million. It's a privately held company, hence its publicly available financial information is limited. It has received several private equity funding rounds so far. Its latest F series funding round attracted $500 million. Its market capitalization is estimated to be around $24.5 billion.