Key Takeaways:
CNN is an American news-based subscription channel founded back in 1980 by the American business and media tycoon, Ted Turner. CNN is an online broadcasting platform that gives the latest financial, business, and personal finance news.
CNN is a cable channel that makes money from two sources. The company also covers markets, technology, small business, business, media, luxury, and more.  Firstly, they sell advertisements. Secondly, they make money from cable companies for each home they're piped into.
According to a report published in 2020, it makes $1.5B in revenue per year. The business net worth is pretty high.
Company Profile 2022:
| | |
| --- | --- |
| Company Name | Cable News Network, Inc. © |
| Website | www.cnn.com |
| Founded- In: | June 1, 1980 |
| Headquarters: | Greater Atlanta Area, East Coast, Southern US |
| Founders | Reese  Schonfeld, Ted Turner |
| Key People | Jeff Zucker (Chairman, Warner Media News And Sports, President, CNN Worldwide), Ken Jautz (EVP, CNN Worldwide), Andrew Morse (EVP/Chief Digital Officer), Michael Bass (Executive V.P. of programming, CNN U.S.), Katrina Cukaj (EVP, CNN advertising sale), Richard Davis (EVP of news standard and practices, CNN), Amy Entelis (Executive VPN for talent and Content Development, CNN Worldwide), Brad Ferrer (Executive VPN of talent and administration, CNN Worldwide), Robin Garfield (Senior Vice President of research and scheduling for CNN) |
| Business Model | Online broadcasting platform |
| Industry | Television Broadcasting, Digital Media, Television Broadcasting Media, Personal Finance |
| Competitive Advantage | Extensive portfolio, Strong parent company, strategic partnership, and alliances |
| Revenue | $1.5 Billion as of ending of 2020 |
| Competitors | Nikkei, MSNBC, The New York Times, Fox News, The Washington Post, BBC, NBC, Wall Street Journal, Associated Press |
What is CNN?
CNN is an American news-based subscription channel founded on July 1, 1980, by the American business and media tycoon, Ted Turner. The 24/7 cable news channel came into existence as a part of the Turner Broadcasting conglomerate.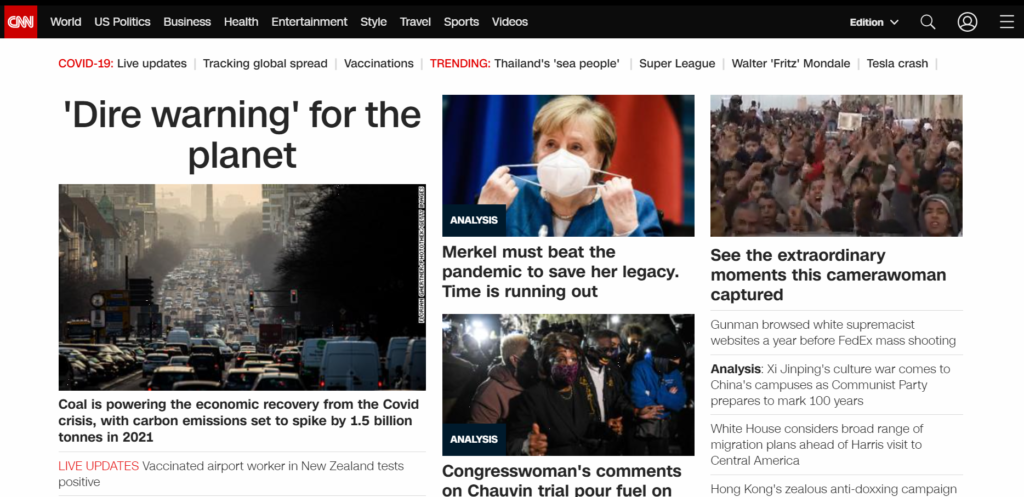 Cable News Network (CNN) is the first-ever 24-hour television news channel in the U.S. The online edition of CNN was launched on August 30, 1995. The online edition definitely didn't fail even a single chance to cause a spate in the CNN ratings.
As of January 2016, the audience watching Cable News Network (CNN) Politics was approximately about 25 million. CNN's revenue and business model has incorporated many international channels with an entirely huge assemblage of resources.
In September 2018, CNN had 90.1 million television households as subscribers in the United States. In 2019, CNN ranked third in viewership among cable news networks, behind MSNBC AND Fox News, averaging 972,000 viewers. CNN ranks 14th among all virtual cable networks.
Introduction:
CNN is a multinational news channel of the U.S. whose headquarter is in Atlanta. In 1980, American media proprietors were founded by Ted Turner and Reese Schonfeld as a 24-hour cable news channel.
CNN was the first-ever television channel to provide 24-hour news coverage, upon its launch in 1980, and was the first news television channel in the U.S. 
A Short History of CNN:
The Cable News Network (CNN) was launched at 5:00 p.m. Eastern Time on June 1, 1980. After an introduction by Ted Turner, the wife and husband team of Lois Hart and David Walker anchored the channel's first newscast.
The executive vice president (Burt Reinhardt) of CNN, at its launch, hired mostly the channel's first 200 employees, in which the network's first news anchor, Bernard Shaw, was included. 
Since its debut, CNN has expanded its reach to many satellite and cable television providers, various websites, and specialized closed-circuit channels (like CNN Airport).
The company has 42 bureaus (31 international, 11 domestic), more than 900 affiliated local stations (which also get news and features content via the video newswire service CNN Newsource), and many regional and foreign-language networks all over the world.
In 1996, the channel's success made a bona-fide mogul of founder Ted Turner and set the stage for conglomerate Time Warner's eventual acquisition of the Turner Broadcasting System. 
A companion channel, named CNN2, was launched on January 1, 1982, and featured a continuous 24/7 cycle of 30-minute news broadcasts. The channel, which later became renowned as CNN Headline News and is now known as HLN, finally focused on live news coverage supplemented by personality-based programs during the primetime and evening hours.
CNN Plus (CNN+) was a Spanish language 24/7 television news channel launched in 1999 as a joint venture by Turner and Sogecable Broadcasting. It blew up the air at the end of December 28, 2010. The management announced that CNN+ would be closed on December 31, 2010.
What is the Business Model of CNN?
The major source of revenue for CNN is subscription fees.
How Does CNN Make Money 2022?
As we have mentioned earlier, CNN is a multinational 24/7 news channel service for its users. The major company source of revenue is the subscription fees.
Most of the websites draw their revenue from primetime—the Cable News Network U.S. primetime alone accounts for nearly 10% of the revenue. The feasibility, ease, and reach of the primetime make it extraordinary in the digital world, and CNN swears by these factors.
One more important factor which assists in driving the revenue of CNN is the fee-for-carriage. The fee-for-carriage, also renowned as negotiation for value, value-for-signal, or the T.V. tax, is typically paid by the broadcasters to Distribution Platform Operators for carrying channel.
CNN Funding, Valuation & Revenue 2022:
On January 3, 2007, CNN invested in Pathfire. This investment – Venture Round – Pathfire – was valued at $2M.CNN has got three organizations. Their latest acquisition was Canopy on April 7, 2020. As of 2020, the operating income of CNN was $1.5 billion.
The main source of revenue for Cable News Network is subscription fees. The revenue from subscription fees accounts for 50 % of its total revenue, although ancillary and advertising revenue streams hold the other 50%.