Square, Inc. is a mobile credit card processing and merchant solutions provider. Square provides users with a software app and affordable hardware that can turn their mobile devices into compact and powerful point-of-sale (POS) solutions.
These solutions allow users to accept payments from customers using different sources, such as payment cards or through wireless technology such as NFC payments.
Square provides its users with various other functionalities apart from receiving card payments. These include features such as recording cash, gift cards and other forms of payments. Similarly, it allows them to send receipts through email or even text message from the payment app.
It also provides them with several other free features such as inventory management, reports, analytic tools, etc. Overall, the platform provides merchants with unique solutions.
Square in 2019 generated revenues of $4.7 billion, which is a 46% increase from the $3.2 billion revenues it generated in 2018.
The company also made a net income of $375.45 million and an operating income of $26.56 million in 2019. Overall, Square is a profitable company, which should keep its shareholders and other stakeholders happy.
What is Square's business models?
The secret to Square's success and generating revenues lies within its business model. The business model of a company defines its target markets, products and services it sells and anticipated expenses.
Overall, the business model of a company helps strategize how it generates wealth for its shareholders. For Square, its business model consists of the following features.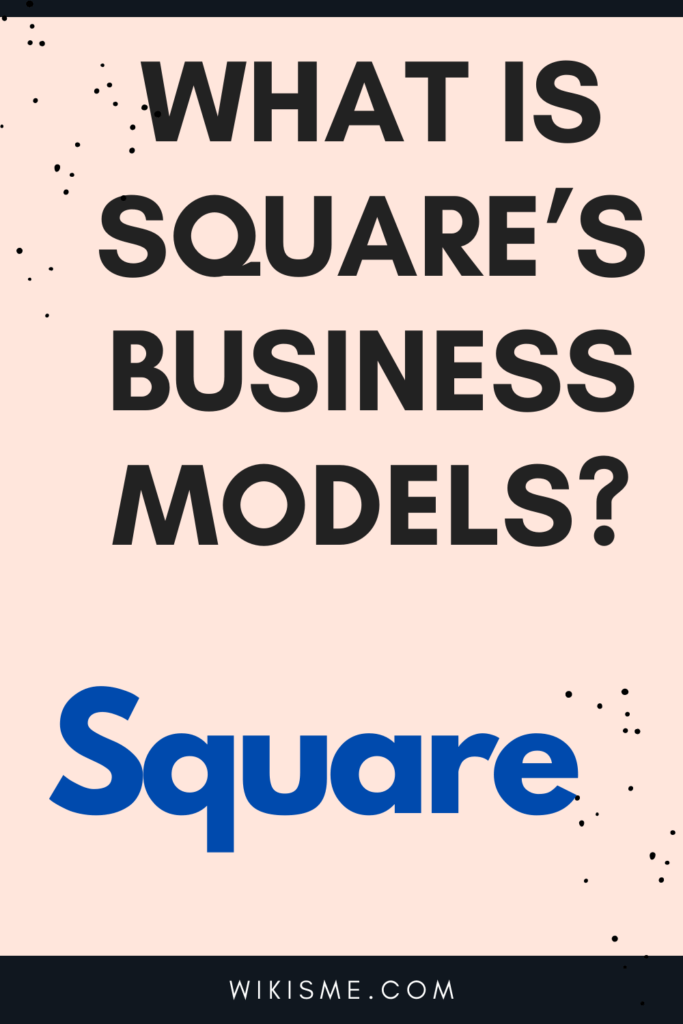 Targeted markets
Although the platform provides products and services of financial nature to all businesses, its main target market is mobile payments. Ever since its first product, the Square Reader, the company focuses on providing solutions to merchants and businesses that allow them to accept payments using their smartphones and tablets.
Apart from the specific market, Square operates in 5 countries, which include the US, UK, Japan, Australia and Canada. From these markets, the platform has obtained approximately 24 million users that use its solutions and features.
However, the platform has much more potential to expand its market in other countries, particularly the European markets, where the products offered by the platform are likely to be accepted and adopted.
Square also has the resources to expand its markets and attract new resources. At the end of 2019, the company had total assets worth $4.55 billion. Similarly, its financial performance in recent years should also help the company penetrate new markets with ease.
Products and services
At the time of its inception, Square only had one product, which was the Square Reader. Nowadays, however, the company provides multiple different products and solutions. These include the Square Reader, which, although free itself, generates income from each transaction processed.
Similarly, the company's products include the Square Stand, which helps users turn their Apple tablets into a point-of-sale system. The company also offers Bluetooth card readers for Android devices.
Apart from these products, the company also offers services that generate revenues. These include gift cards, both physical and virtual, that users can customize and give their customers. Square also provides users with an online booking tool to manage their appointments. In 2015, the company also launched Square Payroll, through which users can manage their payroll services.
Square Cash, or recently known as Cash App, is another Square product that generates revenues. The app is independent of other Square services which anyone can use. Square also offers users the ability to buy and sell Bitcoins, for which it charges them a commission. Another standalone Square service is Square Capital. Through this service, the company provides business financing. However, it is only for Square users only.
Anticipated expenses
For all the above services that generate the company money, there are also some expenses Square has to incur. These expenses include costs directly related to the provision of these services.
For example, these may consist of fees the company has to pay to banks or credit card companies for processing transactions. Furthermore, it may also include costs related to the manufacture of hardware that the company provides its users.
Apart from these expenses, the company also bears costs in other departments. These include costs, such as product development, sales and marketing and administrative expenses. These may involve expenses related to its office locations, promotions, research and payroll expenses, etc.
Similarly, it includes costs associated with loans or debts the company has accumulated. Furthermore, like any other company, Square also has to pay taxes on its transactions, which adds up to its total expenses.
Conclusion
Square is a big name in the mobile market payments industry. The company turned up revenues of $4.7 billion in 2019, which was almost 1.5 times its profits in 2018. The reason behind the success is Square's business model.
Given above is a detailed analysis of Square's business model, which includes its target markets, products and services, and anticipated expenses.