Overview
MoneyGram is one of the numerous money-transfer companies that is based in the United States. MoneyGram involves two categories of business, including Global funds Transfers and Financial Paper Products. There has been a shift towards P2P payments with a rise in online businesses. The company takes a user-centric approach to mobilize the movement of money across the globe.
MoneyGram acts similar to a bank, but it has its differences, such as you can transfer money or make bill payments through MoneyGram without having a bank account. All in all, MoneyGram is a versatile and prominent name in the market of money transfer.
Company Profile
Here is a brief overview of MoneyGram's company profile.
| | |
| --- | --- |
| Company Name | MoneyGram International Ltd. |
| Website | MoneyGram.com |
| Founded | 1940 |
| Founder | MoneyGram Payment Systems Inc. and Thomas Cook |
| Key People | Alex Holmes – Chairman and Chief Executive Officer, Hilary Jackson – Chief Operating Officer, Larry Angelilli – Chief Financial Officer, Robert Villasenor – General Counsel, Andy Villareal – Chief Compliance Officer, Grant Lines – Chief Revenue Officer |
| Headquarters | Dallas, Texas, United States |
| Company Type | Public Company |
| Revenue | $900 Million (2019) |
| Key Competitors | MoneyGram competitors are Green Dot, WorldRemit, Wise, PayPal, and Western Union |
What is MoneyGram? A Brief History
MoneyGram is a payment program enabling users to send and receive money. The sender is required to initiate transfers from the point of sale for either cash pick up or directly crediting the customer's account.
If we look at the history of MoneyGram, it is actually the result of the fusion of two businesses.
Travelers Express (Minneapolis)
Integrated Payment Systems Inc. (Denver)
MoneyGram was created in 1988 as a branch of the Integrated Payment System. It was then purchased by Travelers Express, what is called today MoneyGram International.
At the time this money-transfer service was first created, MoneyGram Payment Systems had a 52% share of the company to their name. The rest of which was under the ownership of the Thomas Cook Group.
MoneyGram was sold to Viad Corp in April 1998 for $287 million. The following years followed a series of events involving the transfer of ownership to Travelex and was later spun off as an independent firm.
As we look at the progress in 2006, MoneyGram had already included 96,000 agents and had expanded across the regions of Asian-Pacific, Eastern Europe, and Central America. By then, MoneyGram International had included more services like bill payment and online money transfers.
As the world hit the great recession of 2007-2008, the shares of the company deteriorated 96 percent, and the firm lost a massive sum of $1.6 billion from its investments. This considerable loss propelled the company to make a tough decision of selling the major portion of it to Thomas H. Lee Partners and Goldman Sachs.
It was in 2009 when the company started gaining profits again.
Another significant event in the history of MoneyGram took place in 2019 when the company announced its partnership with Ripple for utilizing XRP for cross-border transactions. By 2020, this collaboration has provided transactions in the UAE.
How Does MoneyGram Work and What Does it offer?
MoneyGram provides money-transfer services such as money orders, bill payments, etc. It is specifically helpful for people who don't have or want to use their regular bank account. What makes MoneyGram convenient is its accessibility at nearly all kinds of locations needing a money-transfer service, such as pharmacies, supermarkets, small-scale local businesses, bus stations, and check-cashing outlets. 
MoneyGram is a globally used service with 350,000 locations around the world for pickup. However, you can't initiate transactions from all of these countries; instead, it is only possible from the United States and a few other countries.
Here is how MoneyGram works>
You can initiate payment from the MoneyGram branch office, for which you will be required to do some paperwork. Paperwork can also be carried out online. Then you have to give money to MoneyGram via credit card, debit card, bank account, or cash. You also have to pay the additional fee as per the procedure of money transfer and the location of the place you are transferring to.
MoneyGram basically acts as a bank. It will not hand over the money to you. Instead, it will wait for it to get deposited and then will send a notification. Once you submit the money to MoneyGram, you will receive a number that you have to share with the recipient.
With the gap of a few hours or days, the recipient can retrieve the money from the local branch through the number you had shared with them. There would also be some kind of identification required at the end of the recipient that matches the paperwork done by the sender.
What does MoneyGram offer?
Well, you can send money to over 200 countries within minutes. You get to choose between sending money to a bank account or a mobile wallet.
If you are someone who wants a wide range of options to send money either online or in-person, MoneyGram is suitable for you. Moreover, the MoneyGram service is beneficial for making immediate money transfer.
MoneyGram Business Model
MoneyGram uses API-driven infrastructure for cross-border P2P payments and money transfers. It works through two segments, Global Funds Transfer and Financial Paper Products. The former offers money transfer services across the world. It also provides bill payment services in place of banking services. All the services are granted via third-party agents such as
Post offices
Retail chains
Banks
Independent retailers
Other financial institutions
The Financial Paper Products segment deals with cash orders via company agents and financial institutions throughout the United States and Puerto Rico.
MoneyGram Unique Selling Proposition (USP)
Did you know that MoneyGram International Inc. is considered to be the second on the list of money transfer companies in the world?
The Unique Selling Preposition of MoneyGram is that it provides a chain of the network across the world and eventually connects the world and erases the territories.
Most of the companies out there are entirely invested in making profits and doing business, but MoneyGram is equally involved in social work for the welfare of society as a whole.
Think of MoneyGram as a cash-transfer service that allows you to send or take out money whenever you need it.
How Does MoneyGram Make Money?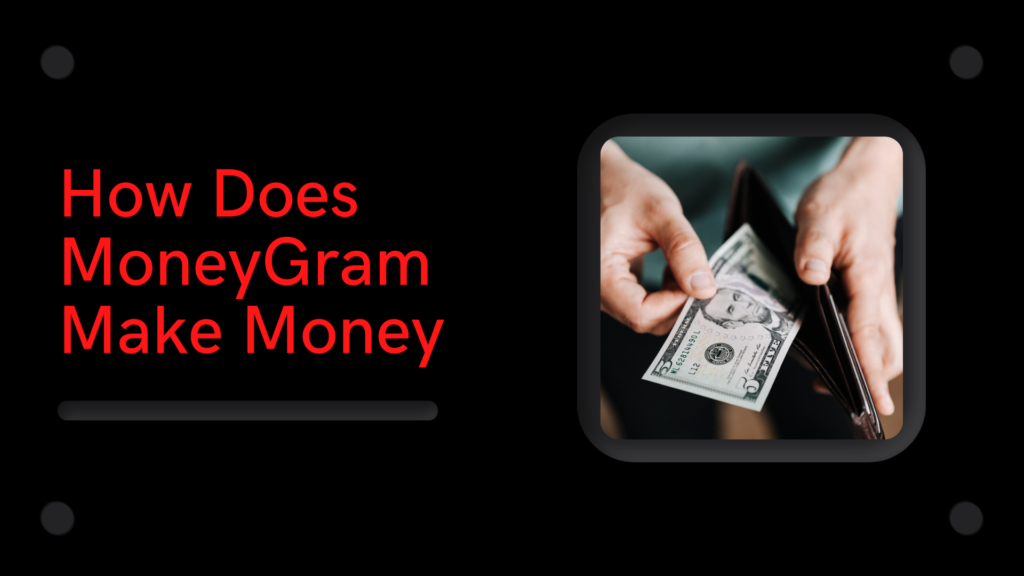 MoneyGram, like other remittance companies, makes money on the exchange rate. Whether you are sending or receiving money, MoneyGram would be making a commission. For instance, your currency is US dollars, but the country you are transferring your money to might have a different currency with a lower exchange rate.
The vital thing to know is that remittance companies don't mention the actual value of the currency they sell.
Moreover, MoneyGram charges a fixed percentage of fees to their users on every transaction according to the amount of money they wish to transfer and the kind of service being rendered.
MoneyGram is a globally recognized and trusted company offering innovative, reliable, and convenient money transfer services.
SWOT Analysis of MoneyGram
Let's analyze MoneyGram by its strengths, weaknesses, opportunities, and threats. Before getting into it, it is crucial to learn the aspects of SWOT analysis.
If you didn't know earlier, we have got you covered. Strengths and weaknesses form the internal factors of the SWOT analysis, while threats and opportunities form the external factors.
Strengths
MoneyGram forms one of the largest service providers for money transfer in the world
The company functions in over 200 countries with a worldwide network of around 3,50,000 agent offices
Another aspect of MoneyGram is that it owns and operates retail locations along with the other financial services it provides through third-party agents
You are shielded from external uncertainties
You can avail of MoneyGram's services from anywhere in the world, from mobile and online channels
MoneyGram has decades of industry experience
It is expanding its services globally
MoneyGram is one of the leading services in terms of growth rate, profitability, and revenue
Money transfers are ready within minutes
It has a strong distribution and sales network
The users have the option to send the money directly to a bank account or mobile wallet
There is an optional MoneyGram Plus Reward Program
Weaknesses
MoneyGram is met with solid competition, which leads to limited margins
You can make a maximum online transfer of $10,000 every 30 days
Most in-person transfers made through MoneyGram requires cash
MoneyGram does not have a fixed fee for the transactions; rather, it depends upon a number of factors, such as location, amount, and payment method
The payout is only available at certain locations in specific currencies
Threats
There has been a rise in similar services, just like the recent entry of Walmart in the game
Scams and frauds can make their way into the service
If there is any incident of scam or fraud, the stock is drastically affected, and the value deteriorates
Opportunities
This money-transfer service will provide a billion-dollar opportunity to businesses worldwide
There is a growing demand for services like MoneyGram, especially from the developing countries
The growth rates and profitability of MoneyGram form another opportunity for the firm
The increasing rate of globalization demands more robust money-transfer networks, and MoneyGram is already one of them