When Square, Inc. first started in 2009, there weren't any online mobile payment solutions available to users. Through its Square Reader, its first product ever, the company changed the landscape of the mobile payments industry.
The reader introduced a new system of payments for businesses and merchants, allowing them to receive payments remotely. Today, the company dominates the industry, with over 24 million users.
The company, in 2019, generated revenues of $4.70 billion. The company also made a net income of $375.45 million and an operating income of $26.56 million through this revenue.
Through its past performances, Square has also achieved a strong financial position with total assets of $4.55 billion and total equity of $1.71 billion in 2019.
The company has generated its revenues from its wide portfolio of products and services it provides. These include the Square Stand, Square Register, Square Terminal, etc.
Furthermore, it includes services such as Square Payroll, Square Capital, gift cards, appointment software, and its famous Cash App. The company has tapped into many different markets that have increased its revenues significantly.
Despite these products, some users don't know how Square makes money. The company provides its most famous and commonly used product, the Square Reader, for free.
However, the company still has many other sources of income that allow it to generate revenues in billions. Some of how Square makes money are below.
How does Square make money?
Before getting into details of how Square makes money, it is crucial to look at the breakup of the revenues it generated in 2019. Below is the extract from the Financial Statement of the company for the year 2019.
Revenue
2019
$'000
2018
$'000
Transaction-based revenue
3,081,074
2,471,451
Subscription and services-based revenue
1,031,456
519,706
Hardware revenue
84,505
68,503
Bitcoin revenue
516,465
166,517
Total
4,713,500
3,226,177
The company generated 65% of its revenues in 2019 from transaction-based revenues, which is the highest percentage from its offered services.
Similarly, it generates 22% revenue from subscription and services-based revenue, 2% from hardware, and 11% from Bitcoin revenue.
The proportions are almost the same for 2018 as well. However, in 2019, Bitcoin-related revenues increased more than two times.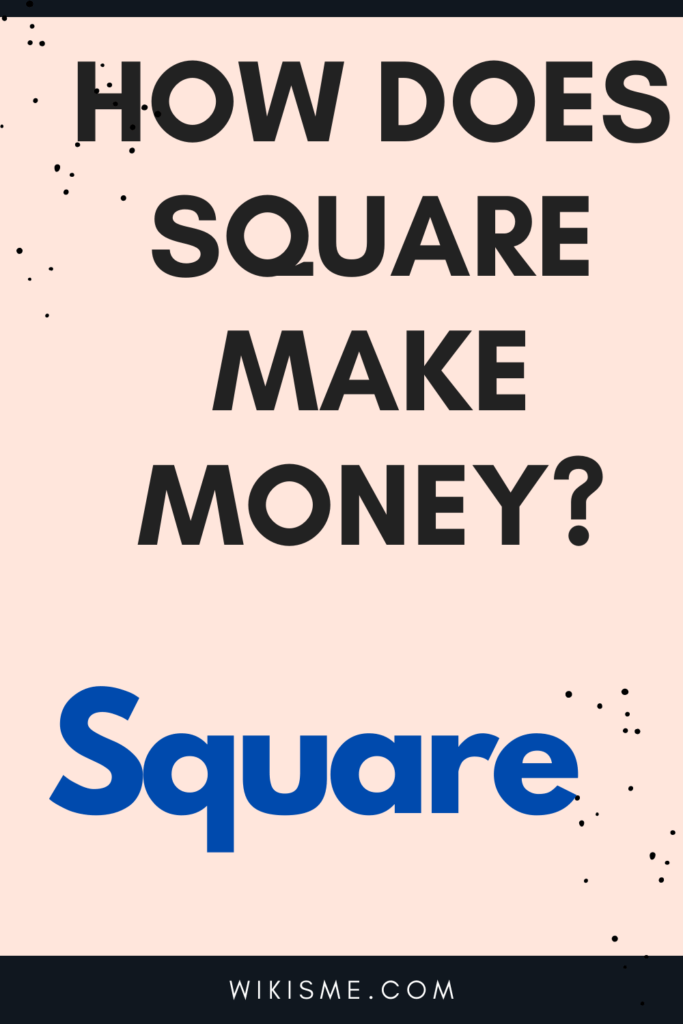 1) Transaction fees
The top source of income for the company is transaction-based revenue. Transaction-based revenue includes the commissions that the company charges on each transaction.
The rate the company charges is 2.6% for standard transactions and a $0.10 fixed fee. For online transactions, the company charges its users 2.9% and a $0.30 fixed fee.
The transaction-based revenues allow Square to charge users for every transaction they make with their customers. The main moneymaker for transaction-based income is the commissions the company charges.
It helps the company earn higher when the transaction amount is also high. Therefore, the company benefits more from commission rates rather than fixed charges.
2) Plus plan
The platform also offers users a Plus plan, costing $60 per month per location. For restaurants, the fees are $60 per month and an additional $40 per location.
It has a few perks that users can get. First of all, it allows users to use all the tools that free users get and some other advanced tools.
These include advanced inventory tools, retail reports, shift reports, section sales reports, live sales, Square Team Management tools, etc. The fees for the Plus plan fall under the category of subscription-based revenue.
The Plus plan also decreases the transaction-based commission rates for in-person transactions. As mentioned above, users have to pay 2.6% commission for every transaction.
However, with the Plus plan, they only have to pay a 2.5% commission. For online transactions, the rates remain the same despite the Plus plan.
3) Premium services
Square also makes money from its premium services. The company offers users that process over $250k per year to use the premium features.
Square negotiates offers with each user individually for premium features. Therefore, there are no details of how much the premium pricings are for customers. Premium users get the Plus plan and some discounts from the company.
4) Square Appointments
Square also offers software to users for managing their appointments. The charges include only a 2.6% commission and a $0.10 fixed fee for businesses with only one employee with whom they can book appointments.
Businesses with more than one employee must pay 2.5% per transaction and a $0.10 fixed amount. Businesses with 2-5 employees have to pay $50/month to the company, and those with 6-10 employees have to pay $90/month.
5) Other solutions
The company also offers other solutions for which it charges. For example, the Team Management solution can be free and go as high as $35/month per location.
Square also offers Payroll services, for which users have to pay a $29 fixed monthly subscription and $5 per employee.
Similarly, the company also offers a Loyalty program for which the users must pay charges starting at $45 per month. Furthermore, the company provides marketing solutions for which it charges users fixed fees starting at $15 per month.
Other solutions also include gift cards the company offers. These charges include 2.9% + $0.30 transaction fees when customers purchase a card. Furthermore, the company offers users to customize their gift cards with different packages.
Conclusion
Square is one of the leading names in the mobile payments solutions industry. The company offers multiple products for which it earns money.
The company made revenues of above $4 billion in 2019. Given above is a detailed description of how Square makes money.