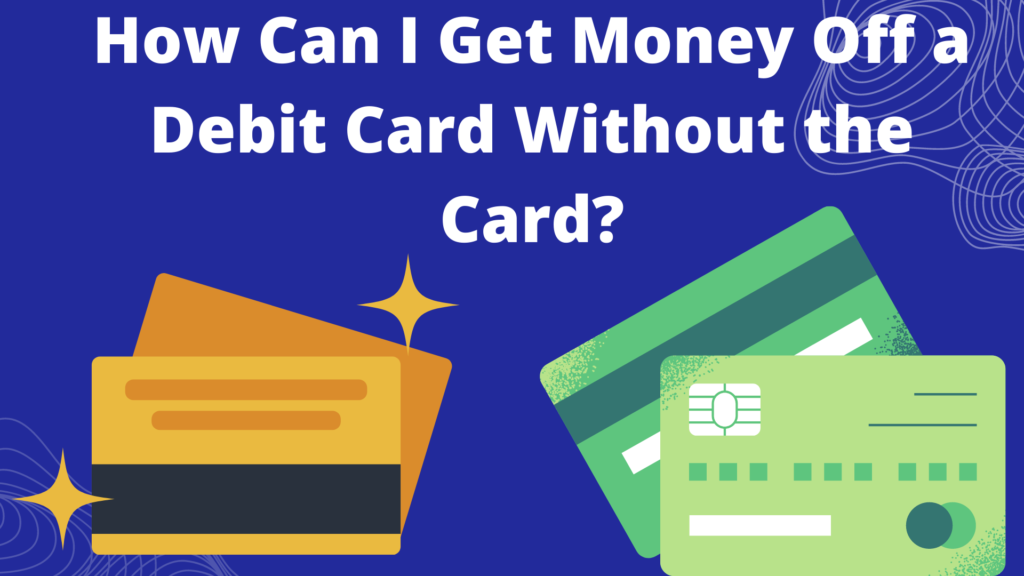 If you do not want to carry your debit card, or maybe it has been lost, you still have many options to get cash by using your checking account. So, how can I earn money off a debit card without the card? You have to read this article without any further delay.
To make money from a checking account without using a debit card can be an easy or complicated procedure as all the results of all methods depend on your approach. This site is all about how to access cash without a debit card.
What is a Debit Card?
A debit card is a simple payment card that deducts the money from a consumer's checking account that is used. You can also call it a "check card" or "bank card." A debit card is used to buy goods/ services or get cash from a merchant or an automatic teller machine.
It will let you add an extra amount to purchase. It is usually linked to the user's checking account at a bank or credit union. A debit card works like a cross between a credit card and an ATM card.
In addition, most financial institutions are replacing their plain vanilla and single-purpose ATM cards with debit cards. They have daily purchase limits like you cannot spend more than a specific limit with them in one 24-hour period. Debit card purchases can be made up with a PIN or without a PIN.
How Can I Get Money Off a Debit Card Without the Card?
To visit a bank branch or other physical location is one of the straightforward steps to get money. Banks show high protocol, so you must issue a government-issued ID and enter a PIN or password.
Sometimes, you must show a particular phrase made for security purposes to open an account. Here, we share some simple ways to get money off a debit card without a card. So, follow these below-mentioned steps.
You can cash a cheque at your bank, and this contains writing a cheque for the amount you need and visiting a bank branch to retrieve funds.
Cash your cheque at the store. Supermarkets and other stores will cash your cheque for you for a fee.
You can use a withdrawal slip at a bank branch. So, visit your bank and fill a form containing your account information & the amount that you want to take out. Present all of them to a teller.
Work with the bank teller. You have to discuss that you do not have any card with the teller. Then they can tell you all the processes of retrieving money from the account.
Other Ways to Get Money from an Account Without Using a Debit Card?
There are other ways to discuss how I can get money off a debit card without the card.
One is to use a card-less option known as ATM. You can use an NFC (near field communication) technology that helps the customer get money without keeping physical cards. Or you can use a card in the digital wallet to pay at any grocery store.
But if you prefer using a physical card but your card has been lost or stolen. Then your bank provides you with a temporary card. So, you have to wait for the permanent replacement that takes about a week.
In addition, if you have a debit card for your account with a different institution. Then you can transfer money between the funds and withdraw cash if it seems too necessary.
If you want to take advantage of ATM, you must need a cellphone and an app of your bank downloaded on your mobile phone. To get cash by using an ATM, sign in to your banking app on your phone. Now hold the phone up to the ATM's NFC receiver.
When the machine confirms the information you put in, you can use the ATM as you want. Wells Fargo, Chase, and Bank of America are just a few banks that offer a "tap" or card-less ATM access.
How can I Find My Routing Number and Account Number?
If you do not have access to a debit card, you need to withdraw money from a linked account. So, there is a need to know the routing and account number associated with the account. In just a few ways, you can find out information.
1.  Chequekbook
If you have a physical book of cheques, you can find the routing & account number located at the bottom of your review. Here, you can see there are 3 groups of numbers, and one is at the far-left side of your routing number; in the middle is your account number.
 On the right side, you will find out your cheque number.
2.  Online Banking
You can easily access your bank account online and look for the routing and account numbers. If you face some difficulty finding them, search and click the help section. Or you can also contact any service representative.
3.  Mobile app
You can find out your routing & account number on your bank's mobile app.
4.  Bank
If you go to your bank branch with some appropriate identification, a service representative or tell will provide you with your account and routing number.
In addition, there are some ways to withdraw money without ATM and debit card. You can use ICICI ATM and Axis Bank ATM to withdraw card-less cash.
How Much Money Can I Withdraw From a Checking Account?
When you put in some extra effort because you do not have a debit card to withdraw money, it is sensible to take out more cash. But there are some limitations on how much money you can take out relying on your use method.
If you are about to visit the bank's physical branch, connect. Then you can take out more money than you could get from an ATM. If you are interested in taking out cash from ATM, you will have a maximum amount that you can withdraw.
Withdrawal limits of ATMs usually depend on the bank and account level you are using.  Some banks allow the withdrawal of $2000 but mainly allow $300 to $1000. You can get complete information from the bank to see your limit.
Final Words
Not having a debit card may present some issues or challenges when getting money. A debit card works best as a tool to bring cash or for other small purposes. But thankfully, there are a lot of options to help, so you have to opt for one of them.
You can cash at your bank/store or use a withdrawal slip at the bank branch and work with the bank teller. For this, you do not need the CVV number; go to the bank branch to get money and show all information to the teller.
This article named "how can I get money off a debit card without the card" is for you. Thank you for your visit!