Facebook is an American social media company founded in 2004 by Mark Zuckerberg. The platform started as a personal project by its founder and his friends.
Initially, Facebook limited registration to Harvard University students only. However, since 2006, the company started allowing users from all around the world to register and use the platform.
Today, Facebook is the world's largest social media network with over 2.7 billion active users as of 31 June 2020. The platform allows users to use different features to connect with friends, businesses, or groups.
Initially, Facebook was a platform used to share pictures with friends, family, and loved ones. However, it has evolved into a complete social media platform with features such as Pages, Groups, Ads, etc.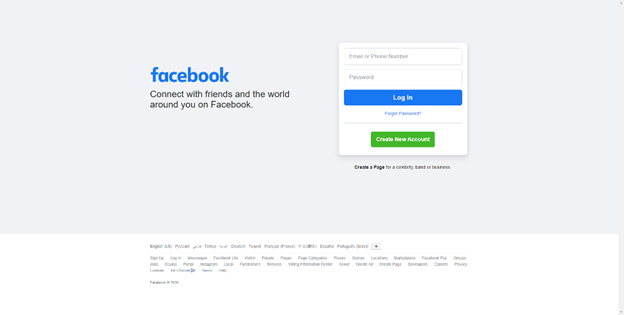 Facebook generated revenues of $70.7 billion in the year 2019, which was a 26.6% increase from the revenues it generated in 2018. One of the reasons for Facebook's popularity is its availability around the world, and high user count. Through its reputation and reachability platform to benefit from higher visitors and generate higher revenues.
Another reason behind Facebook's popularity is its vision, mission, objectives, and business model, which define the beliefs of the company and how it makes money. Given below is a detailed discussion of what each of these is for Facebook.
1) Facebook's Vision
Facebook's official vision statement is as follows.
People use Facebook to stay connected with friends and family, to discover what's going on in the world, and to share and express what matters to them.
Through its vision, Facebook wants to imply that it is not only an online social media network. It shows that the company offers users a platform for users to raise their concerns and learn about the latest news.
However, its vision also includes its most basic purpose from which most of its users take benefit, staying connected with friends and family.
On several occasions, Facebook's CEO, Mark Zuckerberg, has also emphasized the social network's freedom of speech. The company has always believed in giving users the right to share their opinions without any repercussions.
2) Facebook's Mission
Facebook's official mission statement is as follows.
Founded in 2004, Facebook's mission is to give people the power to build community and bring the world closer together. People use Facebook to stay connected with friends and family, to discover what's going on in the world, and to share and express what matters to them.
Based on its mission statement, the company believes in empowering people around the world and helping them build a community.
Through this action, the company believes it can bring people closer. Facebook already provides a social media platform that allows users from around the globe to connect with each other.
However, the platform offers services beyond just connecting people. Facebook allows users to create groups and pages, which they can use to build their own communities.
These are some of Facebook's oldest features, which shows the company has focused on its mission from the beginning. Similarly, the social network is available in almost all countries in the world, which allows users to connect with others in a better way.
3) Facebook's Objective
Facebook's objective, in the past, consisted of attracting the maximum number of users possible. The company has shown, through its efforts, that it has the tools and features necessary to accommodate users.
However, the company's objectives have visibly shifted towards profitability, which is apparent from its focus on providing tools for businesses and advertisers online.
Facebook has also expanded its reach to users through its acquisition of other large social media platforms such as WhatsApp and Instagram. Through these acquisitions, Facebook has not only increased its reach but also developed more sources of income for itself.
4) Facebook's Business Model
Facebook's business model shows its principal sources of revenues or how it generates money. The main source of income for the company is the targeted ads it shows to its users.
Facebook allows advertisers to display their ads to the audience of their choice in exchange for a fee. Every time a user views or clicks the ad, Facebook earns money from it.
These advertisements make up approximately 99% of the company's revenues. The other sources of income for Facebook are games or products sold through the social network. The company also offers other products under its brand name such as the Oculus VR headsets, which earn money for the company.
Conclusion
When it comes to social media platforms, Facebook does not need any introduction. Facebook is the world's largest social media network, with over 2.7 billion worldwide users.
The company behind Facebook is also a successful one. Its success comes due to its beliefs, a detailed description of which is available above.