Craigslist is an online free classified advertisements website started by Craig Newmark. He started Craigslist as an email list to 10-12 friends to inform them about San Francisco Bay area events.
One year later, he changed it into an online classified market. In 1999, he incorporated the company and focused on the platform full-time.
Craigslist, as a platform, has changed a lot throughout its over 20 years of life. However, it has maintained its simplicity and user-friendliness over time.
Similarly, while the company is one of the oldest online platforms for classified advertisements, it hasn't generated the same profits as its competitors.
One of the main reasons for this is that Craigslist isn't a platform that focuses on revenues or profit generation.
At a conference in 2006, the company's founder told the media that the company wasn't interested in maximizing its profits. In 2018, the company reported revenues of over $ 1 billion.
However, some experts believe that the company has even higher potential. If the company increases its prices, it can easily reach $8 billion in yearly revenues.
Despite Craigslist not focusing on generating revenues, it still has some income streams. However, to some people, how the company makes money is unclear.
It doesn't show any ads on the platform, which is one of the main ways of income generation for some of its competitors. Therefore, given below are how Craigslist makes money.
How does Craigslist make money?
Craigslist's primary source of income is some categories of postings, which charges users to post in those categories. The highest-earning listing category among those is the Job postings category.
The category is available in the US and some selected areas in Canada.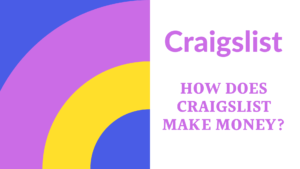 Craigslist earns a minimum of $10 from postings in the category. However, in some areas, the price is even higher. For example, the platform charges $75 for job postings in the San Francisco area.
In some places, such as Los Angeles, the price is around $25. Depending on the listing location, the cost can go higher or lower. However, it generally stays between $10 – $75.
The next category from which Craigslist earns is the Apartment rentals category. The platform charges users for apartment listings in Boston, Chicago, and NYC.
The charge for posting in the category is a fixed $5. Similarly, for commercial real estate listing, the price is also $5. This listing is available throughout the US, and all users must pay for it.
Other categories of priced listings include all-for-sale by-dealer listings, which earn the platform $3-$5 per listing. The cars/trucks, RVs, and motorcycle by-owner categories fetch the platform $5 per listing.
Both of these categories are only available in the US. Some types are general in Canada or Vancouver, BC, through which the platform earns.
These include the Cars/trucks by-dealer, furniture by-dealer, gig, and services categories. These categories get the platform as low as $3 per listing, such as the furniture by-dealer category.
On the other hand, some categories can fetch the platform as high as $10 per listing, such as the Gigs category, based on the area.
The platform accepts significant payment options, such as Visa, MasterCard, and American Express. It also allows its paid users or paid posting accounts that provide high-volume posts, with additional payment options in some cases.
The platform is a bit behind the curve for technological changes and still doesn't allow payments through PayPal.
These listings are the primary way in which Craigslist generates money. As mentioned above, the platform does not focus on making money through revenues or profits. Therefore, it doesn't focus on earnings.
There are other potential ways the company is considering generating income. For example, Craigslist is considering earning money through other revenue streams, including Google Ads or banner advertising.
However, its management has been hesitant when introducing ads to the website, as it believes the advertisements may take away from the user experience.
The company has also been considering changing its prices for a long time. However, it is yet to take action regarding it. Since its focus isn't to generate money and is still making a profit, these changes are unlikely to occur anytime soon.
Conclusion
Craigslist is an online platform that allows users to post their advertisements and get exposure to an audience. Its focus is not to generate revenues or profits.
Despite that, it has some income streams through which it makes money.
Craigslist's primary source of income is its priced listing categories that generate enough money for the company to stay profitable.
There are reports regarding the company considering other income streams. However, these changes are unlikely to realize in the foreseeable future.