Overview
One of the global highest fast-food franchises, Burger King, has recently outperformed other well-known companies in these several years. You may be wondering how Burger King has grown from modest beginnings in Florida to more than 18,000 locations globally.
Second, only to McDonald's, Burger King ranks as the second biggest hamburger franchise in the nation. 
The company has a total of 18,700 locations across 100 countries as of October 2021. And this is reasonable to assume that it is one of the world's largest fast-food businesses today.
It now serves at its minimum of 11 million consumers every day and generates sales of up to $20 billion by 2020.
Company Profile
| | |
| --- | --- |
| Company Name | Burger King Corporation |
| Website | https://www.bk.com/ |
| Founded | 1954 |
| Founders | David Edgerton, James McLamore |
| Key People | Daniel Schwartz – CEO / President, Diego Beamonte – VP Global Quality, Nick Boyle – Director, North America Franchise Development, Heitor Goncalves – Chief Information and Performance Officer, Esther Gonzalez – Vice President Worldwide Tax, Fernando Machado – Global Chief Marketing Officer, Mariluly Molliner-Medina – VP Finance Ops – Americas, Vicente Tome – Vice President & Brand Counsel, Michael Salem – Executive Director, Innovation, Clyde Rucker – SVP Global Communications and External Affairs, Eric Smith – Regional Vice President of Operations |
| Headquarter | Miami, Florida |
| Company Revenue | USD 10 Billion  (System-wide U.S. sales) |
| Key Competitors | McDonald's, Subway, Wendy's, KFC, Domino's Pizza, |
What is Burger King? A Brief History
Burger King was founded in 1954 in Miami by David Edgerton and James W. McLamore.
The history of Burger King, on the other hand, can be traced back to when it was started as Insta-Burger King, a company launched in Jacksonville, Florida, in 1953 by Keith Kramer and Matthew Burns.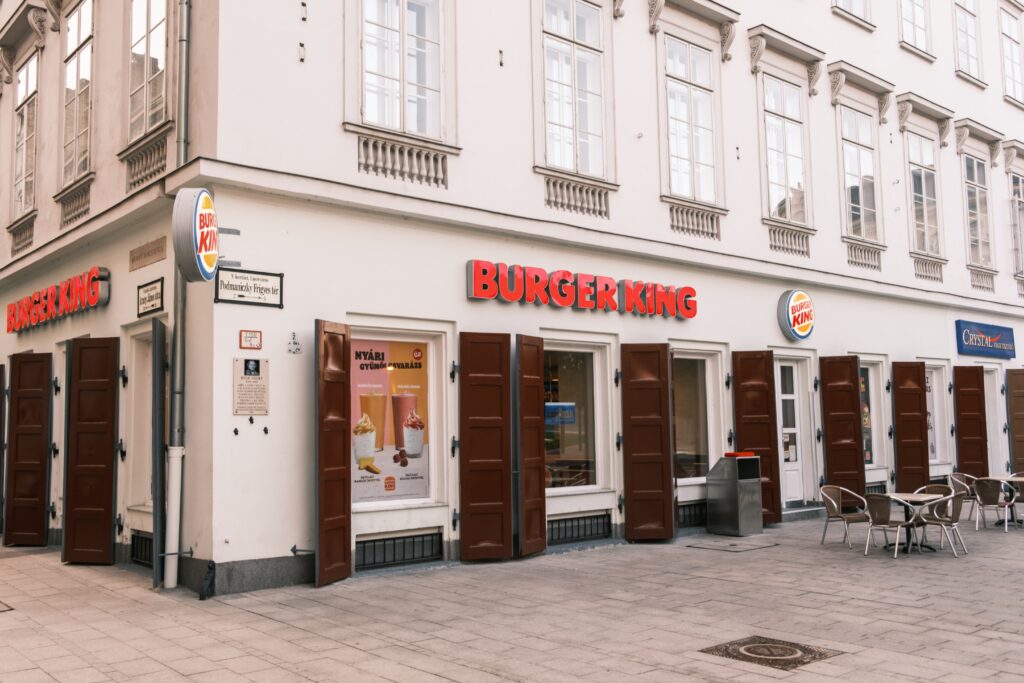 When Edgerton and McLamore started selling Burger King franchises in 1959, the company was already a national powerhouse.
Whoppers have been known for their dedication to high-quality ingredients, trademark recipes, and family-friendly eating experiences for more than half a century.
How Does Burger King Work and What Does it Offer?
So how exactly does Burger King work?
To distinguish itself from its competition, Burger King emphasizes the designs in goods and services. Customers may get flame-grilled burgers at this restaurant since it is one of the few places offering them.
The corporate gathers client input via the My BK Experience portal to maintain its quality.
In addition, the company modifies its manufacturing facilities' operations and employs specific control crews for franchisees, corporate operations, and other third parties.
What does Burger King offer to its consumers?
Burger King is a fast-food restaurant chain that specializes in hamburgers. Products include Burgers, Sides, Chicken and Fish, Salads, Drinks, and Desserts.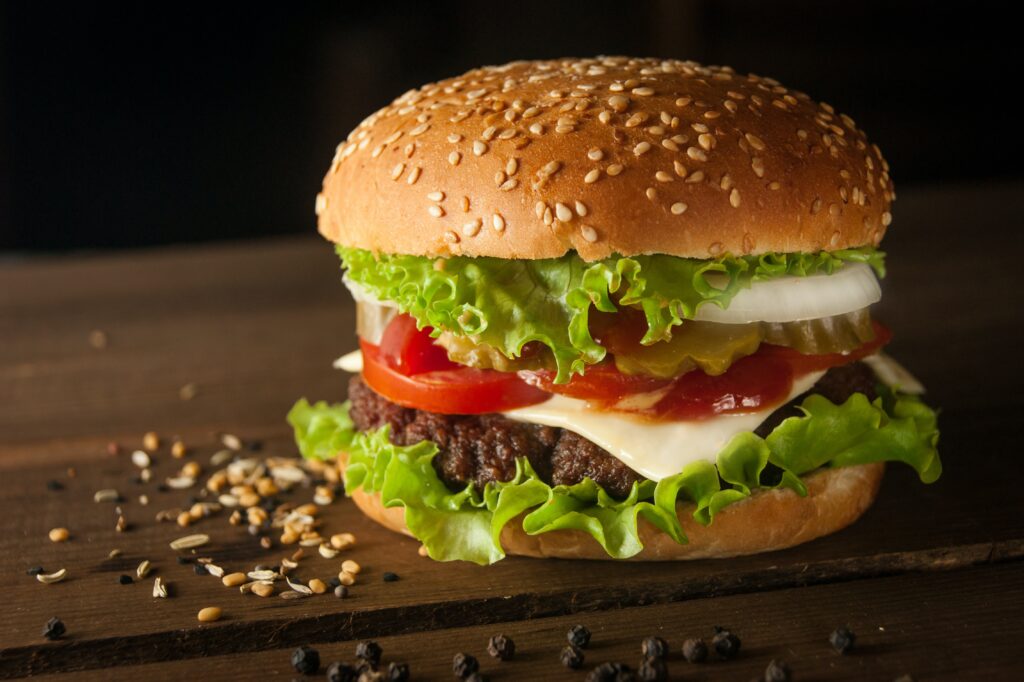 The firm offers pre-packaged meals for adults and children alike to make things even more convenient. Burger King's generic approach is supported by the economies of scale that come from the large-scale development of this product combination.
Burger King Business Model
At least until the year 2022, Burger King plans to stay on top of its game by following the business model of franchising and cutting costs wherever possible. As a result, Burger King has successfully operated on a global basis.
Established A Worldwide Presence With A Powerful Franchising Model
As a consequence of its successful franchising model and its related royalties, Burger King now boasts more than 18,000 locations throughout the globe.
Burger King franchisees, for example, benefit from low startup costs because of the company's relatively low investment volumes.
With rapid expansion into new areas, the firm is now ranked as the sixth-largest chain of quick-service restaurants globally.
Simple Menu
A large part of Burger King's popularity stems from its offering a broad range of foreign and domestic options on its menu.
A simple menu in the store is a major selling point. Offering too many choices might make visitors feel frustrated, as explained by the "paradox of choice" theory.
Whenever new dishes are added to the menu, they're made using ingredients currently on hand.
Constant Development
Burger King's fresh and extremely original menu items continue to revitalize and reinvent the company, gaining new consumers and encouraging existing ones to stay loyal.
The Impossible Whopper release, the sandwich made from plants, resulted in more consumers. Therefore, the company can exceed its second-quarter earnings expectations at its debut time.
Powerful Marketing Program
The corporation ensures that clients can always identify the brand, regardless of where the store is located, and conveys a good message.
Burger King Unique Selling Propositions
Burger King's prosperity may be attributed to its low-cost leadership and comprehensive differentiation initiatives.
Burger King strives to lessen its operational expenses by delivering a broad range of food products at discounted prices via economies of scale.
What is more, "Have it your way" is their powerful spirit. Because of their unique selling proposition, their marketing strategy was built around it.
As a result, Burger King's consumers believe that they own control of their meal choices and how this hamburger influencer fulfills their individual eating desires.
The way you eat your hamburger doesn't have to be the same as everyone else does. You'll get more enjoyment from it if you customize it to your preferences. Because it tastes better, and you will be happy with it.
How Does Burger King Make Money?
It costs about $300,000 to get a Burger King franchise up and running, with an extra charge of $50,000 that must be paid to the corporate for their services.
This makes Burger King recognized as a cost-effective fast-food franchise opportunity.
Every month, Burger King collects royalty fees and advertising fees from all franchisees, totaling 4.5% and 4% of gross sales, respectively. For most franchises in the F&B industry, these fees are commonplace and expected.
Burger King SWOT Analysis in 2022
According to the SWOT analysis, Burger King may evaluate their strategies compared to its competitors.  The food industry must diversify its goods, enhance its quality, and develop new items in light of this strategy.
Strengths
International Existence: There are 18,838 Burger King restaurants operating throughout the globe in over 100 countries. Ten million people visit each day, making it the sixth most popular fast food business in the world. As a key asset, the chain has a substantial worldwide footprint.
Efficacious Approaches: Companies that apply efficient management methods are always looking for ways to revitalize themselves and keep up with the latest market trends.
Successful Franchising Structure: As a result of Burger King's modest franchise fee, the company now has 90% of its outlets, equivalent to more than 15,000 locations owned by their franchisees operating globally.
A Wide Range of Options: It's no surprise that Burger King has a wide selection of domestic and international menu choices to satisfy any traveller.
Creative Selections: Burger King continually reinvents and revives itself by introducing new and highly innovative products and services. For instance, vegan sandwiches are available in the store.
Weaknesses
Abundant Reliance on the American Market: Burger King generated $9.2 billion in sales from its outlets in the United States, 44% of which are located in the US.  This puts roughly 50% of the company's income stream at risk if there are any difficulties in the US market.
Excessing of Franchising: Even if Burger King's franchisees have been successfully managed so far, the fast expansion of the company's franchise network threatens the model's long-term viability.
Deficiency in Stabilization: A business's going concern problem is jeopardized every time the company's ownership and management change hands. This company has now changed ownership six times since its founding.
Lack of Product Value: More consumers want to get the most out of their money. Burger King, on the other hand, provides poor value for money, from the least to the most costly burger. Because of this, it doesn't have a devoted client base, and its consumers may dine elsewhere if it's more comfortable for them.
Opportunities
Enhance Market Influence: It is important to have a high market presence since it guarantees that every client can reach an outlet rather than visit a rival. It plans to increase the number of eateries from 26,000 to 40,000.
Expand Choices of Plant-based Items: After introducing the "Impossible Whopper," a more healthful burger, Burger King saw a roughly 30% boost in profits. Expanding the number of plant-based alternatives on its menu can meet the ever-growing demand for healthy meals.
Portfolio Diversification: Burger King may broaden its portfolio outside the restaurant industry rather than relying only on the sector. When it comes to distributing plant-based Whoppers, it may be better to open a grocery shop rather than depend on other retailers.
Emphasis on Emerging Economies: With untapped markets and significant development potential around the globe, developing markets may be found anywhere among the Middle East, Asia to Africa, and South and Central America.
Threats
Global Economic Downturn: Despite the fact that food is vital, people tend to cut down on dining out when struggling financially. Various franchisees have filed for bankruptcy or have been placed under receivership.
Intensity of Rivalry: There are numerous competitors to Burger King, including McDonald's, Subway, KFC, Dominos, and the likes. The competition is intense under "Burger Wars" influence to grab a better customer base, profitability, market share, and long-term viability of one another.
Raising Health Awareness:  Although the number of health awareness is on the rise, Burger King's menu is dominated by dishes high in fat animal ingredients and considered unhealthy. Burger King's health-valued consumers may leave in a heartbeat if a rival provides better alternatives.