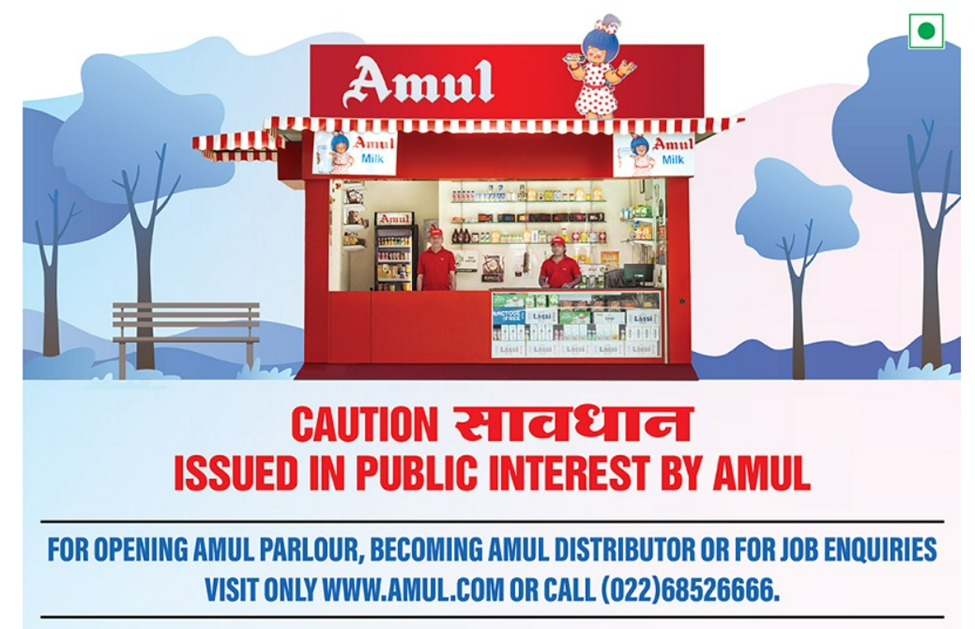 Amul's marketing mix mainly focuses on 4ps products, places, prices, and promotions. The marketing mix is a framework that helps Amul to decide the product, price, distribution strategy, and advertising. Amul is an "Amoolya" brand, and in the Hindi language, it means priceless or invaluable.
No doubt, it has marked its presence in almost every country, and now every product that is made up of milk is made up of the Amul product.
Amul has created an excellent brand image because of having an aggressive marketing strategy. Amul has won the hearts of Indians as it is a highly valued brand with an Indian origin.
Amul was created in 1946 basically to stop the mediators' exploitation. Amul is an excellent brand of Gujrat Cooperative Milk marketing federation (GCCMF), and it was formed due to a revolt of dairy farmers. Many leading kinds of milk and milk manufacturers are completing this process with Amul.
Due to its aggressive strategy, Amul has made number one player in the dairy industry. And according to further research, it is also said that the marketing mix of Amul has made it a number one player.
Keep reading this article for additional information related to Amul Marketing Mix (4Ps) Analysis.
Amul Products (Product Mix)
Amul has a strong product portfolio, consisting of only dairy products. Therefore, most Cash Cow products are Amul Dahi, Amul Gold Milk, Amul cheese, Amul Butter, Amul ice cream, etc. Furthermore, Amul ice cream is highly ranked among the top 5 brands of the country.
Amul products' consumption is increasing day by day. For example, Amul Milk, Amul Dahi, and Amul paneer are the major products used in every house daily. As a result, it holds a significant market share of 26.2% in the packaged milk product segment.
In addition, Amul chocolates are delicious and are preferred by a vast population of the country. We have mentioned some of the Amul products following here.
Amul milk
Amul Gold milk
Amul cheese
Amul ice cream
Amul milk powders
Amul Dahi
Amul Paneer
Amul Ghee
Amul mithai mate
Amul chocolate
Amul Masti
Amul buttermilk
Amul Shrikhand
Amul flavored milk
So, the portfolio of Amul only consists of milk and milk products. And it contains many competitors; Dinshaws, Havmor, Mother dairy, and Validal are the major competitors. If we discuss the milk segment, Amul competes with the mother dairy, Sanchi Dairy, Britannia, etc.
Place/ Distribution in Amul's Marketing Mix
Amul has a vast distribution network because milk, cheese, ice cream, and butter are found nearly everywhere. Amul's distribution strategy is one of the most amicable distribution strategies of this kind. Amul is an FMCG commodity, and it practices the whole process of splitting the bulk.
However, the plant's first or initial production is in bulk. And after this, the volume gets smaller and smaller. And in the end, a single slab of ice cream or butter is sold at the store site. There are 2 separate networks by which mostly Amul delivery takes place.
One is related to the distribution channel and responsible for the milk collection by dairy cooperatives. And the second one is about the sale system, which is responsible for delivering the finalized product to end-users. And in the procurement channel, milk is acquired separately from the farmers and then transferred to the other cooperatives.
Then all the cooperatives gather all milk and provide this bulk to the Amul manufacturing plant. Here, milk is used to create the finished goods at the production plant. Therefore, all the suppliers, retailers, agents, manufacturers are interested in the sale channel.
Some Amul shoppers sell all products in the Amul portfolio. Therefore, the basic structure holding department of the distribution channel is as follows.
Amul manufacturing unit
C and F agent
Distributor
Dealer/ Amul Outlets/ retailers
Consumers
Modern Retail
Any Amul products must go through many transportations. And the distribution channel of Amul is like its product reaches every corner of the country at all desired times.
Amul's Promotion (Promotional Mix)
Amul girls gain everybody's attention in the promotion mix of Amul. Mr. Eustace Fernande created an excellent idea for the famous Amul girl. Amul hoarding primarily increases all features that are happening recently. All the promotions of Amul are a majority for the butter.
But all other products are hardly promotions, and during the launch of Amul products, Amul is known to go to all above the lines and advertise the milk or butter, etc. however; the primary advertisement lies below the line that goes through outdoor, trade promotions, sales promotions, and other discount schemes.
One of the biggest possible reasons for the exclusion from hardcore advertising of Amul is that it does not want to give out the margins in the advertisement of goods.
Amul's overall advertising budget is about 1% of the turnover. But, in addition, over and beyond that, the cost of all goods would have a tremendous significant effect.
So, the critical reason for Amul's strong market position is its great content combined with a low price. In conclusion, we can say that the overall advertisement for Amul is not good as Amul only focuses on the ad of Amul butter.
Amul's Prices and Pricing Strategy
Amul pricing is one of Amul's marketing mix (4ps) analysis strategies. Amul contains a competitive pricing policy, or you can also call it penetrative pricing. But a penetrative pricing approach is mainly used where the market includes a high degree of competition. The player looks to position himself on the market by giving all products lower rates.
Moreover, in the case of Amul, when Amul launched, there was not any rational player, and the dairy industry was also unorganized. During the phases of Amul's launch itself, it aimed to give end customers their goods at reasonable prices, and its same version is still in place today.
At present, you can also find that Amul milk, butter, and cheese are all available at affordable prices while keeping in mind the end customers. Of course, you can say these prices are costly, but this cost does not relate to Amul's strategy.
Ransportation cost
Cost storage
Distribution cost
Cost while distributing has increased day by day, so the price of Amul products has also gone. But if you consider the values for an average Indian consumer,  these products are still priced at a reasonable rate.
A massive population of the country prefers Amul butter because of its good taste and the aggressive & informative advertising strategy of Amul. But, no, doubt, Amul is the number 1 brand due to its pricing strategy.
In conclusion, we can say that Amul is following good marketing practices as it has a good distribution strategy. It is spending less money on promotions, but most companies compete with Amul by doing aggressive advertisements on social media or other modern social platforms.
Amul has reached great heights, and competing with it is not easy. Therefore, I hope this article named Amul Marketing Mix (4ps) Analysis must fulfill your information requirements regarding this topic.