Streaming dongles are one important aspect of removing the cable cord. Particularly, if you don't own a smart TV with built-in applications for different streaming services, you will need a device to connect to your TV to view your iconic movies and series.
But even so, there are other alternatives to explore, and not all gadgets function in the same way. For example, the Amazon Fire Stick is a smart cord-cutting option, but its cluttered user interface may not work for you, or you may not be a Prime member.
Of course, the Amazon Fire TV Stick is a useful tool for anyone looking to cut the cord on cable. However, there are other viable solutions for streaming video via the internet. Therefore, if you want to learn more about Fire devices, check out our TV Stick guides. We have the answer for you in this article.
The truth is, streaming gadgets such as Amazon Fire Sticks enable you to carry your favorite movies, programs, and applications with you everywhere you go. In addition, they are better options than the monthly cable contracts since the sticks provide access to both free and commercial entertainment.
Nevertheless, if you are looking for an Amazon fire stick or maybe the alternatives on Walmart, you have come to the right place. Continue reading to find out what Walmart offers regarding streaming gadgets.
Are Amazon Fire Sticks Available on Walmart 2022?
As of 2022, Walmart does not offer Amazon Fire Sticks or Fire TVs. This is because Walmart discontinued the sale of streaming gadgets in 2017 owing to extreme competition from Amazon. Fortunately, other media streaming gadgets, including Roku, Chromecast, Apple TV, and NVIDIA, are available at Walmart.
Why Does Walmart Not Sell Fire Sticks?
Walmart ceased distributing Fire TV and gadgets such as the Fire Stick both in the physical and online store in 2017. Walmart never formally explained its concrete reasoning for this move nor issued an official press statement. But regardless of all that, it is obvious that the two corporations are the real fierce competitors.
Walmart views Amazon as a big challenge to its own journey into the e-commerce industry as more merchants go digital. Walmart was also believed to be working on its streaming service to compete with Amazon Prime. For the same reason, Walmart has transformed the selling of Amazon Gift Cards and Kindle Readers.
Does Walmart Offer Its Streaming Service?
Walmart purchased Vudu in 2010 to mitigate the effect of the decreasing DVD market. Vudu's first goal was to distribute digital copies of DVDs. Yet, in 2019, Vudu's aim shifted to generating its original material as part of a subscription business similar to Hulu or Netflix. In 2020, they sold Vudu to a movie-ticket firm named Fandango.
Walmart vended Vudu to exit an intensely competitive internet streaming business and focus its time and effort somewhere else. In fact, Vudu was initially intended to compete with Netflix and Amazon. However, when this did not happen, Walmart thought it was preferable to concentrate on new and creative technology in pickup and delivery solutions.
Lucky for you as the users, there are great simple choices to use and allow you to watch your favorite programs besides the Amazon fire stick. Each of the alternatives is compatible with hundreds of applications, making them all quite adaptable in terms of meeting your amusement demands. So, if you seek a low-cost streaming solution, these are the best Fire Stick alternatives available at Walmart.
Walmart ONN FHD Streaming Stick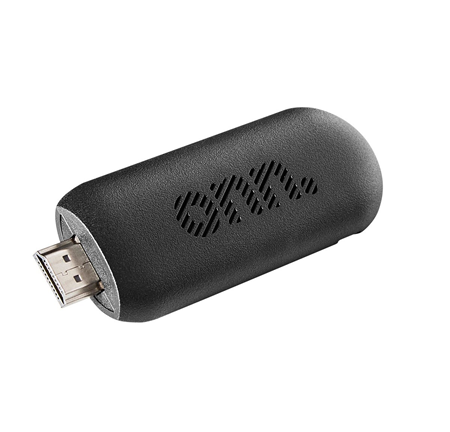 The ONN FHD Stick from Walmart is an affordable streaming stick. The gadget has decent streaming capabilities. This means if you don't want many complicated items or advanced features, it will serve you well. On the other hand, the user interface is straightforward, and getting to the material you want is super easy.
The ONN gadget runs on the Android operating system; therefore, it has some resemblance to Tivo and Chromecast. However, it seems that the dongle was designed for streaming years ago and is not preferable for tech-heads.
Although Walmart attempts to make things more innovative, it still falls short. For instance, the remote has buttons for four services: YouTube TV, Netflix, Disney+, and HBO Max.
That is amazing, but they cannot be reprogrammed. That is why, if you do not fancy such services, the buttons are meaningless. Here is what the gadget can do for you:
1 GB RAM
5 GB internal storage
Built-in HDMI
Bluetooth connectivity
HDR picture quality
Long-range Wi-Fi
Voice and TV controls
Dolby 5.1 sound compatibility
Roku Streaming Stick+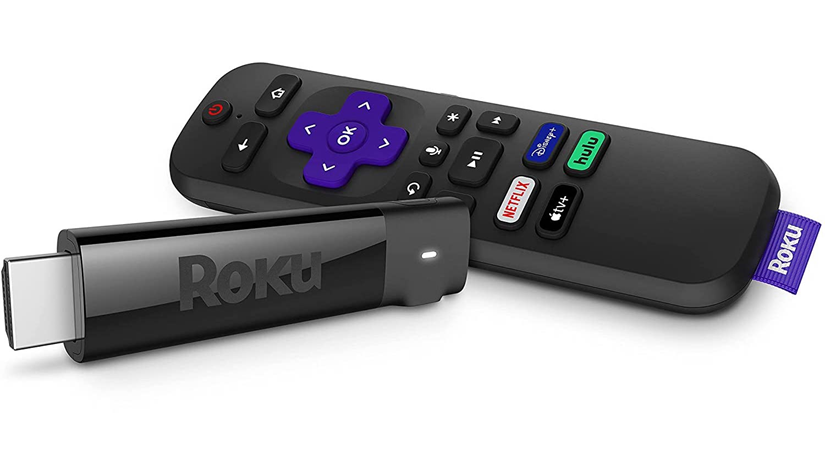 Roku is among the renowned Fire device substitutes. It is also as widely used as the Amazon dongle. As you may know, Roku is the ultimate business that popularized streaming content on televisions. The app-mystique method of Roku streaming devices is where they excel, unlike the Amazon user interface, which is often cluttered with advertisements or efforts to direct you to their applications and services. Contrarily, Roku does not fall within this category.
All Roku devices offer a simple UI and a wide range of applications for major live TV streaming providers and other services. Once you have launched Roku, you may obtain any streaming service without logging in.
But, if you often download applications, this may be a constraint. Similarly, it does have an elegant and user-friendly controller and interface. It is also not necessary to be technologically skilled to utilize it. Within five minutes of plugging the streaming stick into your smart TV, you may begin viewing all the up-to-date shows. 
The Streaming Stick+, like any other Roku device, serves as a gateway to over 200 channels. The material on Roku channels is often filtered, although some live channels are accessible.
Nevertheless, its internal storage and RAM are two areas where Roku falls short, mainly compared to the new Amazon Fire TV Stick 4K Max. The following are the important technical specifications of the Roku Streaming Stick+:
1 GB RAM
512 MB internal storage
Built-in HDMI
Bluetooth connection
HD, 4K, and HDR streaming
Long-range Wi-Fi
Voice and TV controls
Frequently Asked Questions, Answered!
What Is a Greater Streaming Device Than a Fire Stick?
According to many real users' experience, the Roku Streaming Stick+ is considered a superior option for streaming entertainment to most Fire devices. The minimalism of Roku gadgets is where they thrive. You are not obliged to navigate through plenty of other advertisements, nor are you prompted to choose one service over another. Its practical agnostic solution simplifies the process of watching your all-time favorite movies and content.
Why Should You Buy A Streaming Device From Walmart?
You are not alone if you question which firm offers the greatest streaming players for the lowest price. So, what to expect? Obviously, it would help if you did not imagine Walmart to be the answer.
The Walmart Onn series, both FHD Streaming Stick and UHD Streaming Box, are intriguing and confusing. Provided that Walmart does not run any streaming services on its own—at least not since selling Vudu last year— It is unexplainable what the company's real motivation is in outperforming Roku and Amazon. Until now, Walmart has refused to elaborate on whether the equipment is sustainable or whether it collects cash from the gadget in other ways like allocating any ad income the device makes.
But the critical part is this, Walmart has introduced a pair of gadgets to the marketplace and even, at some point, overtake the cheapest Roku streamers and Fire TV Sticks. For years, Google has been looking for a low-cost gadget to promote Android TV; it appears that it has discovered two of them on an odd basis.
How Much Does A Walmart Streaming Stick Onn Cost?
The ONN Stick series are normally sold for $25. If your budget is tight, buying a Walmart streaming stick is good to go; leave alone when you have a deeper pocket. It is worth it to splurge on a better streaming stick.
What Is the Price of Roku Devices at Walmart?
Walmart offers a variety of Roku devices at various pricing ranges. And the cost will be determined by your streaming requirement selection. The cheapest Roku Streaming gadget called Roku Express costs $29. The Roku Streaming Stick costs $49. The Roku Ultra costs $60.94, while the Roku Ultra 2020 costs $99.
What Is the Price of Google Chrome Casts at Walmart?
There are three different Chromecast devices available at Walmart. The 3rd Generation model costs $29.98. The Chromecast with Google TV model costs $49.98, while the Google Smart TV package costs $65.00. It comes with a Google Home Mini and a Chromecast. This offer is only available at Walmart. For all you judicious buyers out there, while buying online at Walmart, you can make a price match on numerous things with Amazon.com. While this is true for streaming devices, it also works for other items. 
How Much Do Apple TVs Cost at Walmart?
At Walmart, you may choose from a variety of Apple TV models. The Apple TV 3rd Generation is the most affordable, costing $94.97. The Apple TV 4th Generation costs $144.00, while the Apple TV 4K 32GB costs $169.00.
The Bottom Line
In closing, if you ask how much Amazon Fire Sticks cost at Walmart, you should be aware that Amazon Fire Sticks are not sold at Walmart shops. This is most likely due to the two corporations' rising competitiveness as the retail sector moves faster than before.
However, suppose you are looking for a similar device. In that case, Walmart does provide a variety of alternatives, including Roku, NVIDIA, Chromecast, and Apple TV, some of which provide identical features to the Fire Stick at a lower cost.
Besides, there are more tools available than ever before to assist you in cutting the cable cord. Even if Amazon Firesticks are a useful tool, they aren't always the best option. Hence, consider your requirements and select a gadget that will allow you to watch TV with less expense.