Key Takeaways
Affirm is a fintech launched in 2012 by Max Levchin. It is a credit and "Buy Now – Pay Later" platform. It provides payment integration services to its business clients worldwide. Some of the e-commerce world's biggest names like Shopify, WooCommerce, and Walmart are partners of Affirm.
Affirm's business model revolves around providing simplistic payment and online checkout solutions to consumers. It makes money through interest earned on buyers' "pay later" transactions. It also earns commission from its merchant partners for providing Payment solutions.
Affirm is listed on the NASDAQ stock exchange with 242 million outstanding shares as of the latest published accounts. Its latest revenue figures are $ 780 million for the fiscal year 2021.
Company Profile
| | |
| --- | --- |
| Company Name | Affirm Holding Inc. |
| Website | affirm.com |
| Founded-in | 2012 |
| Founder | Max Levchin |
| Key People | Max Levchin, Libor Michalik, Michael Linford. |
| Headquarters | San Fransisco, California, US. |
| Business Model | Fintech – Pay Over Time |
| Products | Payment Solutions, Checkouts, Saving Accounts, and Cards. |
| Competitive Advantage | International Presence, Disruptive Fintech Model |
| Revenue | Estimated $780 for Q2, 2021. |
| Competitors | VISA, Mastercard, Discover, PayPal, etc. |
Introduction
Affirm is an online payment checkout service provider. Its distinguishing feature from its competitors is the "buy now, pay later" feature. Apart from installment plans, Affirm introduced simplistic and low APR for online consumers.
Affirm provides payment checkout solutions to merchants globally. It focuses on providing a simplistic and frictionless checkout experience to consumers. In that sense, it provides useful online shopping payment solutions to both consumers and merchants.
Affirm was launched in 2012. Since its inception, it has evolved from payment solution providers to a Fintech that offers other financial products as well. Its services expanded to digital saving accounts for consumers, marketplace for merchants, and Cards (to be launched soon).
What is Affirm? A Brief History
Max Levchin was co-founder of PayPal. He saw an opportunity in the consumer credit market. He launched Affirm with a viewpoint of providing simple and flexible payment terms to online consumers that others lacked.
Credit cards are often found guilty of charging hidden costs and charges to consumers. A key factor in complexity for credit cards remains their compound interest rate formula. Consumers find it perplexing to pay hidden fees and an unending circle of compound interest rates.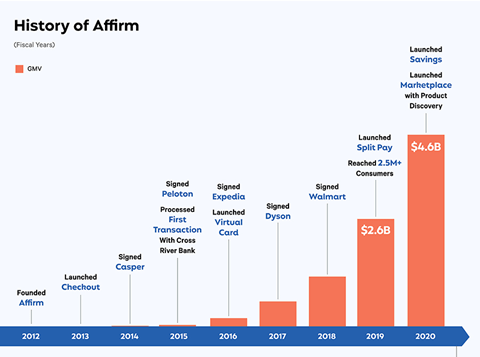 It started the checkout feature service in 2013. Affirm's first major business partner signing came with Peloton in 2015 and later with Expedia in 2016. However, it took the launchpad in 2018 when it partnered with Walmart.
To date, it has now signed with more than eight thousand merchants globally that include renowned brands like Walmart, Shopify, WooCommerce, and Wix to name a few.
Affirm's a slogan to attract online shoppers has been its transparent commission fee model. It calls for flexible payment plans to consumers without charging hefty compound interest rates.

Image Source: affirm.com
Since its inception, AFFIRM has provided more services to its consumers and merchant partners alike. Its "split" application provided a fixed payment solution to online shoppers with less than $250 payments.
Affirm has introduced marketing services for its merchant partners. It focuses on providing marketing solutions to merchants that are financially compliant with regulators.
"Save" comes with a digital saving account option for consumers. It's available as a mobile app for IOS and Android platforms. It offers an average APR of 0.65% with no minimum balance requirement. Affirm also intends to launch its own cards for its online consumers.
Vision, Mission, and Core Values
Let us take a look at the Mission, Vision, and Values statements for Affirm.
Mission Statement of Affirms states:
"Deliver honest financial products that improve lives".
Vision Statement of Affirm reads:
"To be as ubiquitous, secure, and convenient as legacy networks, yet far more transparent, honest, and both consumer and merchant-centric".
Affirm provides a set of core values for its employees and the company culture.
People Come First
No fine Print
It's on Us
Simple is Better
Push the Envelope
The company aims to bring together innovation and simplicity together. It also considers the impact of technology on its consumers by taking responsibility for developed technology.
Affirm – Business Model
Affirm is a "Pay Over Time" service provider to online consumers. It could be made possible by providing an equally transparent fee structure to its merchant partners. Affirm charges low APR on online transactions with an aim to charge no hidden fees.
Affirm provides flexible payment terms as "split" or "pay over time" options. Its APR ranges from 0% or 10%-30% depending on the amount and length of repayments. The repayment terms can be selected for up to 36 months.
The repayment plans work as loans without collateral requirements by Affirm. However, consumers should assess their prequalification for repayment loan eligibility. There are no credit score penalties for checking the prequalification criteria though.
 Affirm's business model is entirely based on providing checkout payment solutions to consumers. It provides identical solutions to merchants as well. In fact, Affirm's online payment solutions works simultaneously for its online consumers and merchant partners.
Affirm's technology-driven data helps merchants retain clients. It provides its merchant partners with valuable insights on customer buying metrics.
The model works through all stages of consumer experience from creating awareness, consideration, and to the conversion stages.
Affirm – Unique Selling Propositions
The most prominent and unique selling proposition for Affirm is its ability to create a seamless checkout experience for online buyers. It creates a valuable business model for individual buyers as well as merchants.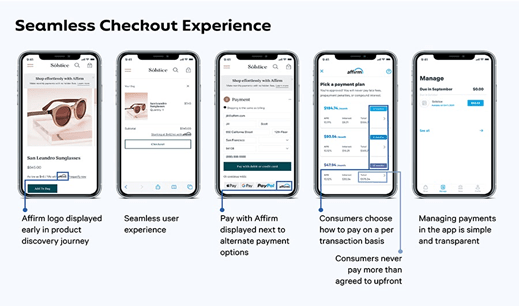 Image Source: affirm.com
Another key USP for Affirm is their repayment plan offerings to online consumers. Buyers can choose between a "split" that offers fixed repayments or the "Pay later" option.
Buyers are eligible to see a prequalification with up to 36 month's repayment plans that range from an APR of 10% to 30% with no hidden charges.
 Affirms provide equally valuable services to their merchant clients as well. These unique services include creating seamless checkout, pay on the go, and marketplace services. It aims to provide financial and marketing services to its business clients that are "financially compliant".
How Does Affirm Make Money?
Affirm mainly makes money through its interest charged to online consumers with flexible repayment plans. It allows online buyers to repay the transaction value in installments for up to 36 months. The APR on such transactions ranges from 10% to 30%.
Affirm also earns money by charging its merchant partners for providing integrated payment solutions. It has now around 8000 merchant partners and over 4.5 million consumers globally.
Like other listed companies, affirm also makes money through its financial holdings, investments, and bank interest as well. It has leveraged the power of international presence, brand recognition, and renowned merchant partnerships to increase its net worth over the years.
Affirm – Revenue Streams and Market Capitalization
Affirms is a listed company on the NASDAQ stock exchange with a trade symbol of AFRM. Affirm's current share price is $72.90 as of the writing. With its 242 million shares outstanding, the market capitalization stands at $ 16.80 billion as of now.
According to its financial statements, the revenue for the FY 2021 stood at $ 780 million up from $760 for the previous year. Its main revenue streams include interest charged to online buyers with installment repayment plans and commissions charged to its merchant partners.
With its innovative Fintech products and an anticipated launch of its card services, it can further expand its global presence. In turn, we can expect the company to grow in stature and increase its market capitalization in the future as well.