Key Takeaways
You must have accumulated the dollar change in your childhood. It seemed an old-fashion mantra to build wealth back then. Acorns has taken the idea to reality. It lets you accumulate the change and convert it into an investment stream.
Acorns is a micro-investment platform that lets you invest a small amount of money with automated tools. It comes with three plans with a reasonable fee structure. Moreover, it lets kids and young adults invest small amounts of money practically.
Acorns has partnered with the world's biggest brands to offer you cashback rewards. It has also signed up celebrities to improve its publicity and marketing efforts.
Acorns has more than 6.8 million users with estimated investments of above $ 1 Billion. It was founded in 2014 by Walter and Jeff Cruttenden. It is still a privately held company.
Company Profile
Company Name
Acorns
Website
acorns.com
Founded-in
2014
Founder
Walter and Jeff Cruttenden
Key People
Noah Kerner CEO
Jasmine Lee COO
Manning Field CBO
Headquarters
Irvine, California, US.
Business Model
Fintech – Micro Investment
Products
Automated Savings, Investment Accounts, Cashback Programs, Saving Accounts.
Competitive Advantage
Micro Saving Accounts, Automation of Investment
Revenue
Undisclosed
Competitors
Betterment, Stash, wealthfront
Introduction to Acorns
Acorns is a fintech. It brought the concept of micro-investments to the digital world. You can choose its automated saving, investment, and earning programs to increase your wealth.
Acorns have changed the concept of spare change practically. It has embedded the features of Robo advisors and automated savings tools. It lets you automate your savings through automated tools. Each time you swipe a card, it rounds up your bill to the next dollar value. The spare change accumulates in your Acorns account.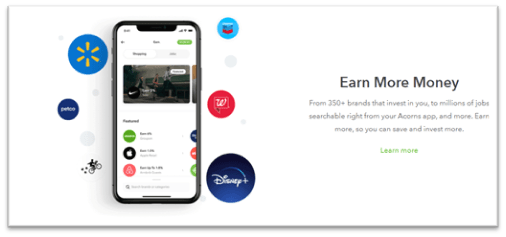 Source: acorns.com
Acorns lets young adults and kids save money as well. It offers three investment plans that include family memberships for kids. Its pricing plans start at $1, $3, and $5 per month for Lite, Personal, and Family plans respectively.
What is Acorns? What does it Do?
Acorns is a fintech that works in the micro-investment field. It lets you grow wealth by offering savings, investment, retirement, and earning programs in one place. Moreover, all of your wealth creation activities are performed automatically at nominal cost.
Acorns offers its products through its website and mobile applications.
Invest – Lets you invest spare change automatically.
Later – automates your retirement contributions.
Earn – it is a cashback reward program with several international brands included in the program.
Early – Investment account for kids and family members.
Spend – offers Visa debit card by Acorns.
Acorns will let people with now large cash stacks invest in ETFs and Mutual Funds indirectly. It manages your investment at low costs. You can eventually become an ETF or Stock investor with as low as $5 in your saving account. Moreover, you do not need to do it manually or through a third-party service provider. Once you link your cards with Acorns accounts, it starts automatically accumulating your spare change from each transaction.
Acorns combines the concepts of cashback rewards, savings from small spare change, and investments in one portfolio. You can select your investment goals and timeframe and it will automate the whole process for you. Moreover, you can use this platform to let your family members and kids participate as well.
Acorns invests its user' money in investment portfolios. The investment portfolios comprise ETFs, Bonds, Stocks, and other financial securities. The investment portfolios are diversified and classified into risk categories.

Source: acorns.com

Source: acorns.com
The investment portfolio categorizes into conservative, moderately conservative, moderate, moderately aggressive, and aggressive categories. The selection of portfolio investment tools is curated through experienced and expert advisor consultation.
Acorns Business Model
Acorn's business model is micro-investment. It has combined the role of Robo-Advisors and automated saving tools in one platform. Users can access its services through online and mobile applications. Once users link their credit/debit cards to Acorns accounts, the process of saving, investment, and spending are automated.
Here are a few key points from Acorn's business model.
Automated Saving
Acorns app lets you automatically accumulate the spare change with every transaction. Although users have the choice of doing it manually as well. For example, if your purchase ends with a bill of $ 278.65, Acorns will round it up to $279.00. The excessive $0.35 will accumulate in your Acorns saving account.
Portfolio Selection
You can become an investor in ETFs, Stocks, and Bonds with your accumulated savings. All you have to do is to select the right investment portfolio. Acorns helps you in selecting a perfect investment portfolio that is diversified and matches your investment goals.
Retirement and Investment
You can choose between retirement contribution plans or investment accounts. Acorns lets you build and save for your retirement through IRAs by ensuring you maximize the retirement contributions.
Checking Account and Card
Acorns also offers its user an option of digital banking through a checking account. The savings account comes with a heavy metal debit card. The checking account is an ideal option if you wish to automate the saving, investment, and earning potential through Acorns.
Acorns has also partnered with renowned brands like Airbnb, Nike, Walmart, Sephora, and Warby Parker to name a few. Through this partnership program, Acorns users can get cashback rewards that can be invested through the platform.
Acorns Unique Selling Propositions
Acorns offers micro-investment opportunities for everyone. It offers investment plans to individuals and family members as well. Its unique selling proposition comes through the automation of the micro-investment feature. It combines the investment and spending processes to increase the earning potential of users.
Another key selling proposition for Acorns is their signing up of real-life celebrities. Some of the renowned names backing up Acorns are Nobel laureates, Harry Markowitz and Richard Thaler.
Acorns has also business partnerships and investment funding received from companies like PayPal, Bain Capital, Blackrock, and Capital Group.
Acorns most compelling feature has been its investment and spending automation features though. It provides a comprehensive education and training materials to new users. It offers competitive pricing model with no minimum balance requirement for new account opening.
How Do Acorns Make Money?
Acorn's revenue stream comes through user subscription plans. It also receives commissions through brand partnership programs. Like private investors, it also earns money through interest and investment returns. However, its biggest revenue source remains the user subscription plans.
The subscription plans with features are:
| | | |
| --- | --- | --- |
| Lite | Personal | Family |
| $1 monthly | $ 3 monthly | $ 5 monthly |
| Invest | Invest | Invest |
| – | Later | Later |
| – | Spend | Spend |
| – | – | Early |
According to publicly available information, Acorns has more than 6.8 million users. It has invested approximately $ 1 billion for its users so far. More than 1 million users with Acorns hold retirement investment plans as well.
Acorns' other fee plans include $5 for an investment starter. It requires $0 for a new account opening and there is no minimum account balance condition as well. It charges $50 for the conversion of the account balance to another broker account. You can sell the investment or withdraw through ATM free.
Acorns- Revenue Streams and Market Capitalization
Acorns was founded in 2014, it is still a privately held company. Although its financial accounts are not published, we can assess some key figures through publicly available information.
According to Forbes, the latest valuation for Acorns through its funding series stands at $ 860 million. It received a staggering $ 257 million from PayPal, Blackrock, and NBC Universal.