Payoneer is one of the world's leading online payment platforms. It is one of the main competitors of PayPal. Payoneer is more popular in some countries than PayPal due to some of the features that Payoneer provides.
Among some of its top features are a Payoneer e-wallet and a re-loadable Payoneer Mastercard debit card that users can use online or at point-of-sale.
Payoneer's biggest advantage has, as an online financial services platform, its integration with some top digital marketplaces, freelancing platforms, and other digital networks. These include some top names such as Airbnb, Google, Amazon, Fiverr, Upwork, etc.
Through its integrations with these companies, Payoneer allows its users to receive funds effortlessly. Similarly, Payoneer works with hundreds of banks worldwide to enable users to withdraw funds from the platform within hours.
The platform also facilitates online payments to other Payoneer users or payees. Payoneer is a private company based in the USA. The financial performance reports of the company are not publicly available.
However, in a recent interview, the COO of the company, Keren Levy, stated that the company generated revenues of $300 million in 2019. The company's COO didn't mention the details related to how the company managed to generate revenue.
Therefore, many users can't help but question how Payoneer generates its revenues. After all, most of the services the platform provides to its users are free.
Therefore, to understand the source of the company's revenues, it is crucial to know how it makes money. Below is a list of all the services that generate money for the platform.
How does Payoneer make money?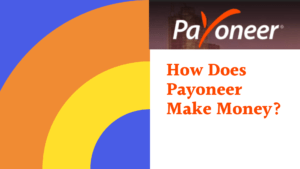 As mentioned above, while most of the platform's services are free, there are some services for which it charges its users. The first service that the platform charges its users for is transfer fees. Payoneer may also charge users for withdrawing funds into their bank accounts.
The platform also provides debit cards to its users, which may attract some charges. Payoneer also charges its users for currency exchanges. There are also some other minor changes. However, these are negligible.
Transfer fees
Payoneer may charge its users an amount for transfers depending on different factors. First of all, transferring money from one Payoneer account to another is free as long as the base currency is USD, EUR, or GBP. Similarly, Payoneer provides its users with receiving accounts.
Receiving accounts are those that users can use to receive their funds. For some currencies, such as USD, EUR, GBP, AUD, CAD, there are no charges, or the charges are close to none. The platform may charge its users 1% of the amount for some other currencies.
Another way to receive funds into a Payoneer account is through the request a payment feature. The feature is close to a billing feature that users can use to bill their customers. The platform charges a 3% fee for disbursements made through credit cards or 1% if made through eCheck.
Payoneer also has integrations with digital marketplaces and platforms. When users withdraw their amount from these platforms into Payoneer, a charge may be involved. Usually, these charges are minimal and depend on the marketplace rather than Payoneer.
Withdrawing funds into bank accounts
Payoneer also has affiliations with several banks around the world. For affiliated banks, Payoneer does not charge its users when they withdraw funds to their accounts.
Usually, all transfers to local banks are free of charge to the users. For bank accounts denominated in USD, GBP, or EUR, Payoneer charges its users $1.50, £1.50, and €1.50, respectively.
Payoneer cards
In cooperation with Mastercard, Payoneer also provides its users with prepaid debit cards directly linked to their Payoneer account. Users who use the Payoneer card at an ATM get charged $3 per transaction.
In case the user cancels the transaction, the platform will charge them $1. The platform does not bill users when issuing the card, though. For ATM inquiries, users must pay $1 per inquiry.
Payoneer cards also come with other charges, such as an annual fee of $29.95 and a card replacement fee of $12.95.
Exchange rates
Users who exchange currencies through Payoneer will have to pay up to 2% above the mid-market rate. Usually, the payee bears the exchange rate cost.
However, if the payee is not a Payoneer user, the payer must pay the platform. If a user does not pay others but only exchanges currencies within their Payoneer wallet, they have to pay 0.5% of the transfer to Payoneer.
Conclusion
Payoneer is an online platform that facilitates users' receipts and payments. It is a private company. While most of the transactions through the platform are free, Payoneer still charges its users for some transactions.
These include some specific transfer fees, fees related to withdrawing funds into bank accounts, charges associated with Payoneer cards, and fees for exchanging different currencies.