Key Takeaways
Airbnb is one of the leading brands in sharing economy category. It has become a renowned brand in the hospitality and lodging industry within a short period. It has recently gone public with its IPO.
Airbnb is lodging and renting platform for individuals. Its unique sharing economy model allows both sellers and buyers to take advantage of its services. Airbnb makes money through commission charged to both parties in a transaction on a percentage basis.
Airbnb has reported a revenue of $ 3.4 billion in 2020 which is significantly lower than the previous year due to the coronavirus market slump. Its current assets stand at $ 10.490 billion as of 2020 published financial statements.
Company Profile
| | |
| --- | --- |
| Company Name | Airbnb |
| Website | airbnb.com |
| Founded-in | 2008 |
| Founders and Key People | Brian Chesky CEO, Joe Gebbia CPO, Nathan Blecharczyk |
| Headquarters | San Fransisco, California, US. |
| Business Model | Sharing Economy |
| Products | Airbnb, Airbnb Plus, Airbnb Luxury, Hotel Tonight |
| Competitive Advantage | Unique Sharing Economy Model in Hospitality, Global Presence, Brand recognition. |
| Revenue | $ 3.4 billion (2020) |
| Competitors | Tripping.com, Hometogo, Flip key, etc. |
Introduction
Airbnb was founded in 2008 by Brian Chesky, Joe Gebbia, and Nathan Blecharczyk. It was a privately held company until its IPO last December in 2020 with a share price of $68.
Airbnb offers accommodation and rental services to its customers worldwide through its online platform and mobile applications. Its unique business model allows it to offer services to both parties in the hospitality industry. The idea of sharing economy wasn't unique to Airbnb; however, it took the idea to the hospitality sector for the first time on such a large scale.
Airbnb is a prime example of sharing economy model. It offers lodging and hospitality services to customers without directly providing any such service. Its main revenue streams are commissions charged to both parties in bookings and reservations.
What is Airbnb? What Does it Do?
Airbnb provides a platform to individuals where they can offer home space for rent to travelers and lodgers. On the other hand, renters seeking house-like residences can use the platform to book rooms from available houses. Airbnb has expanded its services globally; it now serves in more than 200 countries worldwide.
Airbnb uses the sharing economy business model. Companies do not sell products or services directly; they connect buyers and sellers for making money. Airbnb lets renters and house owners connect through a shared online platform. It lets both parties buy and sell services simultaneously with convenience.
Airbnb offers services to both sellers and buyers of hospitality services. These services include the following broader categories for both.
Hosting / Booking
These are prime booking and lodging facilities on offer. Hosts put up their houses for booking after meeting certain standard and cleanliness requirements. It lets both parties connect for an ideal marketplace through an online platform.
Airbnb Experience
Experience is another service by Airbnb where hosts can offer experience sharing for different activities. These activities are offered by expert hosts in their fields including cooking, interior designs, motivational speaking, and dancing, etc.
Airbnb Adventure
These are hosted journeys in adventure categories around the world. These trips can include culinary, cultural, animal, or activity-based trips.
Airbnb Plus
It takes the booking and lodging services on offer one step ahead. These houses are offered after in-house quality inspections. These bookings provide exceptional services at premium pricing.
Airbnb Luxe
These services include premium booking services in luxurious spots around the world. These are luxury houses with standardized amenities and surpassing the quality standards by Airbnb.
Airbnb for Work
These are booking services for business tours and travelers. These services include hosting for business residences and co-working spaces.
Airbnb – Business Model
Airbnb offers a sharing economy business model. It is also called the peer-to-peer business model. This business model lets peers from both sides of the transaction connect through a shared platform. Airbnb hosts its peers through the online marketplace for hospitality and lodging services.
Airbnb started its operations in 2009 and has expanded to a global service provider in more than 200 countries now. It has also expanded the suite of services as mentioned above. Customers can now exchange more products and services in hospitality services than shared amenities.
Airbnb offers a business model that works for both parties in the transaction. Let's briefly explore its business offerings to both parties.
Airbnb for Hosts
Hosts put up their house spaces and residential spots on listings for the set prices. Airbnb reviews the listings and approves if the applicant meets the criteria for the selected category. Airbnb charges around 3% to hosts in basic residential categories on their bookings.
Hosts can put listings in basic, plus, luxury, work, and adventure categories. Each category requires approval and certain conditions for eligibility.
Airbnb for Renters
Renters can book through the same online marketplace. They can choose and compare house spaces available globally. They can choose to meet the host in person before booking confirmation. Airbnb charges on average 14.2% for the booking fee to renters as well.
Airbnb has around 5.6 million hosts in over 100,000 cities worldwide according to their published figures. It now serves in more than 200 countries globally. Hosts have earned more than $110 billion by using the Airbnb platform with average annual earnings of $7,900.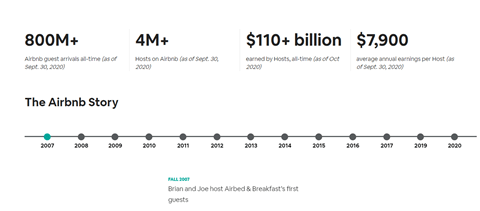 Source: Airbnb.com
How Does Airbnb Make Money?
Airbnb provides services to both peers in the transaction. It also charges a commission to both parties in the service transaction. Commission from bookings and hosted services is the prime revenue source for Airbnb.
The Airbnb Service Fees for different categories are:
Guests' service fee is charged at 14.2%.
Hosts are charged at 3% for basic bookings.
Hosts offering other services categorized in "experience" selection are charged a 20% commission.
Hosts can choose the "host-only" rates that come with 14-16% charges. There are no commissions charged to guests in this category though.
Airbnb is now a listed company on the NASDAQ stock exchange. Its current share price is $179.03 and comes with a market capitalization of $ 109.21 billion as of now. However, the main revenue source for Airbnb remains its income through charged commission to hosts and guests.
Airbnb Unique Selling Proposition
Airbnb has become a global brand in the sharing economy. Particularly, it has become a renowned name in lodging and hospitality with unique offerings for hosts and guests simultaneously.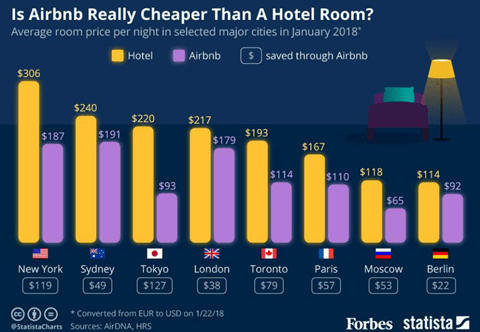 Source: statista.com
Here are a few key points to note with Airbnb's brand and business model.
It offers a global brand to its hosts and guests with an established history.
It offers unique hospitality and lodging experience that attracts customers globally.
Hosts can put in free listings and guests can choose through a wide range of choices.
It offers a unique peer-to-peer business model for both types of customers.
It provides opportunities for sellers by using the cross-selling and up-selling models.
It has excellent marketing and advertising strengths.
It offers hosts and guests protections backed by laws and regulations.
Hosts and guests can use the online marketplace as well as in-person meetings to conclude the deals.
It offers comparatively lower prices.
Airbnb – Revenue and Market Capitalization
 Airbnb is a listed company. It makes money through its share price capitalization as well as prime revenue sources.
According to the latest published financial statements, total revenue for Airbnb for the year 2020 remained at $3.4 billion. These figures are heavily affected due to Covid-19 pandemic restrictions and a global downturn in the hospitality sector.
Airbnb was listed at the NASDAQ stock exchange in December 2020 with an IPO price of $68. Its current share price is $179 with a total market cap of $ 121 billion.